MSSC®: Manufacturing Skill Standards Council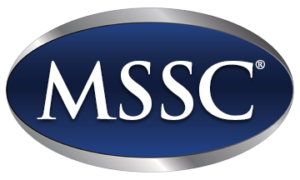 Manufacturing Skill Standards Council (MSSC)®, a 501(c)3 non-profit, is an industry-led, training, assessment and certification system focused on the core skills and knowledge needed by the nation's front-line production and material handling technicians. The nationwide MSSC System, based upon industry-defined and federally-endorsed standards, offers both entry-level and incumbent workers the opportunity to demonstrate that they have acquired the skills increasingly needed in the technology-intensive jobs of the 21st century. MSSC offers four certifications for this workforce:
Certified Production Technician (CPT)® & CPT+ Skill Boss
Certified Logistics Technician (CLT) ®
Certified Forklift Technician (CFT)
Place:Testing is available at any of Mid-State's campus locations in Adams, Marshfield, Stevens Point, and Wisconsin Rapids
Pre-Registration: Candidates must create their account prior to being assigned a registration.
Go to http://login.msscusa.org
Click "Create an Account".
Enter First Name, Last Name, and personal information (email, address, phone number).
Enter demographic information.
Read and accept the Code of Ethics and Candidate Handbook.

Scheduling: Contact the Mid-State Testing Center (715.422.5443) or testingcenter@mstc.edu to schedule an appointment.
Bring: Varies by exam sponsor. Read your exam paperwork carefully. No exceptions will be made.