Scholarships, Donor Partnerships, and Alumni Benefits
Established in 1979, the Mid-State Technical College Foundation, Inc., is a not-for-profit organization related to, but separate from, Mid-State Technical College. Funding priorities for the Foundation include student scholarships, student services, and special program support.
Visionary leadership has led the Foundation to assets as of $4.3 million as of June 30, 2021, showing vast growth of its 1979 portfolio of $959. With the help of our generous donors, we've assisted over 5,900 students in achieving their academic goals during the past 42 years, distributing over $3.75 million in scholarships. During the previous fiscal year alone, over 491 students were assisted through scholarship and grant awards totaling nearly $ 275,000.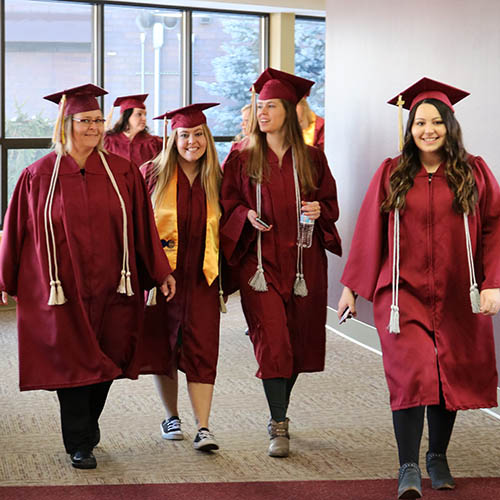 It feels amazing to know that my donation is making a brighter future for students who are striving to make a better life for themselves. Supporting their dedication is the best way I can think of to strengthen my community.
Doug Wenzlaff, General Manager, Solarus
More Testimonials
Touch Lives. Invest in the Future.
---
Give to the Foundation
Giving to the Mid-State Technical College Foundation, Inc., is one way to pay it forward and put your hard-earned resources to work, helping others achieve success and independence.
Mid-State transforms lives, creating "career-ready" employees who make an immediate impact in the community. But the students in our district start out with greater financial hurdles than almost any others in the state—in fact, nearly 80 percent of them receive some form of financial assistance to make school a possibility. The success of our mission comes down to generous gifts from people like you—who help keep our students enrolled and working toward a brighter future for themselves and our shared communities.
Alumni Connections
There are many great reasons for Mid-State alumni to stay in touch. Share your contact information so we can keep track of your successes after graduation and share resources and news with you.
New and Continuing Students
Planning to attend Mid-State in fall of 2022:
Scholarship Application Window: Monday, April 18, 2022 – Friday, May 27, 2022
Disbursement: September 2022
Through the generosity of donors, The Foundation invests in student success and supports Mid-State Technical College's strategic plan.
The Foundation fosters the success of every Mid-State Technical College student's education through financial assistance to strengthen Mid-State Technical College as a leading educational provider in our communities.
Grow the permanently restricted endowment by $50,000 by June 30, 2021.
Ensure the Foundation is positioned for future success.
Develop and increase Foundation Board engagement.
Improve the transfer of information between the boards and staff of Mid-State Technical College and the Foundation.
Mid-State Stats
---