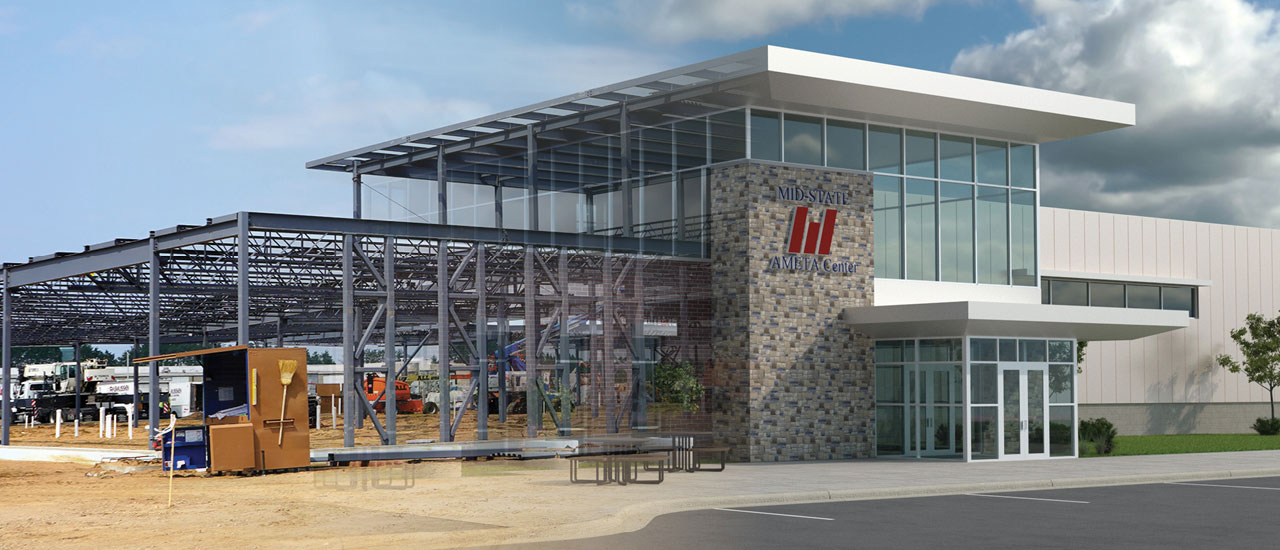 A Destination Training Site for the Future of Industry
The future of industry is here—and central Wisconsin is ready. Under construction now in Stevens Point, the Wayne H. Bushman Advanced Manufacturing, Engineering Technology, and Apprenticeship (AMETA™) Center will be a cutting-edge training destination to cultivate Wisconsin's next generation workforce. Are you ready to embark on this journey with Mid-State and ride the coming wave of growth and opportunity?
New technologies and processes are already being implemented throughout a wide variety of industries in central Wisconsin. These include precision machining and inspection, robotic machine tending, lights-out manufacturing, automated manufacturing, and process control automation. The AMETA Center will meet the rising demand for these exciting new technical skills and propel the future of industrial careers locally and throughout the state.
Offerings
Starting in fall 2024 the AMETA Center will house new and expanded advanced manufacturing and engineering degree programs as well as apprenticeship training. It will also provide new and expanded workforce training and industry certifications. In short, it will be a hub for innovation, connection, and economic growth in central Wisconsin.
Below are the new and expanded programs and trainings coming to the AMETA Center.
Programs
Advanced Manufacturing Technology (new)
Fabrication Technician (new)
Gas Metal Arc Welding Certificate (new)
Mechanical Design (new)
Quality and Lean Certificates (new)
University Transfer-Engineering (new)
Trainings
Industry-recognized micro credentialling
Safety training 
Soft skills training
Technical training
Location
AMETA Center
5000 Coye Drive
Stevens Point, WI 54481
AMETA Center Walkthrough
Get Started
Ready to get started? Applications are being accepted for our current programs!
Learn More
Want to receive updates on the AMETA Center and the new programs? Complete the form below, and we'll be in touch soon!