What's Happening
---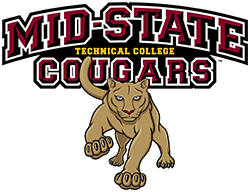 Mid-State students start impacting their communities long before graduation. Getting involved is the best way to discover new interests, develop skills, and make lifelong friends.
Connect
Join a student club to learn more about your chosen professional field, experience cultural enrichment, and develop teamwork, leadership, and time management skills.
Represent
Learn how you can get paid to build leadership skills by representing Mid-State on the student-led Student Leadership Board (SLB) or as a student ambassador. 
Unlock Perks
Use your student ID to gain access to services in the LiNK, Student Services & Information Center as well as discounts from area businesses.
Spring 2023 Registration Opens
October 7
Fall Recess
November 21 – November 25
Winterim 2023 Term
January 3 – January 19
Emergency Contact
For any life-threatening or imminent danger situation, call 911 and specify which campus is affected and your exact location.
Concerns/Complaints
Submit a concern or complaint.
A new diversity, equity and inclusion (DEI) conference is coming to Mid-State's Stevens Point Campus on April 28 and… Read More
Mid-State Technical College hosted its largest SkillsUSA® competition to date on Friday, Jan. 20.
Mid-State Technical College will again host its annual Farm Tour on Wednesday, March 15, from 9 a.m. to 3:30 p.m.