What's Happening
---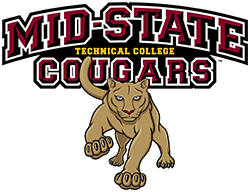 Mid-State students start impacting their communities long before graduation. Getting involved is the best way to discover new interests, develop skills, and make lifelong friends.
Connect
Join a student club to learn more about your chosen professional field, experience cultural enrichment, and develop teamwork, leadership, and time management skills.
Represent
Learn how you can get paid to build leadership skills by representing Mid-State on the student-led Student Leadership Board (SLB) or as a student ambassador. 
Unlock Perks
Use your student ID to gain access to services in the LiNK, Student Services & Information Center, and Fitness Center as well as discounts from area businesses.
Summer 2021 Semester Starts
June 1
Summer Recess Begins
July 5
Fall 2021 Semester Begins
August 23
Emergency Contact
For any life-threatening or imminent danger situation, call 911 and specify which campus is affected and your exact location.
Concerns/Complaints
Submit a concern or complaint.