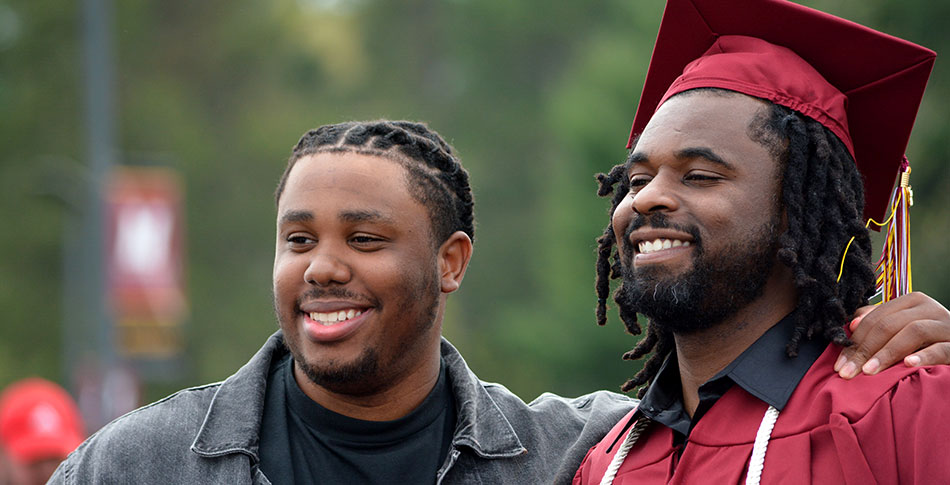 Mid-State Technical College warmly invites you to join in the celebration of our 2023 graduating class. This page provides information about our upcoming commencement as well as petitioning for graduation or early release for employment, the Mid-State Collaborative Program, and our follow-up graduate studies.
If you have any questions regarding information found on this page, please contact a college experience specialist at 888.575.6782.
Graduation Commencement Date
December Graduation Ceremony
Saturday, December 9 at 11:00 a.m. • Wisconsin Rapids Campus
500 32nd Street North
Wisconsin Rapids, WI
Gymnasium
All graduating students: You MUST complete the steps in the graduation checklist below to ensure you receive your diploma and to indicate whether or not you will be participating in the commencement ceremony. Late applicants may not be eligible to participate in the ceremony.
Graduation Checklist:
Meet all requirements to graduate.
Mid-State is authorized by the Wisconsin Technical College System to grant associate degrees and technical diplomas. The graduation date is determined for an individual student by the completion date of all program requirements and the requirements listed below. To be eligible for a diploma or degree and graduate from Mid-State, a student must fulfill the following requirements:

Apply and be accepted into the program you intend to graduate from.
Satisfactorily complete all curriculum graduation requirements with a program GPA of 2.0 or above. Please note: Some programs may have additional GPA requirements. Contact your academic advisor for additional information.
Satisfactorily complete the GPS for Student Success course 10-890-102. (Applies to students admitted to Mid-State 2017–18 or later.)
Technical diploma students: Complete a minimum of 25 percent of their program's occupational specific courses at Mid-State.
Associate degree students: Complete a minimum of 25 percent of their program's technical studies courses at Mid-State.

Submit your petition to graduate in MyMSTC.
Petition to graduate via MyMSTC prior to your intended graduation date.

Note: Diplomas are mailed to your home address on file approximately six to eight weeks after the semester ends or final grades are assigned, whichever is later. All college financial obligations must be met to receive a credential or transcript.
 
Fill out the Commencement Ceremony Form.
Fill out and submit the Commencement Ceremony Form. Be sure to submit this form by Sunday, October 15 for December commencement—late applicants may not be eligible to participate in the ceremony. 
 
Update your contact information in MyMSTC.
Be sure to check and update your personal contact information in MyMSTC so we can send you any important documentation after you graduate, including your diploma and the follow-up graduate studies survey. (More information about follow-up graduate studies below.)
Graduating with Honors
Honor lists include students graduating from associate degree and technical diploma programs who have earned high academic levels as outlined below. Students graduating with honors are recognized with honor cords based on program GPA through the semester preceding the final semester. Final semester grades will be included in the program GPA calculation.
The Office of Student Records will determine program GPA for all Mid-State graduates. A final program GPA will be determined and noted on the official transcript once all grades for the final semester have been submitted. Honor cords may be purchased at campus bookstores for a nominal fee:
Graduation with Distinction (Gold Cord): 3.75–4.00 GPA
Graduation with High Honors (Silver Cord): 3.50–3.74 GPA
Graduation with Honors (Bronze Cord): 3.25–3.49 GPA
Follow-Up Graduate Studies
Mid-State is required by the Wisconsin Technical College System (WTCS) to perform graduate follow-up studies at intervals of one year and five years. Every five years the WTCS performs an employer follow-up survey to measure the employer satisfaction with WTCS graduates. This allows WTCS and Mid-State to maintain important statistics regarding graduate employment and placement.
Data is collected to provide information to prospective students, high school counselors, special interest groups, and the general public. In the six months following graduation from Mid-State, a survey will be mailed to each graduate to complete and to return to the college for the graduate follow-up study. Phone calls are placed to graduates who do not return the surveys. This is done in an effort to obtain the most accurate information possible.
Special Situations
Early Release for Employment
"Student early release" is a procedure whereby a potential graduate of one of Mid-State's programs may be permitted to terminate his/her attendance at Mid-State for employment, subject to the following conditions:
Early release will be granted only if the employer requires the potential graduate to begin employment immediately. Students will be given early release only for full-time employment related to their training received at Mid-State.
Early release, if granted, cannot exceed two weeks prior to the last day of the semester. Such time will not be counted as absences.
Graduation from a Mid-State Collaborative Program
Students who are participants in a Mid-State collaborative program with another technical college—where Mid-State is the primary owner of the program—will be allowed to transfer credits from the designated collaborating college and have those transfer credits and grades posted to their Mid-State transcript for calculation into their program GPA. Students participating in such a program and completing all program requirements toward graduation will be listed as a Mid-State graduate.