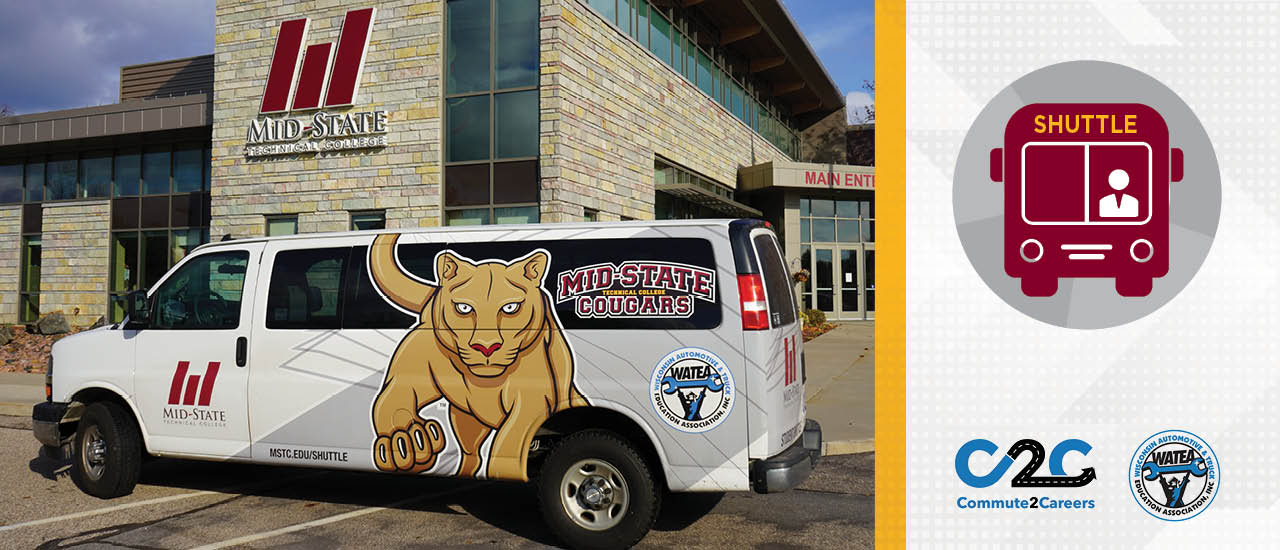 Mid-State Shuttle Service
Hop aboard our shuttle for travel to and between campuses. Save money and add valuable study time in your day while you ride.
The 15-passenger Mid-State shuttle is available through a partnership with Wisconsin Automotive & Truck Education Association (WATEA) and funded through the State of Wisconsin Workforce Innovation Grant.
Free for any Mid-State student
Reservations are suggested—secure your seat today!
Available on a first-come, first-served basis
WiFi access available on shuttle
Free snacks provided for shuttle riders
Current Route Schedule
Check out the current route schedule for fall 2023, and reserve your seat!
Please note the current route schedule will NOT be available after this semester. An updated schedule will be posted in early December. Please check back later and/or contact the shuttle program directly (email Shuttle@mstc.edu) to convey your transportation needs for 2024.
Help Us Plan Future Route Schedules
If you have a suggestion for a future route or need a customized route (Fridays, orientations, events, etc.), submit a transportation request below.
Additional Stops Available

Upon request, the shuttle can make additional stops along the route. Email shuttle@mstc.edu for more details, or submit a request for one of these stops.

Between Wisconsin Rapids & Adams

Wisconsin Rapids south (Highway 13/Highway 73 intersection)
Rome (Highway 13/Highway D intersection)
Friendship (Highway 13/Highway 21 intersection)

Between Wisconsin Rapids & Marshfield

Rudolph (along Highway 34)
Vesper (along Highway 186)
Arpin (along Highway 186)
Auburndale (Highway 10/Highway K intersection)
Pittsville (along Highway 73)

Between Wisconsin Rapids & Stevens Point

Whiting (along Business Highway 51)
To help us best serve the students interested in using this service, we hope you'll share your feedback and transportation needs: