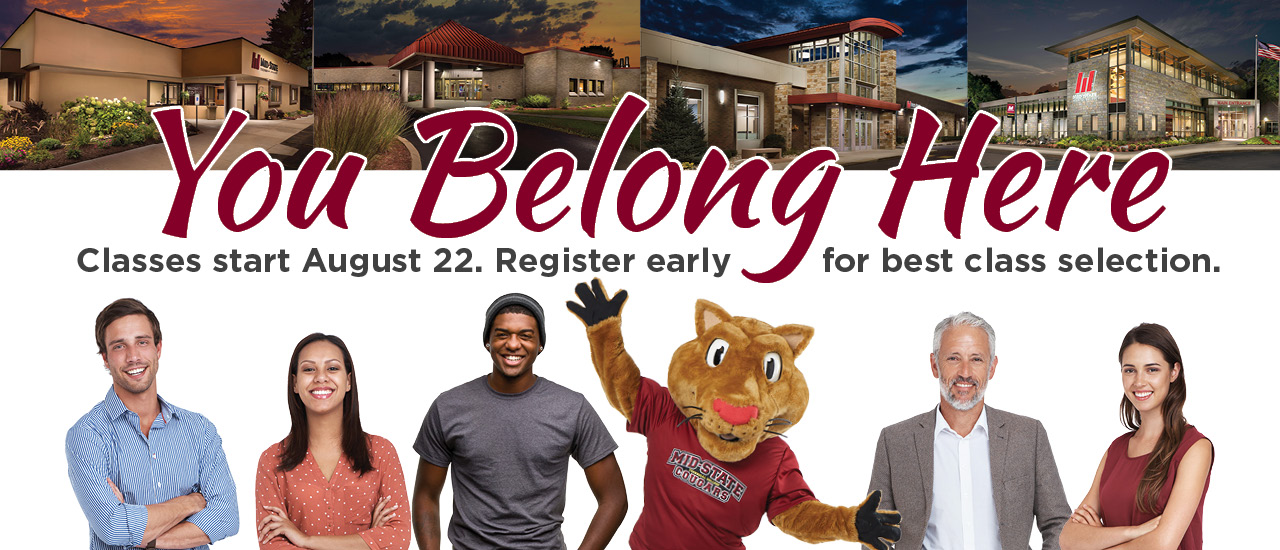 You Belong Here
Looking for that perfect partner who gets your needs? Supports you when you're down? Brings out your best and helps you reach new heights? It's Mid-State, and we've been here all along.
A welcoming environment for ALL
Comprehensive support for your success
Flexible learning and scheduling 
Variety of career programs to fit your goals—transferable courses, short-term Career Accelerator certificates, technical diplomas, and associate degrees
Guaranteed transfer to over 20 four-year colleges and universities
Fall classes start August 22. Register early for best class selection!
Free Application
Save $30 on the application fee.
Find a Class and Register
Non-degree-seeking students: Click on a class below to register for a course or two. For more information visit our Take a Class page.
Degree-seeking students: Apply if you would like to enter an associate degree or technical diploma program, OR you have not yet chosen a program (undecided).
Current Mid-State students: Log into MyMSTC to register.
Register early for best class selection!
Spring Class List

Summer Class List

Fall Class List

Fall Mid-Term Start Class List

Community Classes
The Risk-Free Experience
Mid-State provides many options to ensure a college experience that fits your needs and goals for the future, without the risk. 
Class Delivery Options
Choose the instructional delivery method that fits you best—in person, online, or innovative technology options. 
Ways to Take a Class
Transfer Options to UW Schools
Our 65+ in-demand career programs include many options for guaranteed transfer to UWs and more. 
Mid-State Courses That Transfer to the UW System
Computer Basics, Blackboard, and Student Technology Assistance
Computer basics, Blackboard, and student technology assistance is available through the LiNK. Mid-State's district-wide LiNK locations provide the resources needed for academic success.
Learn More