Graduate Wage and Job Placement Data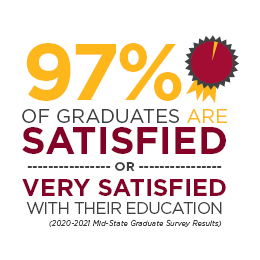 Of the responding 2020-21 graduates, 97% gave Mid-State Technical College high marks when rating satisfaction with their training
Mid-State Technical College Graduate Survey Report - 2020-21
91% of Mid-State's 2020 Graduates were Employed Within Six Months of Graduation!
This report includes information about the successes of Mid-State's 2020-21 graduates. The information was compiled based on web, mail and telephone surveys conducted from July 2020 through January 2021. The survey was completed by 622 out of 788 students who graduated in December 2020 or May 2021 for a response rate of 79%.
Salary figures are based on those respondents who report being employed in occupations related to their training. The median salary reflects the midpoint of salaries reported for each career program. 
2020-21 Graduate Survey Report
Survey Highlights
Employment Status of 2020-21 Graduates
| | | | |
| --- | --- | --- | --- |
|   | Number | Percent |   |
| Number of Graduates | 788 |   |   |
| Number of Graduates Responding | 622 | 79% |   |
| Not in Labor Market | 38 | 9% |   |
| Number Available for Employment | 402 | 67% |   |
| Number Respondents Employed | 364 | 91% |   |
| Employed in Related Occupation | 280 | 77% |   |
| Employed in Non-Related Occupation | 81 | 22% |   |
Reason for Attending
| | | |
| --- | --- | --- |
|   | Percent |   |
| Preparation for getting a job | 33% |   |
| Career change | 15% |   |
| Improvement of existing job skills | 11% |   |
| Preparation for further education | 32% |   |
| Personal interest | 9% |   |