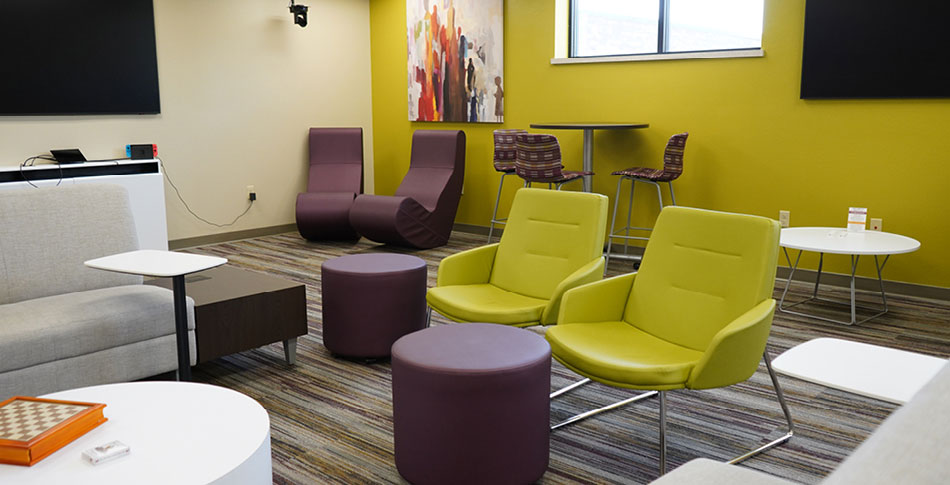 Student Employment Opportunities
Earn while you learn! There are many benefits to adding "student employee" to your Mid-State experience—here are just a few:
• Quickly get to know other students as well as faculty and staff.
• Enhance leadership qualities while gaining career skills.
• Reduce your student debt—all openings pay a minimum of $13 per hour.
• Build your resume.
As an added bonus, supervisors of student employees understand that school comes first, so they work around your schedule as much as possible.
Mid-State offers a variety of student employment opportunities—from official roles in student government to tutoring to a variety of Work-Study positions. Learn more about each type of opportunity in the overviews below.
Student Representative
Mid-State will appoint up to 20 student representatives to lead Student Leadership Board (SLB). Together these representatives will be a voice for the students and a face for the college. These students will positively represent Mid-State and the student body in all interactions with peers, community members and business partners. 
This position is ongoing.
Duties & Responsibilities
Chair the meetings of the Student Leadership Board (SLB) using Roberts Rules of Order procedure.
Conduct business, not otherwise provided for, that may arise between meetings.
Act as liaison to Mid-State Technical College Board and administration.
Record all proceedings and roll call of all related meetings.
Submit the minutes of each formal meeting to the advisor within five business days.
Present plans and policies to the SLB for approval.
Act upon such matters that require immediate attention between full meetings.
Promote needed legislation.
Recommend removal of any officer or member for cause.
Attend trainings and professional development sessions.
Provide up to 50 hours of paid assistance for meetings, events, or community services per semester as approved by the SLB advisor. 
Other duties as would normally befall this committee.
Learn More and Apply for Student Representative
Student Tutor
Mid-State Technical College is establishing a pool of qualified tutors to work closely with instructors, program counselors, and the Academic Learning Center assistant to help students successfully complete particular courses. Tutors are hired in specific subject areas and will tutor up to five hours per week. Tutoring opportunities may be available at all four Mid-State locations.

Duties and Responsibilities:
Provide academic assistance to currently registered students on-campus in one-on-one, small-group, or open-lab setting for up to five hours per week.
Complete paperwork properly and submit in a timely manner which may include biweekly paperwork, sign-in sheets, etc.
Coordinate with program counselors, instructors, and the Academic Learning Center assistant to assist students in understanding the subject material.
Update program counselors and the Academic Learning Center assistant on student progress.
Coordinate and prepare for tutoring sessions.
Be present and on-time for all tutoring appointments.
Visit classes, as appropriate, to introduce self.
Attend training for new tutors.
Follow tutor guidelines as provided by the Academic Learning Center assistant.
Maintain confidentiality and integrity.
Other duties as assigned.
Learn More and Apply for Student Tutor
Work-Study
The Federal Work-Study Program provides jobs for full- or part-time students with financial need allowing them to earn money to help pay for educational expenses. The rate of pay for all work-study positions is $13 per hour. On-campus positions as well as community service positions are available. Students eligible for financial aid are able to earn up to the amount listed on their award letter (and sometimes more) and are paid biweekly. This money is earned and paid directly to the student through Mid-State's payroll system. Funds are not applied to the student's account. Being awarded college work-study does not assure you that a job will be available.

Duties and Responsibilities:
Varies dependent on specific positions.
Mascot Actors
Do you have high energy and a desire to perform and portray Grit's qualities of hard work, determination, and pride—or know someone who does?
Apply to audition for Mid-State's Mascot, Grit! Spread the word or apply today!