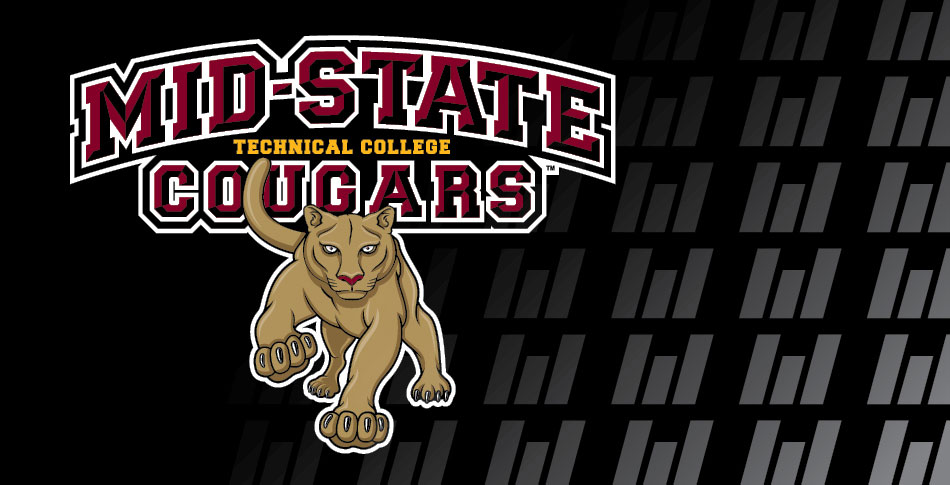 Mid-State Technical College's mascot, Grit, is the fuzzy (and fierce) feline at the heart of all we are and do as a college community. Grit's presence brings out the best in each of us—students, staff members, and community friends—inspiring us to embrace challenge with the same grit, pride, and determination that drives our mascot.
In addition to grit, pride, and determination, Grit, like all wild cougars, is also known for:
Strength
Leadership
Decisiveness and take charge attitude (especially when the going gets rough)
Excellent timing—striking at the perfect moment 
Effectiveness when it comes to handling a challenge or difficult circumstances
Grit first appeared as Mid-State's mascot long ago. After making the rounds on campus for about ten years, the cougar mysteriously disappeared. Some say Grit was just doing what so many Mid-State students do: traveling the world or striking out on alone after earning that first Mid-State degree.
Whatever the reason, Grit is back, because Mid-State is the kind of place you can return to throughout life, again and again. Mid-State is a community that feels more like family. And Mid-State is where even a strong, independent cougar can make new friends, find support and resources, and gain new skills along the way.
But don't let Grit's independent nature fool you. When not out crushing goals and achieving dreams, Mid-State's cougar is a downright lovable mascot who makes a hobby of giving out high-fives and hugs.
Grit at Graduation 2021