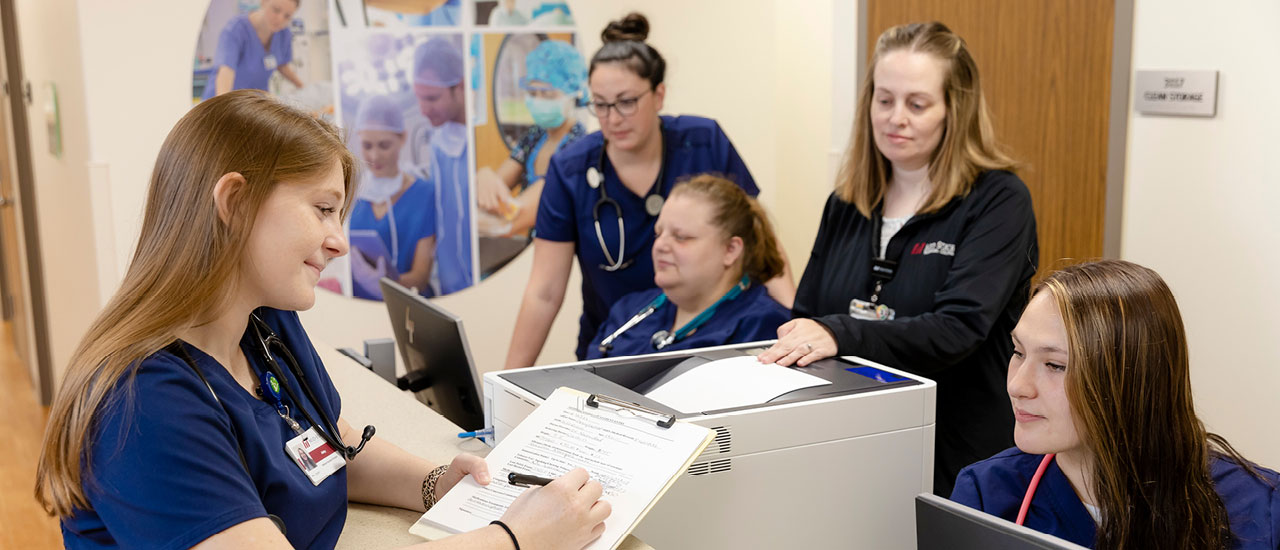 Healthcare Simulation Center
The Mid-State Healthcare Simulation Center is a state-of-the art facility designed to help meet the community's growing demand for highly trained health care professionals. Proudly located on the third floor of Aspirus Riverview Hospital, it is a unique interdisciplinary health care simulation training facility in an actual health care setting.
Simulation Training for Mid-State Students
Mid-State students will benefit from simulated educational experiences in the Simulation Center to supplement their clinical training in the following health care programs:
Central Service Technician
EMT-Paramedic 
Medical Assistant
Nursing
Nursing Assistant
Paramedic Technician 
Phlebotomy Technician
Respiratory Therapy
Surgical Technologist
Snapshot of the Simulation Center
The Simulation Center is equipped with nine medium-fidelity and high-fidelity manikins that replicate nearly all clinical scenarios, including stroke, sepsis infection, bleeding, shock, birthing, and more. The 12,000 foot Simulation Center includes two zones—one designed for inpatient care and the other for outpatient care, including:
Five hospital rooms to train nurses, respiratory therapists, and EMT/paramedics
Four exam rooms to train medical assistants
A central sterilization area to train central service technicians
A surgical suite to train surgical technologists
A lab draw room to train phlebotomists
Two nurses' stations
A medication room
Two large classrooms
The manikins enable students to practice their skills in a consequence-free environment before progressing to clinical training with live patients. Additionally, simulation sessions can be recorded for review and debriefing purposes—an educational opportunity rarely available with traditional clinical training.
The Simulation Center is the result of a three-way collaboration agreement between The Legacy Foundation, Aspirus Riverview Hospital, and Mid-State Technical College. In addition to training Mid-State degree-seeking students, it is also be used for continuing education, training by Aspirus Riverview staff, and community education. 
Tour the Simulation Center
Want to see the Simulation Center in person? Tours are available to the community and prospective students. Students interested in any health program or EMT/paramedic program are encouraged to attend.
Tour participants will be able to see live demonstrations through high-fidelity simulators, the Anatomage Table, and state-of-the-art health care technology. This tour is the best way for future students to see first-hand how training at Mid-State applies to hands-on technology.
Click on a date below to schedule your tour:    
Each tour takes approximately 45 minutes..
Contact recruitment@mstc.edu for more details.
If you have a disability and require accommodations to participate in this activity, contact the event coordinator as soon as possible, ideally 14 days in advance.