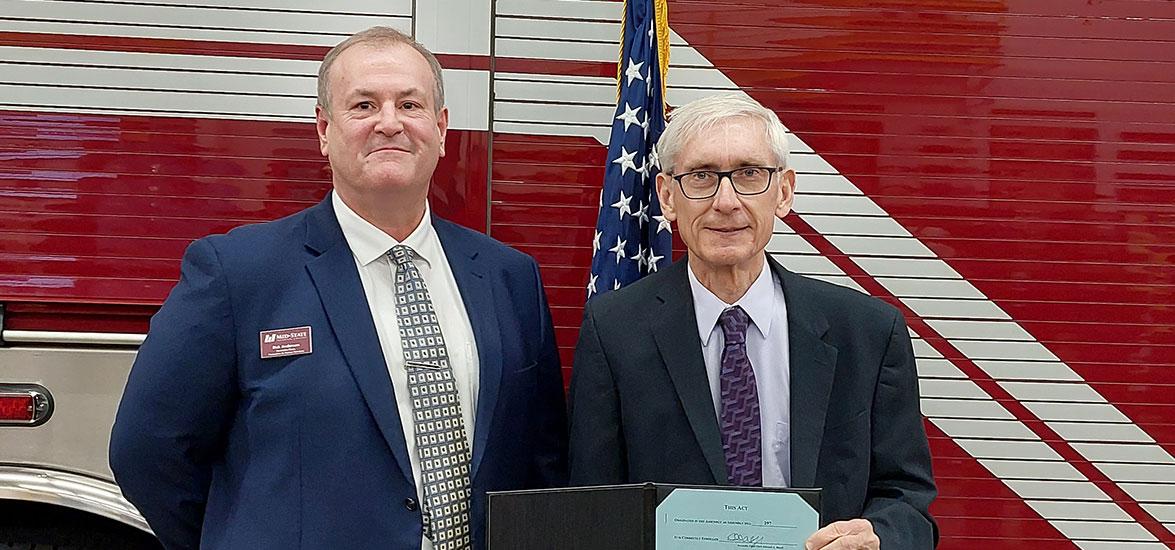 Wisconsin Act 115 to benefit Mid-State protective services students
January 18, 2022
When Gov. Tony Evers signed Assembly Bill 297 (now Wisconsin Act 115) into law on Dec. 6, it marked the satisfying culmination of advocacy work for one Mid-State Technical College dean who had been personally affected by tragedy.
"In my past, while serving as a volunteer fire chief, I had personal colleagues who were struck and critically injured or killed while working on I-39," said Rick Anderson, Mid-State Technical College associate dean of Protective & Human Services. "While I am saddened that it took so many more incidents before this issue was recognized and acted upon, I am equally grateful that we now have some legislation in place."
Wisconsin Act 115 increases the penalties for traffic violations that happen near emergency zones, which are set up 500 feet in front and behind an authorized emergency vehicle with flashing lights, such as a fire truck, police unit or tow truck. It also creates a new crime and penalty for traffic violations that result in bodily harm when the violations occur in a road construction area, utility work area or emergency response area, and it applies the existing doubling of fines for certain violations in a road construction area or utility work area to an emergency response area. The new law went into effect immediately at the Dec. 6 signing at the Amherst Fire District station.
Anderson's advocacy for the bill included contacting legislators and asking for their support, efforts he sums up simply as "due diligence as a taxpayer." 
"Distracted or negligent driving is dangerous and can even be deadly," said Gov. Evers in a Dec. 6 press release. "This bill is a critical step in ensuring the safety of workers on our roads, whether they're emergency and first responders, construction and utility workers, or tow truck drivers."
"I am proud of the many people who stepped up to work on this project, which will have a lasting impact on our public safety professionals as well as on the lives of future protective services program graduates from Mid-State and other programs throughout the state," Anderson said.
Learn about Mid-State's many degree opportunities in protective services at mstc.edu/programs.