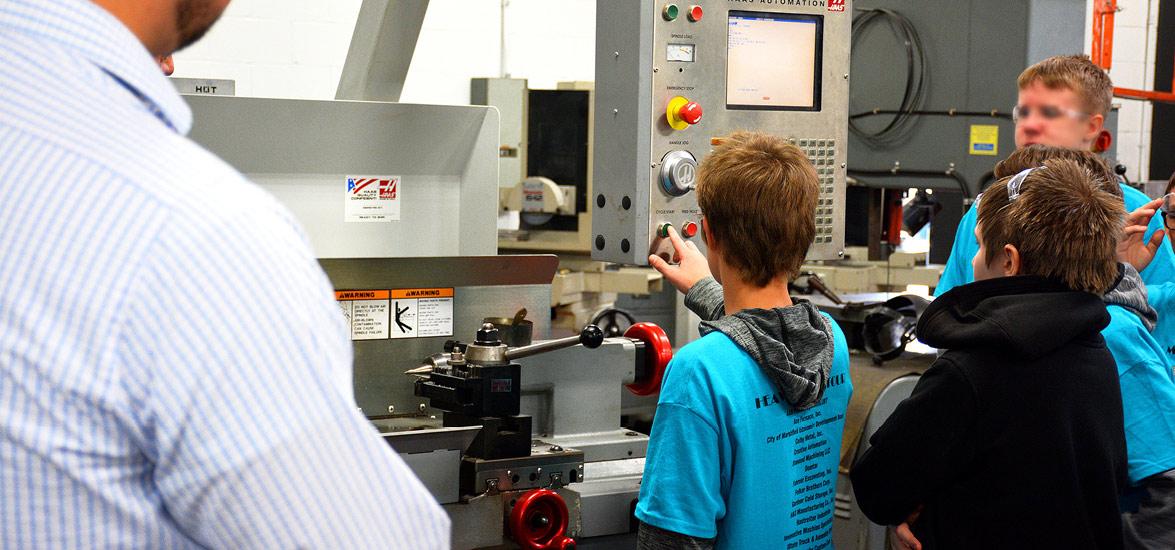 Mid-State Technical College hosts area eighth-graders on Heavy Metal Tour
October 3, 2019
The eighth annual North Central Wisconsin "Heavy Metal Tour" has again given thousands of eighth-grade students from across central and northern Wisconsin firsthand experience with manufacturing facilities and one of three technical colleges. Locally, over 1,800 students toured the facilities of over 25 local employers during the Oct. 1 event, stopping for an educational lunch and career exploration at a Mid-State Technical College campus.
A collaboration between the Central Wisconsin Metal Manufacturer's Alliance (CWIMMA) and three technical colleges, including Mid-State, the Heavy Metal Tour has reached over 20,000 students since 2011.The event provides a unique opportunity for middle school students to gain valuable knowledge of high-demand careers in the manufacturing industry through tours of high-tech manufacturing facilities. Participating students also learn about educational and career opportunities in the area's welding, fabricating, machining, engineering and manufacturing trades.
"Mid-State is excited to be a part of the Heavy Metal Tour," said Dean of Advanced Manufacturing & Engineering and Transportation, Agriculture, Natural Resources & Construction Ryan Kawski. "Gone are the days of dark, dirty and dingy manufacturing facilities, and this event awards students an opportunity to see the advanced technology and highly automated facilities right here in Central Wisconsin."
In the next three years the US will see nearly 18 million US job openings and 74.9 million retirements in skilled trades, according to Derek Heikkinen, director of CWIMMA.
"In our region alone, we face close to 50,000 retirements, 25 percent from manufacturing, which generates a quarter of our region's tax dollars," Heikkinen said. "Without the strong support of Mid State Technical College, we wouldn't be able to achieve our goals of a stronger economy through stronger mechanisms of education. Mid-State has been a blessing for our organization, and it starts with things like the Heavy Metal Tour."