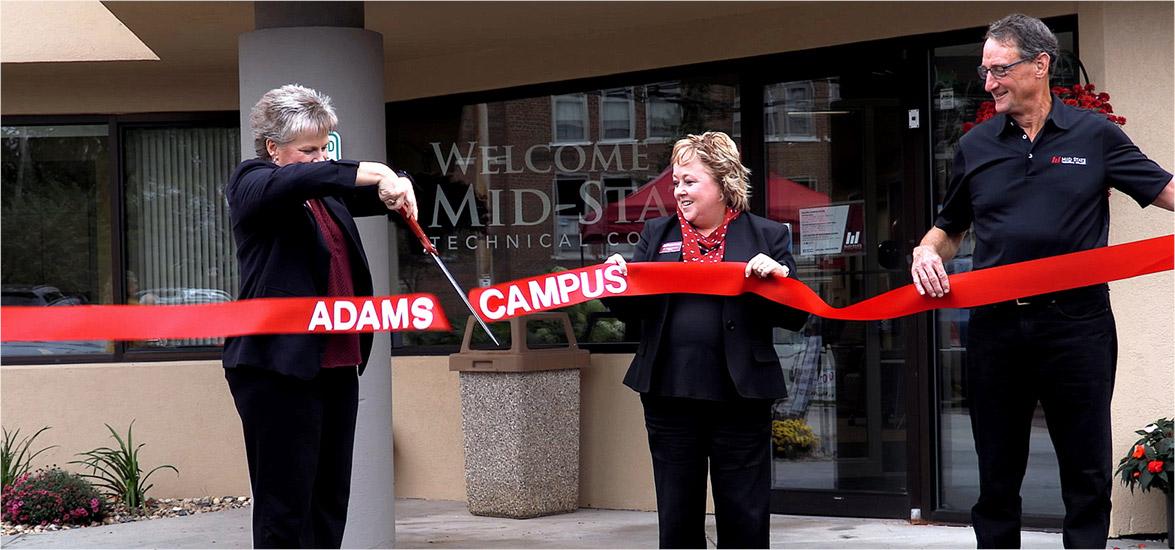 Adams community celebrates Mid-State Campus at ribbon cutting event
October 7, 2019
Mid-State Technical College and the Adams community came out to celebrate the official transition of the College's Adams County Center to a full campus on Oct. 1. The ribbon cutting and open house included refreshments and a tour of the campus as well as remarks from Mid-State President Shelly Mondeik, Campus Dean Laurie Inda and Laura Hook Executive Director of the Adams County Chamber of Commerce & Tourism.
The campus designation means increased opportunities for those living in the Adams community, including the addition of face-to-face programs for fall 2020 and the Nursing Assistant program now being offered at the location. A major facelift was also recently completed at the campus, resulting in a new health lab, state-of-the-art classroom technology and new furniture, paint, ceilings and carpet throughout. 
 "As we dug into what we were offering here and looked at the demographics of the communities, it definitely made sense that we could make more of an investment to serve you," said President Mondeik in her address. Mondeik spoke of the community's requests for full programming without the need to drive to other campuses and the return of more continuing education offerings, which provided fuel for the expansion to a full campus. "Please know that we are dedicated, we are committed and we are invested in your community," she said.
"The vision of us all coming together and working together, that's really where we need to go with this," said Hook, detailing the Adams County Chamber of Commerce & Tourism's recent collaborations with Mid-State through program advisory committees and continuing education. Hook also announced the Chamber's awarding this year of its first-ever Mid-State scholarship. "We are Adams County, and we do have a campus here," she said.
According to Campus Dean Laurie Inda, future enhancements at the Adams Campus will include additional degree programs as well as more expanded services and updates to the facility. Anyone with questions about the Adams Campus or ideas for ways Mid-State can better serve the Adams community can contact Inda directly at laurie.inda@mstc.edu.