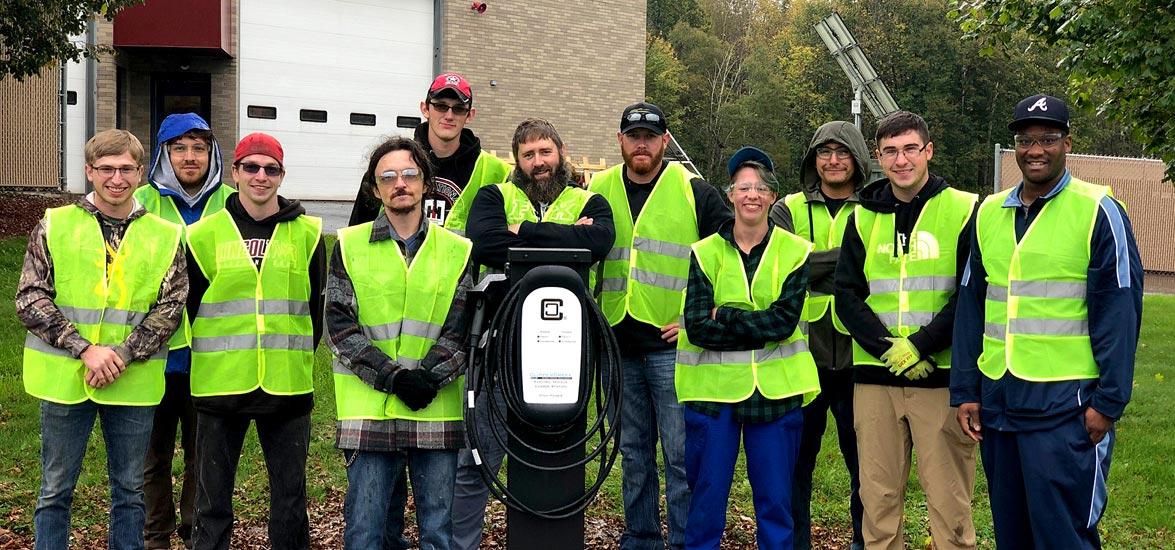 Mid-State Technical College brings electric vehicle charging to all campuses
October 31, 2019
Free electric vehicle charging is now available to the public at all Mid-State Technical College campuses in Adams, Marshfield, Stevens Point and Wisconsin Rapids. Each electrical vehicle charging station is the first in its community.
"Electric vehicles are an important piece in the development of sustainable transportation, but before widespread adoption is possible, the infrastructure needs to be in place to grow consumer demand," said Mid-State Renewable Energy, HVAC and Construction Trades Instructor Ben Nusz. "At Mid-State we engage our students in forward-thinking technologies and aim be thought leaders in the community." 
All cords at each location are SAE J1772, the industry standard for electric vehicle charging. In both Adams and Marshfield, one Level 2 charging station can serve two cars at a time. In Stevens Point, two Level 2 charging stations can serve four cars at a time. In Wisconsin Rapids, the station's power is generated entirely from the solar array installed at the site, making the energy 100-percent renewable and clean. Six Level 2 charging stations are available at the site.
The College unveiled a solar-powered car charging station on its Wisconsin Rapids Campus in May of 2018. The additional installations bringing electric vehicle charging to its other campuses were completed by Renewable Energy Technician students this fall, with funding help from Constellation Energy through E2 – Energy to Educate grants. Those who appreciate the use of Mid-State's free electric vehicle charging stations are encouraged to donate to the Mid-State Foundation.
Nusz will deliver a free Mid-State Speaker Series presentation this November at each campus to help people learn more about electric vehicle charging, whether they currently own an electric vehicle or are contemplating one in the future. Dates and times by location are as follows:
•    Stevens Point Campus – Monday, Nov. 11, 5–6 p.m. (Room 116)
•    Wisconsin Rapids Campus – Tuesday, Nov. 12, 5–6 p.m. (Room T-165)
•    Adams Campus – Monday, Nov. 18, 5–6 p.m. (Room 114)
•    Marshfield Campus – Tuesday, Nov. 19, 5–6 p.m. (Room CER 126)
For more information, visit mstc.edu/electricvehicles.