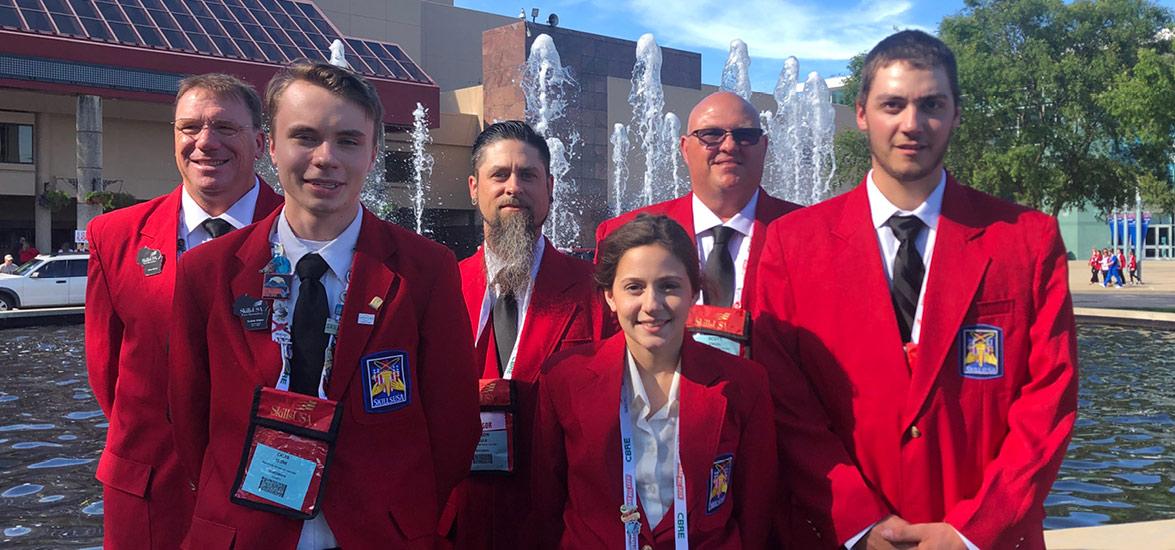 Mid-State steps up support for SkillsUSA amid continued results at nationals
November 4, 2019
For the first time, three Mid-State Technical College students placed in their competitions at the annual national SkillsUSA® Championships held this June in Louisville, Ky. The result is a point of pride for the College as it seeks to increase its involvement in the organization this year as host to the high school district skills competition on Dec. 12.

Two Mid-State students took fifth place in their respective competitions. Caleb Cline of Port Edwards for CNC Turning Specialist and Thomas Hasenorhl of Arpin for Diesel Equipment Technology. Madelyn Matthews of Wisconsin Rapids took 13th place in Welding Sculpture. The students were among more than 6,500 competing in the 56th annual workforce development event national event showcasing career and technical education.

Since graduating in May from the Diesel and Heavy Equipment Technician program, Hasenorhl now works full-time as a diesel mechanic for deBoer Transportation. Matthews completed degrees in both Machine Tool Technician and Welding and went on to a full-time position in the machine shop at Hastreiter Industries. Cline is now in his second year in the Machine Tool Technician program and is currently employed by Pointe Precision.

To qualify for a spot in the national competition, competitors need to be first-place finishers in their events at the state competition, held in late April in Wisconsin. This is the sixth consecutive year Mid-State has sent qualifiers to the national competition, totaling ten qualifiers to date, from five unique events: Automotive Service Technology, CNC Milling Specialist, CNC Technician, Diesel Equipment Technology and Welding Sculpture. 

According to Mike Berry, Mid-State's machine tool technician instructor and SkillsUSA advisor, having three students qualify and compete at nationals is a welcome sign that the College is on the right track in preparing students for work in high-demand skilled manufacturing, STEM-based trades. 

"Our involvement in SkillsUSA is a crucial piece of our strategy to provide career and technical education to address the growing workforce gaps in skilled careers and ensure Wisconsin has the workforce it needs to stay competitive," Berry said. "It's so satisfying to see our students perform this well at the national level and know that they will go on to feed the talent pipeline in central Wisconsin and strengthen our local economies."
Mid-State now looks forward to its first experience as host to its district SkillsUSA competition for middle and high school students, just as it wraps up its October Manufacturing Month activities. The event will feature 15 different skill competitions, from both technical skills and leadership skills, and is expected to draw 150 competing students plus advisors. 
The opportunity to host came up when the SkillsUSA High School District 2 lost its previous host site. "It was natural to host it here at Mid-State due to the space and technical labs we can provide" said Berry. "It's just another way we can continue to help solve the ongoing skills gap needs."
To learn more about Mid-State's programs and services, call 888-575-6782 or visit the College's website at www.mstc.edu.