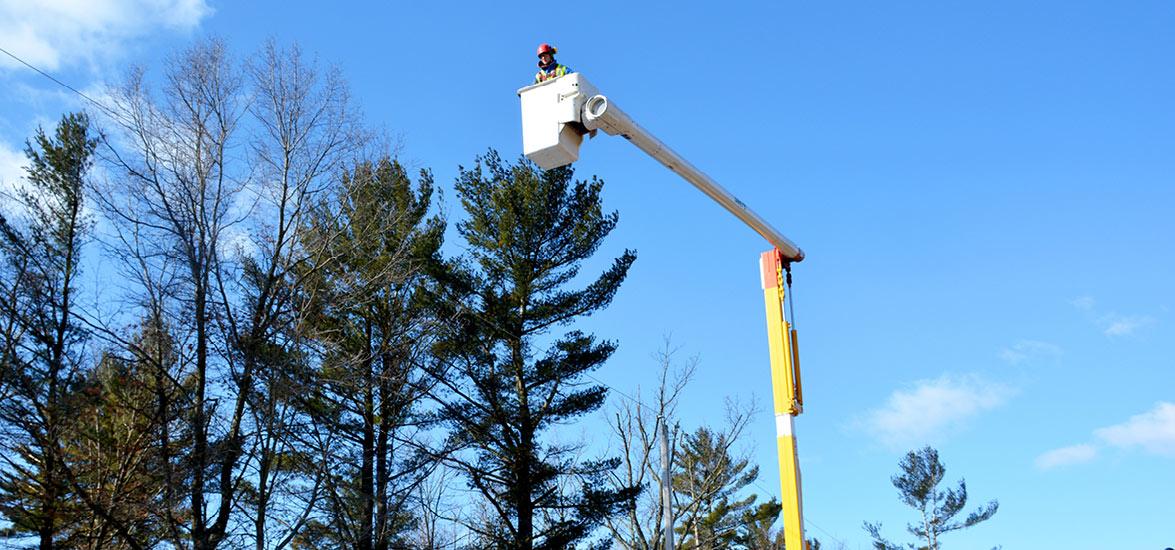 Mid-State teams up with utilities, local business to provide real-world arboriculture training
March 17, 2020
Students in the Arborist Technician program at Mid-State Technical College recently enjoyed a full day of hands-on training in vegetation management around power lines, thanks to support and equipment provided by local utilities and tree service companies. 
The March 13 training event, dubbed Mid-State Utility Arboriculture Day, provided a highly realistic scenario for practicing the safe pruning of trees away from electrical conductors along a non-energized span of utility line on Peach Street in Wisconsin Rapids. Wisconsin Rapids Water Works & Lighting Commission worked with the College to provide access to the non-energized line for the day and prepared the site to ensure safety. Crews and bucket trucks from Davey Tree Experts and Zielies Tree Service Inc. provided considerable support and equipment needed for the extended training exercise. The College also hosted Lincoln High School and Assumption High School students to share an up-close look at Mid-State's training and career opportunities.
Students participating in the exercise had some previous bucket truck experience and training, but this was by far the most realistic exercise any of them had encountered, according to Arborist Technician Instructor Joe Hoffman. "It's exciting to see our local partners come together to support this innovative training scenario, not only for its value in preparing students for success in the industry but for the attention it brings to the career opportunities in arboriculture," Hoffman said. 
"Supporting this training event is an opportunity to develop relationships with the local community and raise awareness about the variety of opportunities available in the utility arboriculture industry," said Scott Singler, vice president of Zielies Tree Service, a family-owned company that has grown from a little over 30 full-time employees to 180 today, peaking to over 200 with the addition of summer/seasonal help. "Positions available range from entry- and mid-level tree trimmer to journeyman, foreperson and supervisor as well as roles in safety representation and office support," Singler said.  
Hoffman echoed the enormous opportunity in the arboriculture career field. "Our Arborist Technician graduates are in high demand, and retirements are only driving up that demand, especially with utility vegetation management companies, who provide excellent benefits and pensions," he said, adding that the program's graduates don't all have to work in positions requiring working high off the ground or even in the trees. "There are many other roles to play in arboriculture if heights aren't your thing."
The Arborist Technician program, formerly known as Urban Forestry Technician, is a nationally renowned two-year associate degree that teaches the fundamentals of pruning, plant health care, tree planting and maintenance, plant identification, tree risk assessment and equipment operations. Throughout the program, a unique aerial component gives graduates experience working safely in the trees. Learn more at mstc.edu/programs.