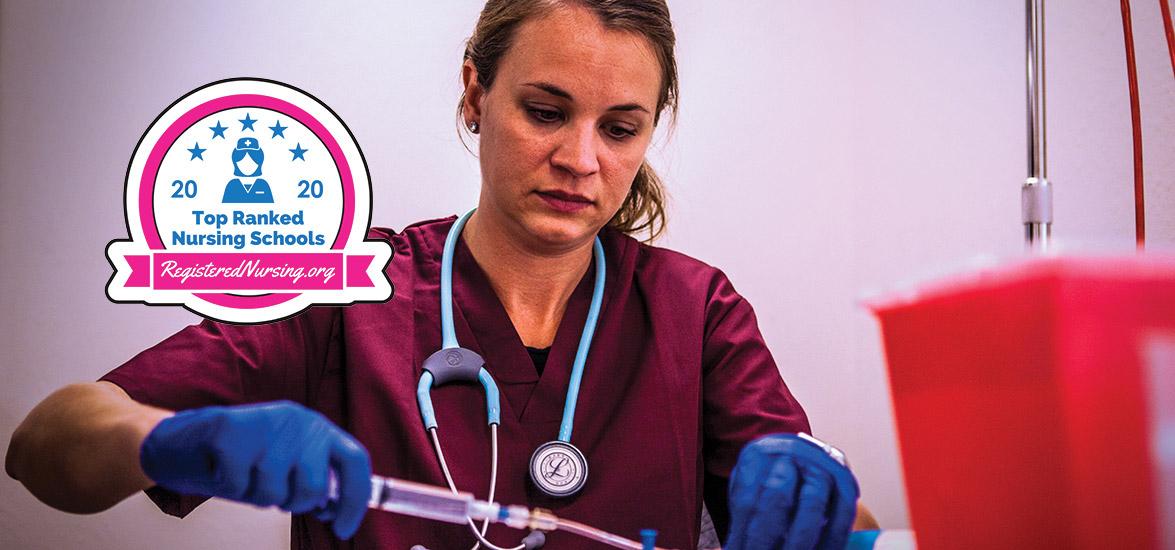 Mid-State Nursing program moves up in top nursing school ranking
March 26, 2020
The Nursing program at Mid-State Technical College has again been named a top-ten nursing school in Wisconsin, ranking seventh on the 2020 Best RN Programs list from RegisteredNursing.org. The College improved on its ninth-place ranking of last year and repeated its 100 percent pass rate for students taking the National Council Licensure Examination (NCLEX). 
Pass rates on the exam are a major factor in the organization's evaluation of how well a program supports students towards licensure and beyond. Forty-two colleges in Wisconsin that offer programming leading to an associate in nursing (ADN/ASN), a bachelor's in nursing (BSN) or a direct entry MSN were part of the evaluation. 
"It's such an honor to accept this award on behalf of the Mid-State Nursing department for the second consecutive year," said Colleen Kane, Mid-State's dean of the School of Heath and School of Protective and Human Services. "Our highly ranked Nursing program is marked by excellent quality instruction delivered by outstanding faculty as well as the overall high quality of academic service stemming from Mid-State's core values of Commitment, Student Centeredness and Exceptional Service. Our Nursing students and community partners truly thrive as a result."
The National Council Licensure Examination (NCLEX) is a nationwide exam for the licensing of nurses in the United States since 1982. After graduation from a school of nursing, one takes the NCLEX exam to receive a nursing license. Pass-rates reflect the percentage of graduates who pass the exam. Both past and present first-time NCLEX-RN pass-rates were part of the analysis and were weighted by year. Mid-State has historically had very high NCLEX pass-rates, and 2018 and 2019 were no exception with a pass-rates of 100 percent for all RN takers including repeaters.
RegisteredNursing.org promotes excellence in nursing through enabling future nurses with the tools they need to succeed. Based out of Carlsbad, California, RegisteredNursing.org is invested in the nursing profession and providing the necessary resources future nurses need to succeed.
Learn more about the Nursing program at Mid-State at mstc.edu/programs.