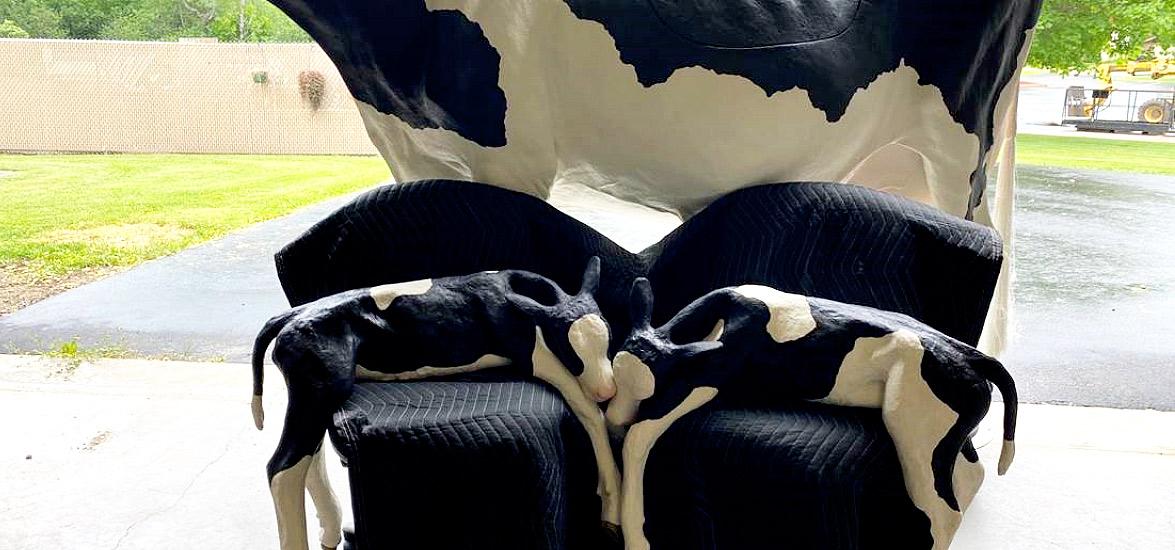 Mid-State delivers second twin for cow birthing simulator
June 24, 2020
Mid-State Technical College's cow birthing simulator will now allow agriculture students to gain skills in delivery of twin dairy calves, thanks to the College's grant-funded acquisition of a second identical simulated newborn calf. The additional newborn also lets students simultaneously visualize what is going on inside the heifer while working with one calf internally.
"The plan all along was to get another calf when we first acquired 'Millie,' our custom-built Holstein simulator and her newborn calf in spring of 2019," said Alex Lendved, dean of Mid-State's Marshfield Campus. "We were thrilled to be able to move up our timeline for the additional calf, thanks to a Wood County Farm Technology Days Education Grant we were awarded this spring."
According to Lendved, the mother cow and newborn simulators are lifelike in both weight and feel, allowing students to realistically practice with a wide variety of common cattle birth scenarios right at the Marshfield campus without the need for a live cow. 
Mid-State has learned from its agriculture partners how critical the safe delivery of calves is to the success of their operations, with many of them delivering several calves a day, according to Lendved. "The simulator has already solved the challenge of giving each student the hands-on experience and repetition with the full spectrum of both routine and difficult deliveries to know when a vet is needed to assist," Lendved said. "Having two newborns just makes the training that much more comprehensive, interactive and visual for our students."
The College is also planning to partner with area schools in the future to bring the simulator into local classrooms to promote agriculture careers and programming. 
Mid-State's celebration of National Dairy Month this June includes a naming contest for Millie's twins on the College's Facebook page. The public will be invited to participate at facebook.com/MidStateTech. Learn more about Mid-State's agriculture programs at mstc.edu/programs.