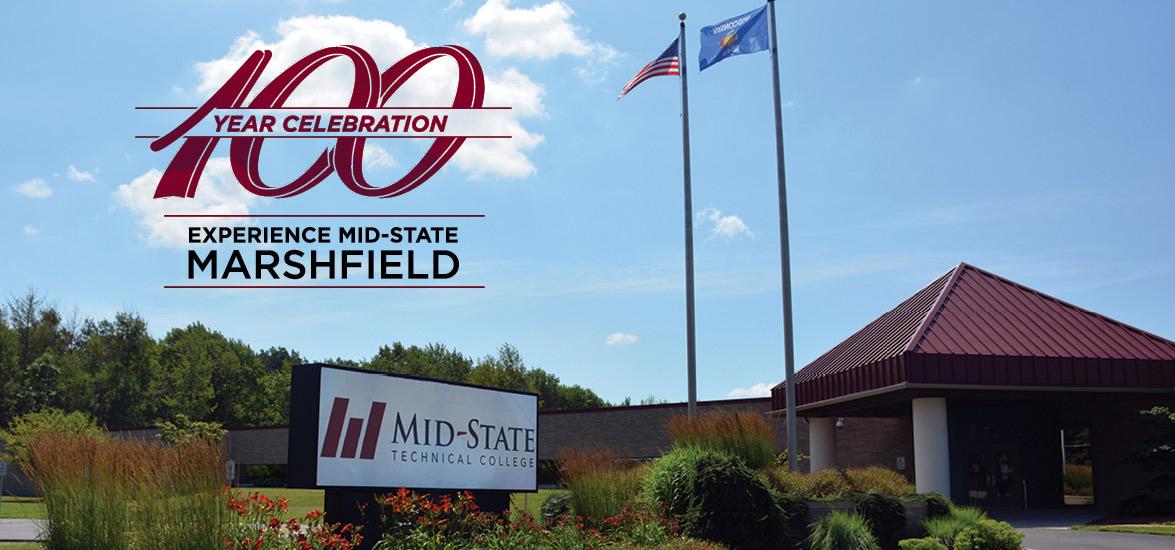 Mid-State celebrates 100 years in Marshfield
July 16, 2020
Mid-State Technical College is set to launch a celebration marking the 100-year anniversary of its presence in Marshfield. The "Experience Mid-State" celebration is an invitation to experience Mid-State's past and present by engaging with the College at events in the community and by sharing their experience with Mid-State in Marshfield on social media. The celebration also includes a $500 gift basket giveaway to be awarded in June 2021.
"The success Mid-State has enjoyed in Marshfield is a point of pride," said Mid-State's Marshfield Campus Dean Alex Lendved. "As we pay homage to our history and look forward to the future, we are eager to invite everyone to celebrate with us and experience Mid-State—past and present."
According to Lendved, Mid-State's Marshfield Campus got its start when the Marshfield city council appropriated money to build a new vocational and junior high school building in 1918, which was completed and occupied in 1920. That school would be one of several vocational schools in the central Wisconsin area that would be organized into a district in 1967 and eventually known first as Mid-State Technical Institute in 1972, then Mid-State Technical College in 1987. Today the College serves a resident population of over 172,000 at four campuses in Wisconsin Rapids, Stevens Point, Marshfield and Adams.
Today, Mid-State in Marshfield has grown from offering one full-time Medical Assistant program to serving over 1,300 students per year and offering over 20 programs that can be completed at the campus. Those programs present a wide variety of opportunities, including agriculture, Nursing, allied health, and Stainless Steel Welding. 
"Since students can take general education courses at the Marshfield Campus, we also offer a great start for any of Mid-State's over 60 programs, including the University Transfer degrees," Lendved added. 
The College kicks off the 100-year anniversary celebration at the Dairyfest Reverse Parade on July 18, Marshfield's annual salute to the dairy industry. Community members are encouraged to participate by sharing their experience with Mid-State in Marshfield using the hashtag #ExperienceMidState, and tagging Mid-State on Facebook (@MidStateTech) and Twitter (@FollowMSTC).