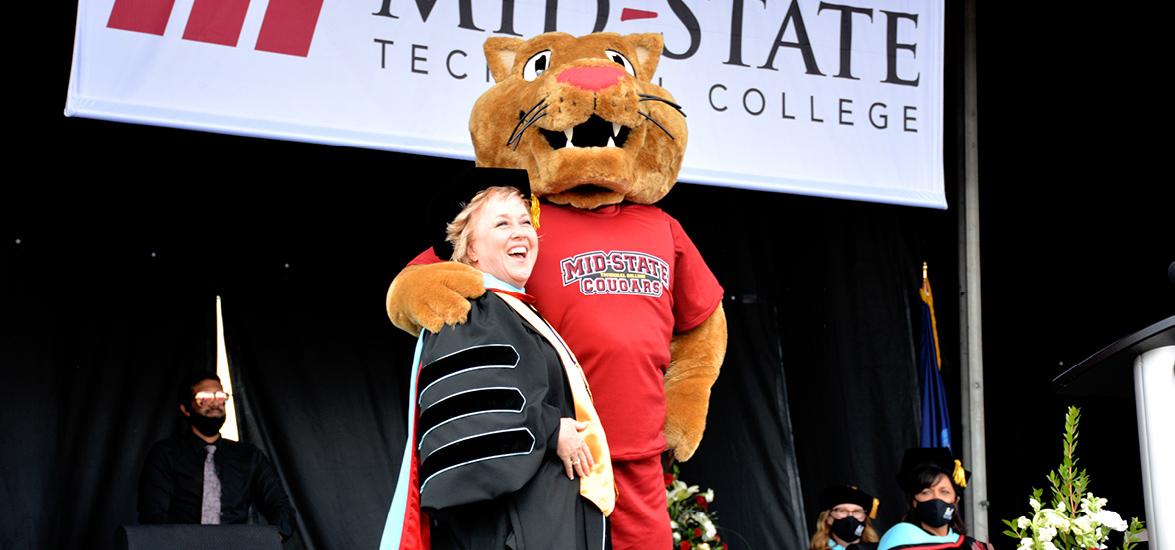 Mid-State celebrates 2021 graduates in outdoor ceremony
May 17, 2021
Mid-State Technical College celebrated its spring 2021 graduates on Sunday, May 16, with an outdoor ceremony on the College's Wisconsin Rapids Campus. 
The outdoor ceremony took place in the campus parking lot with large screen monitors providing a view of the proceedings in real time. Graduates were seated outside and given the opportunity to walk across the state to receive their diplomas while invited guests and families viewed from their cars. 
The celebration included a speech from student speaker and Business Management graduate Adrian Rodriguez, Nekoosa, and a faculty send-off by Respiratory Therapy Instructor William Rosandick.
Mid-State President Dr. Shelly Mondeik conferred the degrees and invited the graduates to move their tassels to the left just before introducing the College's returning cougar mascot, "Grit," calling it a fitting debut for an emblem of the grit, determination and persistence exhibited by Mid-State's students. 
"There is no better way to represent what you have weathered in the last year, what you have achieved at the end of it, and the pride you should feel in yourselves today," Mondeik said in her remarks.
The event was live streamed on the Mid-State YouTube page for anyone wishing to join remotely. The video recording can be viewed on Mid-State's website at mstc.edu/graduation.
Following is a list of Mid-State's spring 2021 graduates sorted by graduate candidate city and academic program. Cities are in Wisconsin unless otherwise indicated. 
Abbotsford – Industrial Mechanical Technician: Mark Gantner
Adams – Accounting: Amber Ricci; Business Management: Amber Ricci; Welding: Dakota Nusser
Almond – Automotive Technician: William Nordberg; Health Information Management: Brianna Kawlewski
Amherst – Business Management: Felicia Podeszwa and Jena Schoneck; Civil Engineering Technology-Highway Technician: Kyle Glodowski; Health & Wellness Promotion: Karissa Yehling; Health Information Management: Jessica Dombrowski; Medical Assistant: Melissa Mancl; Medical Coder: Jessica Dombrowski; Phlebotomy Technician: Uskana Alimi; Surgical Technologist: Amy McKenzie
Arcadia – Metering Technician Apprentice: Kyle Haines
Arkdale – Welding: Alexander Kobs
Arpin – Business Management: Katlyn Bauer; Cosmetology: Emma Peterson; Diesel & Heavy Equipment Technician: Dakota Baird; Entrepreneurship: Katlyn Bauer; Human Resources Assistant: Katlyn Bauer; Phlebotomy Technician: Brittaney Peterson; Project Management: Katlyn Bauer; Respiratory Therapy: Jessica Schultz
Athens – Surgical Technologist: Deveney Eckardt and Makayla Krall
Auburndale – Accounting Assistant: Anna Hoeser; Agribusiness and Science Technology: Shoshannah Gomm; Civil Engineering Technology-Highway Technician: Cason Schmutzer; IT Computer Support Specialist: Bryce Federwitz; IT Network Specialist: Bryce Federwitz; IT Software Developer: Amanda Horn
Bancroft – Machine Tool Technician: Jason Hanson; Machinist Apprentice: Jessi Lordson; Respiratory Therapy: Lisa Leach; Surgical Technologist: Sarah Rothermel and Kalli Westenberger
Bonita Springs, Fla. – Health Information Management: Hailey Kronstedt; Medical Coder: Hailey Kronstedt
Chili – Farm Operation: Jackson Klueckman; Medical Assistant: Gloria Mireles
Colby – Construction Electrician (ABC) Apprentice: Andrew Kaiser and Dylan Leffel; Electrical Power Engineering Technician: Nathaniel Bulman
Columbus – Entrepreneurship: Morgan Witthun
Crandon – Human Resources Assistant: Kendra Papapetru
Custer – Administrative Professional: Carly Johnson; Human Resources Assistant: Carly Johnson; Liberal Arts-Associate Science: Maren Herndon; Nursing: MiracleJoy Szalewski; Welding: Justin Malec
Danbury – Metering Technician Apprentice: Josh Pardun
Dorchester – Accounting: Ashley Meyer
Durand – Construction Electrician (ABC) Apprentice: Bryce Berger
Eagle River – Accounting: Samantha Ruechel
Friendship – Arborist Technician: Autumn Wormet; Criminal Justice - Law Enforcement 720 Academy: Nicholas Engle; Health Information Management: Tammy Villwock; Medical Coder: Tammy Villwock; Nursing: Victoria Arndt and Alyssa Mccoy
Granton – Medical Assistant: Haven Tennant; Nursing: Nicolas Cowdrey
Greenwood – Respiratory Therapy: Derek Suda
Hancock – Medical Assistant: Sydney Cooper; Phlebotomy Technician: Brianna Kaehn; Welding: Timothy Meadows
Hazelhurst - Business Management: Samuel Pagels
Hewitt - IT Computer Support Specialist: Cole Kramer; Machine Tool Technician: Kieran Bump
Hortonville – Metering Technician Apprentice: Andrew Chandler
Iola – Business Management: Samual Solie; Criminal Justice-Studies: Avigail Carvajal
Janesville – Business Management: Kevin Penzkover; Criminal Justice-Studies: Brendan Sukus;
Entrepreneurship: Kevin Penzkover; Human Resources Assistant: Kevin Penzkover; Project Management: Kevin Penzkover
Junction City – Accounting: Jacy Przekurat; Cosmetology: Kathleen Helminiak; Fire Protection Technician: Chani Pulchinski
Kronenwetter – IT Security Specialist: Michael Hanson
Lombard, Ill. – Criminal Justice - Law Enforcement 720 Academy: Mackenzie Boborz
Manitowoc – Carpenter Apprentice: Mitchel Ruzek
Marshfield – Accounting: Brandie Hyland and Jennifer Mauritz; Accounting Assistant: Tara Davis and Jacob Twardowski; Business Management: Alyse Esser, Briana Sauer and Suzanne Scheppa; Carpenter Apprentice: Tanner Mueller; Central Service Technician: Nadia King, Isabelle Multerer and Jadey Nelson; Civil Engineering Technology-Highway Technician: Travis Altman; Cosmetology: Cassandra Kopf; Criminal Justice - Law Enforcement 720 Academy: Phillip Maguire and Erik Tollefson; Criminal Justice-Studies: Tyler Utpadel;
Digital Marketing: Heather Fehrenbach; Entrepreneurship: Alyse Esser and Suzanne Scheppa; Farm Business & Production Management: Diane Witzel; Human Resources Assistant: Alyse Esser and Suzanne Scheppa; IT Security Specialist: Andrew Schnitzler; IT Software Developer: Nathan Hohenstein; Marketing: Briana Sauer;
Medical Assistant: Sara Cheek, Lauren Faber, Jessica Kielman, Ashli Krueger, Melissa Kusay and Alexis Schneider; Medical Coder: Andrea Jackan; Nursing: Katelyn Andres; Paramedic Technician: Samantha Bell and Alexis Straughan; Project Management: Alyse Esser and Suzanne Scheppa; Respiratory Therapy: Pamela Gowin and Shaina Wagner; Steamfitter and Steamfitter Service Apprentice: Jason Severt; Surgical Technologist: Emily Hansen and Trinity Thompson; Welding: Richard Bong
Mauston – Nursing: Alisha Coppernoll
Medford – Surgical Technologist: Mckenzie Waldhart
Menasha – Phlebotomy Technician: Michelle Miller
Menomonee Falls – Fire Protection Technician: Kyle Hilgendorf
Merrill – Health Information Management: Julie Young
Milladore –Steamfitter and Steamfitter Service Apprentice: John Haasl
Milwaukee – Technical Studies-Journey Worker: Domonique Edwards
Montello – Medical Assistant: Melissa Rose
Mosinee – Central Service Technician: Makayla Best; Respiratory Therapy: Whitney Nechuta
Necedah – Corrections & Community Advocacy: Cecilia Steen; Industrial Mechanical Technician: Ethan Thomas and Jared Thomas
Neillsville – IT Computer Support Specialist: Darrin Loberg; Office Support Specialist: Shyann Millard; Respiratory Therapy: Samantha Pohle, Wendy Proffitt and Brianna Thur
Nekoosa – Accounting: Danielle Kinney; Accounting Assistant: Jacquelyn Hoffman; Business Analyst: Adrian Rodriguez; Business Management: Brittany Brotz; Construction Trades: Garrett Robitaille; Corrections & Community Advocacy: Brooke Baierl; Cosmetology: Lea Brost and Danielle Henriksen; Criminal Justice - Law Enforcement 720 Academy: Catherine Jasin; Criminal Justice-Studies: Nicholas Spanske; Diesel & Heavy Equipment Technician: Laina Stashek; Early Childhood Education: Lindsey Koplien; Entrepreneurship: Brittany Brotz; Heating, Ventilation, & Air Conditioning (HVAC) Installer: Eric Leitner; Human Resources Assistant: Brittany Brotz, Cecily Fuller and Danielle Kinney; Industrial Automation & Controls Engineering Technology: Austin Sutherland; Liberal Arts-Associate of Arts: Nicole Moffett; Medical Coder: Kristine Fraley; Nursing: Stephaney Bredl; Phlebotomy Technician: Aleah Spanske; Project Management: Brittany Brotz; Respiratory Therapy: Monica Sojka; Welding: Dakota Moody
Pittsville – Agribusiness and Science Technology: Samantha Shaw; Diesel & Heavy Equipment Technician: Matthew Grossman; Digital Marketing Promotions: Jessie Rasmussen; Nursing: Jenna Hughes and Skye Klein; Sales Specialist: Jessie Rasmussen
Plainfield – Cosmetology: Makenzie Conley; Surgical Technologist: Dalila Banda
Plover – Accounting Assistant: Harsh Patel; Automotive Technician: Bethany Lang; Business Management: Robert Barber and Brittney Korger; Corrections & Community Advocacy: Alexis Flatoff; Cosmetology: Alyssa Gethers; Criminal Justice-Studies: Megan Koehmstedt and Nora Widder; Diesel & Heavy Equipment Technician: Brodie Kjornes; Digital Marketing: Samuel Bentz and Angelnia Whitehead; Digital Marketing Promotions: Hannah Guerrero; Heating, Ventilation, & Air Conditioning (HVAC) Installer: Daniel Beaudry, Nathan Crawley and Mitchell Steckel; Human Resources Assistant: Savannah Drake-Felton, Matthew Jacque and Hannah Raschka; IT Network Specialist: Gregory Hansen; IT Software Developer: Robert Hintz; Machinist Apprentice: Young Chang and Kyler Monte; Nail Technician: Kayla Newby; Nursing: Kelly Firkus and Chai Vang; Office Support Specialist: Holly Enyart; Phlebotomy Technician: Melissa Huebschman; Project Management: Hope Nemeth; Respiratory Therapy: Dan Savolt; Welding: Trevor Pritzl
Port Edwards – Surgical Technologist: David Huckbody
Portage – Criminal Justice-Studies: Samuel Bleich
Rhinelander – Construction Electrician (ABC) Apprentice: Michael Hurkmans
Richland Center – Metering Technician Apprentice: Gerald Klatt; Surgical Technologist: Emma Wallace
Rio – Criminal Justice - Law Enforcement 720 Academy: Benjamin Zeidler
Rosholt – Health & Wellness Promotion: Shelby Richter; Leadership Development: Amy Wojtalewicz; Respiratory Therapy: Mary Zinda
Rudolph – Nursing: Samantha Bushmaker
Salem – Criminal Justice - Law Enforcement 720 Academy: Rilye Kaebisch
Schofield – Entrepreneurship: Amber Fernandez
Sherwood – Metering Technician Apprentice: Tristian Magnuson
Spencer – Health & Wellness Promotion: Lisa Beels; Heating, Ventilation, & Air Conditioning (HVAC) Installer: Leonardo Rodriguez; Medical Assistant: Ashlee Conrad; Nail Technician: Alexa Voda; Nursing: Lindsey Vaughan
Stevens Point – Accounting: Dylan DeDeker; Accounting Assistant: Ami Mechling; Arborist Technician: Kevin Case; Automotive Technician: Tristen Smith; Business Management: Tyler Paterick, Savannah Piff, Kevin Reed, Sarah Schmidt, Emma Schulfer, Joseph Segner, Brandon Stanczyk and Sandra Williams; Carpenter Apprentice: Matthew Brzezinski; Construction Electrician (ABC) Apprentice: Zachary Firkus; Corrections & Community Advocacy: JoAnne Ball and Dylan Worzella; Criminal Justice - Law Enforcement 720 Academy: Jacob Alexander, Kody Darnick, Jonathon Euting, Samuel Goberville, Hunter Laufenberg, Aaron Lofgren, Jacob Matti, Dillon Mcguire, Colt Pechan, Jack Rapala, Christopher Schiera, Harrison Stone and Zachary Stromberg; Criminal Justice-Studies: Nikohl Crossman and Travis Swan; Customer Relationship Professional: Michele LaCrosse; Diesel & Heavy Equipment Technician: Anthony Hammerstad, Jasmine Lilyquist and Zachary Rohde; Digital Marketing: Jeffrey Campbell, Erin Harger, Alicia Jensen and Brandon Schneeberger; Early Childhood Education: Emerald Hartjes and Qij Vang; Entrepreneurship: Kamie Hedrington and Tyler Paterick; Heating, Ventilation, & Air Conditioning (HVAC) Installer: Marshall Fox; Human Resources Assistant: Tyler Paterick, Emma Schulfer and Kathy Yang; Industrial Automation & Controls Engineering Technology: Matthew Gehrke and Alexander Stewart; Industrial Mechanical Technician: Forrest Gross and Kyle Weeks; IT Network Specialist: Nadine Dunning and Casey Schoettmer; IT Security Specialist: Andrew Cherney; IT Software Developer: Joel Campbell, Brittany Frank, Monica Higgins and Cody Resop; Machine Tool Technician: Wyatt Lutz; Machinist Apprentice: Travis Hintz; Medical Assistant: Christina Adamski, Kourtney Bonney and Cameron Schuler; Medical Office Specialist: Shari Carpenter; Nail Technician: Renata Betro; Nursing: Suzanne Ackers, Dalton Bugaj, Katherine Keller, Ireland O'Gara and Rachel Vittone; Office Support Specialist: Lilah Schuessler; Phlebotomy Technician: Hailey Nelson; Plumber Apprentice: Daniel Elsinger; Project Management: Shannon Doucette, Tyler Paterick and Kevin Reed; Renewable Energy Technician: Dylan Jenkins and Damon Ramon; Surgical Technologist: Lauren Dailey and Chloe Schellhaass
Stratford – Carpenter Apprentice: Brian Heusi; Construction Electrician (ABC) Apprentice: Korey Meyer; Medical Coder: Debra Schillinger
Unity – Nursing: Emilie Greenberg and Renee Kunze
Unknown City – Criminal Justice - Law Enforcement 720 Academy: Christopher Henning
Valders – Emergency Services Management: Brandon Sy
Vesper – Cosmetology: Veronica Major
Waupaca – EMT-Paramedic: Katy Klug; Medical Assistant: Brielle Rieckmann; Nursing: Brittany Christenson; 
Paramedic Technician: Katy Klug
Wausau – Construction Electrician (ABC) Apprentice: Thomas Brown; Surgical Technologist: Micaela Rucker
Wautoma – Human Resources Assistant: Jordyn Rasmussen
Weston – Heating, Ventilation, & Air Conditioning (HVAC) Installer: Dustin Copa
Wisconsin Rapids – Accounting: Shauna Pazurek; Accounting Assistant: Jennifer Holden; Administrative Professional: Allyssa Dayton; Arborist Technician: Levi Payne; Automotive Maintenance Technician: Jacob Koran; Automotive Technician: Ed Kleinhenz; Business Management: Ashley Baumgardner, Tina Farrell, Joelle Lemke, Cassandra Mancl, Mattea Sejbl, Nicole Stricker and Colton Stuckey; Central Service Technician: Rebecca Syperek; Construction Electrician (ABC) Apprentice: Garrett Radke; Corrections & Community Advocacy: Candace Pudder and Monica Saenz; Cosmetology: Rebecca Mathys and Meghan Zurawski; Criminal Justice - Law Enforcement 720 Academy: Terry Johnson and Roarke Steiner;Criminal Justice-Studies: Jeffery Broschardt and Allister Greening; Customer Relationship Professional: Ashleyn Sparks Koch; Early Childhood Education: Kelly Collins and Hannah Korslin; Electrical Power Engineering Technician: Dou Thao; Entrepreneurship: Ashley Baumgardner, Allyssa Dayton, Tina Farrell, Joelle Lemke and Tori Spencer; Farm Business & Production Management: Christopher Bohl and Jonathan Bohl; Health & Wellness Promotion: Mandelyn Adams and Brenna Krug; Health Information Management: Kerre Oie; Heating, Ventilation, & Air Conditioning (HVAC) Installer: Leroy Berkholtz; Human Resources Assistant: Ashley Baumgardner, Allyssa Dayton, Tina Farrell and Joelle Lemke; Industrial Automation & Controls Engineering Technology: Simon Flick; Industrial Mechanical Technician: Dalton Smith and Matthew Smith; IT Software Developer: Joseph Jirschele; Machinist Apprentice: Clark Johnson; Medical Assistant: Margret Neas and Teara Peterson; Medical Coder: Kerre Oie; Nursing: Hanna Christianson, Cassandra Freehill, Aubrey Iwinski, Felicia Kaufman, Marley Siems, Rachel Sneen and Kaylyn Williams; Paramedic Technician: Alex Klonowski; Phlebotomy Technician: Cody Manz and Alynah Thompson; Project Management: Allyssa Dayton, Tina Farrell and Joelle Lemke; Renewable Energy Technician: Dylan Engelbright and Jessie Wirtz; Steamfitter and Steamfitter Service Apprentice: Ryan Wedl; Surgical Technologist: Ashley Cangas Palomo, Aftyn Guldan and Michelle O'shasky; Welding: Michael Dachel, Colton Haasl, Hayden Heath and Christopher Porter
Withee – Respiratory Therapy: Morgan Hanson