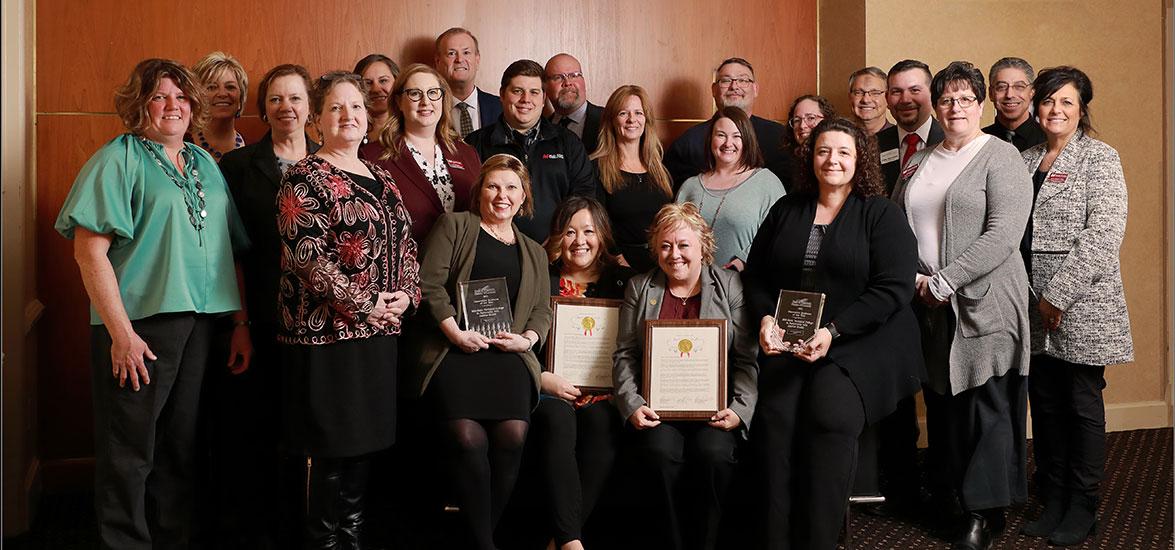 Mid-State, Aspirus named Innovative Business of the Year for Simulation Center
March 7, 2022
Mid-State Technical College and Aspirus Health are the joint recipients of the Innovative Business of the Year award for their partnership in constructing a Health Care Simulation Center. This award was conferred at the 74th Annual Heart of Wisconsin (HOW) Chamber of Commerce annual dinner on March 2 at the Hotel Mead & Conference Center in Wisconsin Rapids. 
Sponsored by WoodTrust Bank and Cellcom, the HOW Chamber's award for Innovative Business of the Year recognizes commitment to development of a new product or service as well as a culture of innovation. The award is open to the community for public nomination, with final selection made by the Chamber executive team. For the first time, the annual award was shared by two organizations for achievements stemming from a collaboration.
 "This award represents a true assimilation of the missions of its three partners, Aspirus Health, Mid-State and the Legacy Foundation of Central Wisconsin," said the College's President Dr. Shelly Mondeik. "This center will minimize wait lists in health care programming and offer expanded interdisciplinary experiences for all Mid-State Health and EMS students while being available to support current professionals in simulated training opportunities and future community educational opportunities."  

"We are honored to partner with Mid-State Technical College by having this state-of-the-art simulation center in our hospital," said Chris Stines, President of Aspirus Riverview Hospital & Clinics. "We enjoy having the Mid-State instructors and students on our campus and are thrilled that this collaboration has led to the education of more health care students than ever before, which benefits our community and beyond." 

Hannah Quick, events and marketing director for Heart of Wisconsin Chamber of Commerce, said, "While a multi-business award is unique, it speaks to the innovative spirit of this specific award, so it was an honor to recognize and celebrate this  success of our Chamber Investors."
Launched in March of 2021, the 12,000 square-foot the Simulation Center's design repurposes a portion of the third floor of Aspirus Riverview Hospital. The center allows Mid-State Technical College to greatly increase nursing student capacity and provide experiences for all health and EMS programs at the College, thereby working to address the local workforce shortage in healthcare. It also provides professional development for current health care professionals through continuing education and customized training.
Learn more about the Health Care Simulation Center and the Mid-State programs training in it at mstc.edu/sim-center.