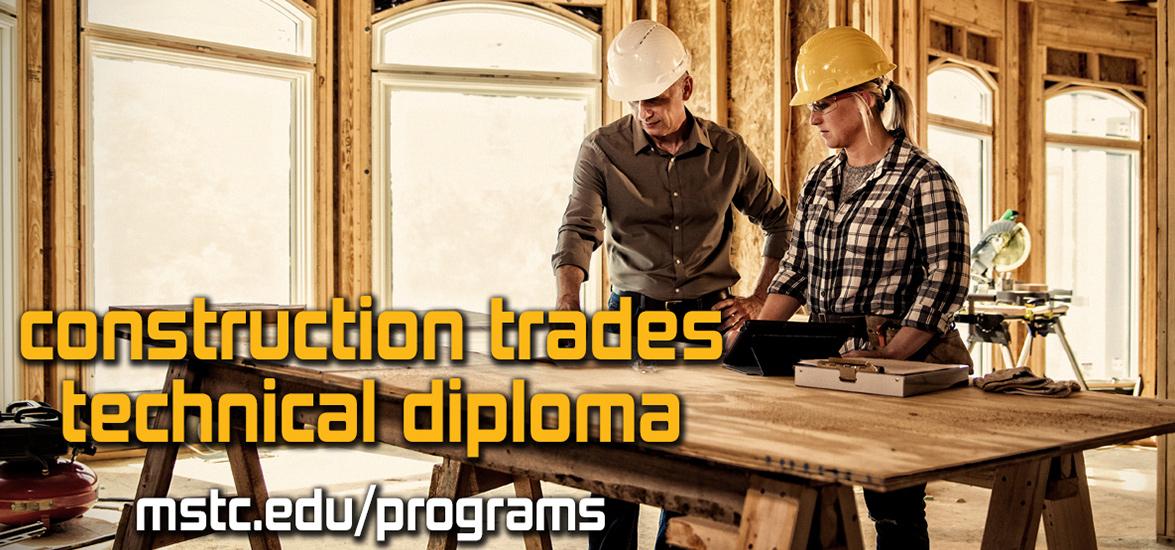 Mid-State to Offer New Construction Trades Technical Diploma
November 15, 2018
Mid-State Technical College will launch a newConstruction Trades technical diploma program this spring, with classes starting the week ofJanuary 2 on the Wisconsin Rapids campus. The program can be completed in 12 weeks, with classes on Wednesdays, Thursdays and Fridays to make it easier for working students to attend.
The Construction Trades technical diploma was developed with input from local employers to provide the foundation knowledge and experience to get started in the construction, carpentry, plumbing, electrical and pipefitting fields. Through exposure to multiple fields and industries, graduates are prepared to enter the trade they choose. Coursework also counts toward Unpaid Related Instruction (URI) or "night school" for those entering into an apprenticeship program.
The program is the result of Mid-State's work with local employers to create a diploma that would give students introductory exposure to all areas of the construction trades before choosing a specialty, according to Ron Zillmer, Mid-State's dean ofTransportation, Agriculture, Natural Resources, & Construction. "It really is a win-win for both students and industry, because employers can be confident that graduates of this program will have a well-rounded introduction to job site safety, along with basic skills in all aspects of the construction trades," Zillmer said.
"The on-the-job training combined with education is a great path for entering any skilled trade," said Andrea Jensen, president of Tri-City Refrigeration, who served on the Mid-State program advisory committee that helped develop the program. Cary Hildebrandt, mechanical engineer and co-owner of ComfortAire Heating CoolingPlumbing, also provided input to ensure its graduates will hit the ground running in the construction trades. "The students we have hired from Mid-State have been outstanding," he said.
For more information, visit the programs page or call 888.575.6782 and ask to speak to an advisor.