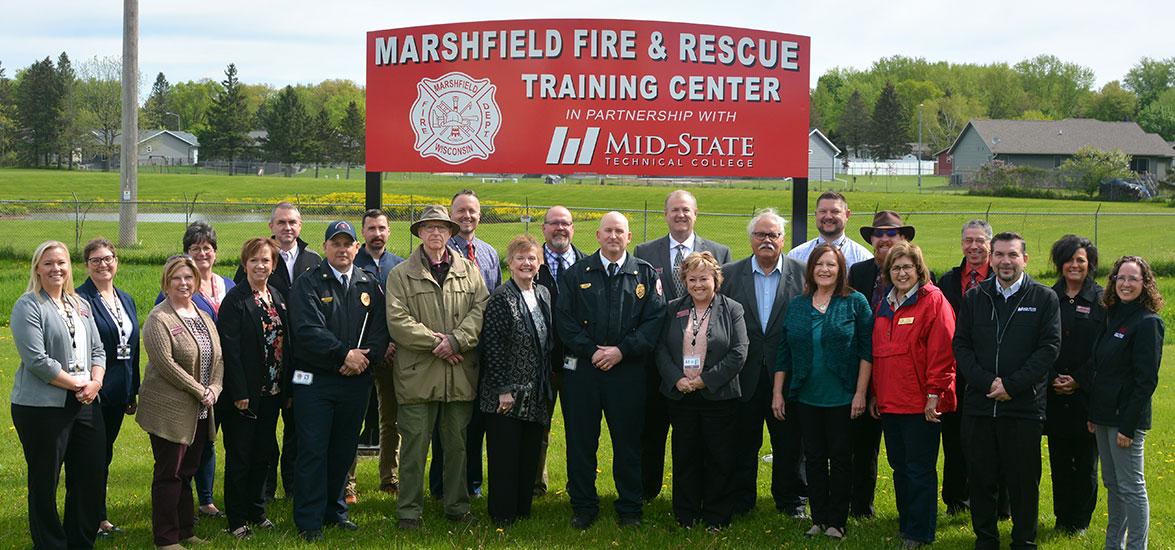 Marshfield Fire and Rescue Department and Mid-State Technical College officials joined by community leaders at the Marshfield Fire & Rescue Center to celebrate a 10-year partnership
May 31, 2022
The Marshfield Fire and Rescue Department, in partnership with Mid-State Technical College, hosted a partnership celebration at the Marshfield Fire and Rescue Training Center located at 2615 South Vine Avenue. The event was attended by many contributors, collaborators and champions of the project, including Marshfield Fire and Rescue leadership, city officials, college officials and local legislators. 
The new partnership is a result of a ten-year collaborative agreement signed in February 2021 between the City of Marshfield, the Marshfield Fire and Rescue Department and Mid-State Technical College to expand local and regional training offerings in fire protection and emergency services. The enhancements made to the site over the next ten years will allow for training to occur closer to regional career and volunteer fire departments, greatly increasing convenience and access for trainees in the central Wisconsin region and producing savings in travel costs and time commitment. The location will also allow training to occur while firefighters and their equipment remain nearer to their jurisdictions. 
While the site will continue to be used by the Marshfield Fire and Rescue Department, other agencies in the Mid-State District in close proximity will also be able to use the site for much needed training, according to Peter Fletty, chief of the Marshfield Fire and Rescue department. "Both entities want this training center to become a training site for not only Marshfield Firefighters and Mid-State Technical College students, but for surrounding agencies as well," Chief Fletty said. "We want it to not only be diverse in the training opportunities it provides but be durable and long-lasting for future generations of firefighters."
Guests at the partnership celebration were able to see the existing training site and hear about long-term plans to improve the site with new props and equipment such as a forcible entry prop, Denver drill prop, Pittsburg prop and a Draeger fire simulation system. 
According to Mid-State President Dr. Shelly Mondeik, the College has faced barriers to offering local training in the past, including lack of access to land and a resource of a partner to make it happen. "It was really getting like-minded people together to be able to create something that was even better," she said.
The training collaboration was first conceived of four years ago, stemming from listening sessions, meetings and surveys conducted by the College to identify solutions to better serve its surrounding communities. That process identified a need for a decentralized training model for fire training across the region, allowing fire trainings closer to the agencies they serve. Mid-State's role in bringing the project to fruition includes providing training on site and procuring needed equipment to support state-of-the-art fire learning experiences.
State legislators at the event were pleased to see the site in action. "We talk about public-private partnerships a lot in government because government can't do it all," said Wisconsin State Rep. Donna Rozar. "We have to mobilize other resources to do what we want to do. And so, my congratulations to you all and my thanks for being willing to work together and develop this partnership. These partnerships are efficient, cost effective and benefit our communities greatly."
"I've worked many years trying to get these types of partnerships among government entities, so often we have a bit of a wall between one government and another," added Wisconsin State Sen. Kathleen Bernier. "Kudos to you for blazing the trail on creating this partnership and renewing this partnership, which is so important to your community."
Instructional sessions are currently being held at the Fire and Rescue Training Center. Mid-State Technical College and Marshfield Fire and Rescue look forward to continuing collaborative training sessions at the site.