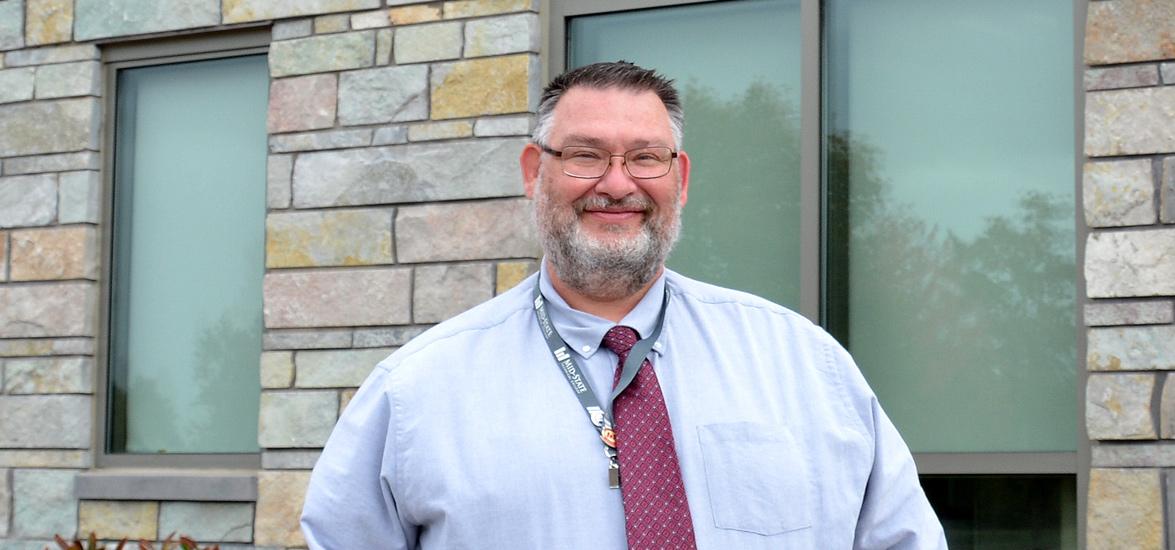 Mid-State's Keith Melvin tapped for Lakeland University Outstanding Kellett Undergraduate Student Award
June 1, 2022
Lakeland University has honored Mid-State Technical College graduate and Simulation Specialist Keith Melvin with its 2022 Outstanding Kellett Undergraduate Student Award.
According to Amy Pierce, director of Lakeland's central Wisconsin center in Wisconsin Rapids, Melvin was chosen because of his dedication, hard work, motivation and sense of community.
"Keith always strives to go out of his way to help and recognize his students," Pierce said. "His leadership and passion for EMS has helped grow the program and develop the curriculum. He never misses an opportunity to say hello to anyone passing by him in the hallway or check in with his students on his way out the door."
A father, student, educator and volunteer, Melvin serves as EMS chief for a volunteer fire department near Marshfield and president of the North Central Fire Rescue Association where he focuses on training, public education and community outreach. He will graduate from Lakeland in August with an undergraduate degree in organizational management with plans to continue on to pursue his master of science in leadership and organizational development. 
Melvin received a 20 percent tuition discount at Lakeland after earning his Emergency Services Management associate degree from Mid-State Technical College and enrolling in the Business Management program at Lakeland, a qualifying William R. Kellett School bachelor's degree program.
"I'm extremely excited to be nominated for this award," said Melvin who expressed gratitude for the support he's received from his wife and kids, the community and Lakeland University as well as Mid-State Associate Dean of Protective & Human Services Rick Anderson, who inspired him to go back to school at the age of 45. 
"I have enjoyed watching Keith's educational journey to this point," said Rick Anderson, associate dean of the School of Protective & Human Services at Mid-State. "As a supervisor of higher education faculty, I am always supportive of their educational efforts, and Keith has done a remarkable job of balancing his work, education and personal life."
Melvin was also recognized in 2020 when he was named EMS Educator of the Year by the Wisconsin EMS Association (WEMSA) for his work to strengthen Mid-State's EMS education programs as well as his extensive outreach and service efforts.
Lakeland and Mid-State recently celebrated 30 years of partnership to provide convenient local access to a four-year degree and beyond through Lakeland courses offered on-site at Mid-State. The two institutions also signed a new liberal arts transfer agreement this spring, which allows students who earn the 60-credit Liberal Arts–Associate of Arts or Liberal Arts–Associate of Science degrees at Mid-State will be able to transfer to Lakeland or UW-Stevens Point with junior standing and apply all of their credits toward a bachelor's degree in a range of areas, including accounting, analytics, business administration, communication, computer science, criminal justice, management information systems, marketing and psychology. 
To learn more about Mid-State-to-Lakeland transfer opportunities, contact Suzanne Rathe, Mid-State dean of General Education, at 715-342-3124 or via email at suzanne.rathe@mstc.edu.