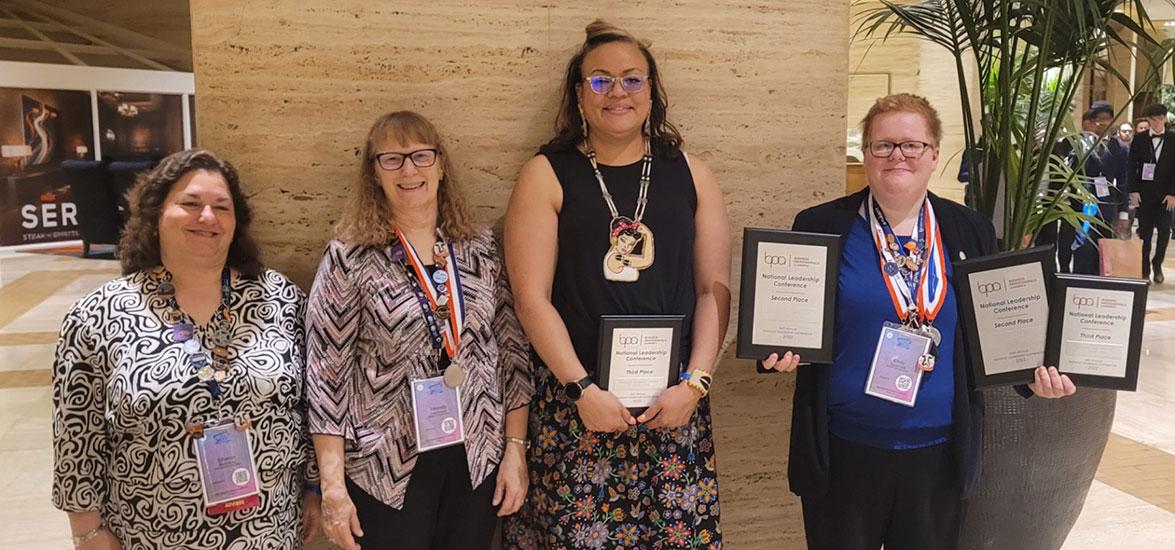 Mid-State students earn top awards at 2022 Business Professionals of America National Leadership Conference
June 2, 2022
Mid-State Technical College student finalists in the Business Professionals of America (BPA) Wisconsin State Leadership Conference this February have again shined in their competitive events on the national stage, earning top awards in the organization's National Leadership Conference, held May 4 – 8 in Dallas, Texas.
"My experience at the National Leadership Conference in Dallas was amazing," said Emily Tauschek, a Business Management student from Plover. Tauschek, vice president of Mid-State's BPA club, took second place in Entrepreneurship, second in Human Resource Management and third in Fundamental Word Processing. "I had so much fun getting to explore Dallas. I got to see the Dallas World Aquarium, walk for special Olympics and enjoy the Texas Hoedown all while competing in Business Professionals of America."
"I had never thought about a career in human resource management, but after competing, I have now considered a job in that field," Tauschek added. "Fundamental Word Processing was just a fun one on the side that I chose to do. When I placed at nationals, I realized that these are good paying jobs and that is what Mid -State prepares you for once you graduate college—to enter the workforce with your skills and credentials."
Mid-State BPA Club President Tara Chapman, Tomah, also excelled at nationals. Chapman, also in the Business Management program and secretary for the Wisconsin BPA State Association, took third place in Presentation Management Individual and seventh in Interview Skills. 
Mid-State BPA Club Treasurer Rhonda Martinson, Wisconsin Rapids, took fourth in Fundamental Word Processing. Martinson earned her Business Management associate degree in 2020 along with technical diplomas in Human Resources Assistant, Project Management and Entrepreneurship. She is currently taking classes in the Health & Wellness Promotion program.
Also highlighted at the event but not in attendance were Debra Peltier, Mid-State BPA secretary, and Kristen Peltier. Both were recognized for completing the Student Certification Series Level 1. Mid-State's BPA chapter also received a Quality Chapter Distinction award and a BPA Marketing and Public Relations award.
According to Mid-State Business Technology Instructor and BPA club advisor Sharon Behrens, this is the second year Mid-State's BPA club participated in BPA's National Leadership Conference but the first time in person. "I'm just incredibly proud of our students and how well they represented Mid-State," Behrens said. "I'm grateful for the opportunity to share such a memorable and potentially life-changing experience with them." 
BPA's competitive events give students the opportunity to demonstrate workplace skills learned through business education curricula. The national conference brought together an estimated six thousand delegates from across the country to vie for top honors in business, finance, technology, marketing and health administration skills competitions; attend leadership and professional development workshops; receive awards for community service activities and elect BPA's 2022–2023 national student leadership team.
Founded in 1966, Business Professionals of America (BPA) is the premier Career and Technical Student Organization (CTSO) for middle, high school and college students preparing for careers in business, finance, management information systems and related fields. BPA provides members with opportunities for growth through education, competition, community service and personal development. The organization has more than 35,000 members in 1,600 chapters across 25 states and Puerto Rico and an international presence in China, Haiti and Peru. Learn more at www.bpa.org.
To learn more about Mid-State's programs in the Business, Management and Administration cluster, visit mstc.edu/programs.