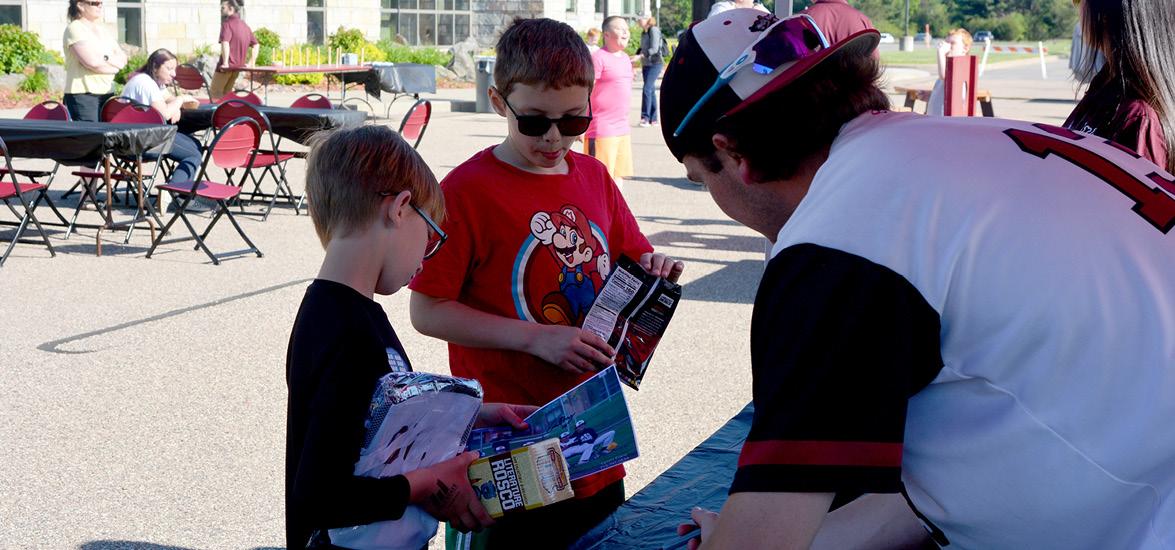 Community turns out for 'Rafters Meet-and-Greet' at Mid-State Technical College
June 8, 2022
Mid-State Technical College joined forces with the Wisconsin Rapids Rafters and WFHR radio station to offer the community a special opportunity to meet the 2022 Rafters baseball players at the College's Wisconsin Rapids Campus on June 7. The "Meet-and-Greet" event was open to the public and featured autograph opportunities, games and the mascots of both Mid-State and the Rafters, Grit and Rosco P. Rafter. 
The first 300 fans to arrive enjoyed complimentary hot dogs, chips and a cup of Mid-State's Cranberry Cougar Swirl ice cream. Attendees also enjoyed hands-on experiences with Mid-State's civil engineering, cosmetology and fire/EMS programs, and the players were treated to complimentary haircuts provided by Mid-State Cosmetology and Barber Technician students and faculty.
The Rafters Meet-and-Greet builds on the ongoing collaboration between the Mid-State and the Rafters to combine fun, community and opportunity. For the past four years, the two organizations have partnered to offer the Free Tuition Thursdays summer promotion, which randomly awards several $500 scholarships plus complimentary Solarus Founders club all-inclusive tickets to a Rafters home game. Being selected also gives contestants a shot at a $15,000 grand prize to pay for the average cost of two years of tuition at Mid-State. Last summer Diesel & Heavy Equipment Technician student Damyon Hains became the first-ever winner of the $15,000 grand prize.
The organizations also recently co-sponsored the Lil' Rafters Reading Program, giving school-aged children the opportunity to win two free tickets to a Rafters home game if they complete a required reading goal. 
"This is such a special partnership," said Chloe de Vries, general manager of the Wisconsin Rapids Rafters. "It brings an important aspect to the Rafters, being able to give back to the community through events like this that raise awareness of opportunities at Mid-State and even help students further their education, as with Free Tuition Thursdays."
According to de Vries, the Meet-and-Greet grew out of a desire to give people a way to come out and actually talk to the team and help welcome the new ball players to the club. "We have team autographs after games, but you never really get to come and hang out at an event where the whole purpose is to introduce them to the community, and it's something the players really enjoy too," she said.
Nine-year-old Ben Krause of Wisconsin Rapids wanted to come to the Meet-and-Greet to get out of the house and play some games. "I played the wheel game and got a tattoo, but my favorite part was the hot dogs, chips and ice cream—and I liked the firetruck."
Ben later had the chance to meet and get the autograph of Rafters pitcher Grant Manning, of Dublin, Calif., an experience he described as "really fun."