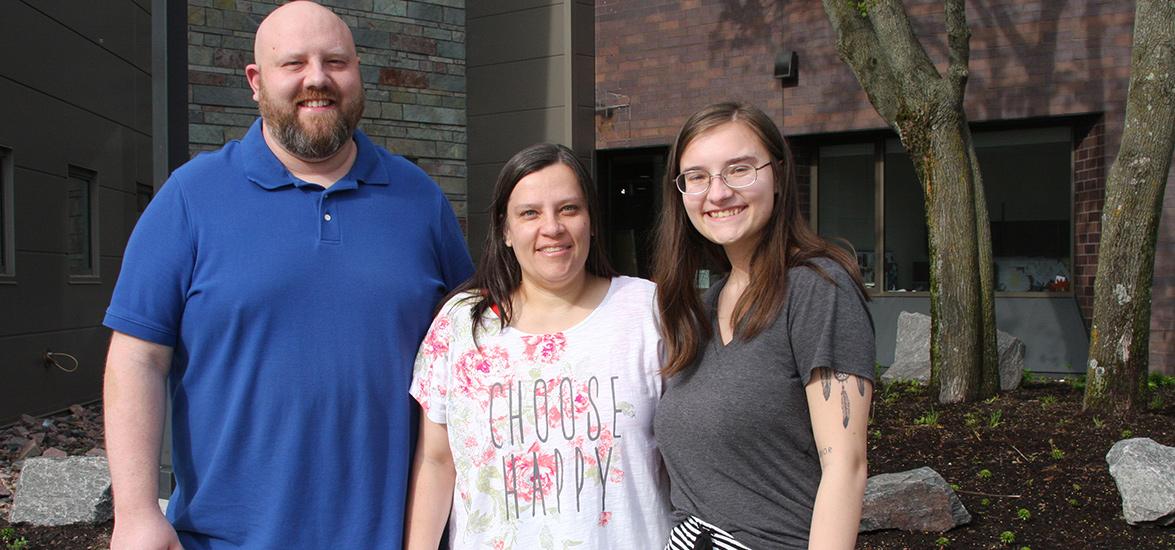 Husband, Wife and Daughter to Walk in Mid-State Commencement Ceremony this Thursday
May 15, 2018
Mid-State Technical College will award associate degrees to two generations of one motivated family in its Commencement ceremony on May 17 in Wisconsin Rapids. Shawn and Deanna Rehberg, husband and wife owners of the Sears Hometown store in Wisconsin Rapids, will receive associate degrees in Business Management and Accounting respectively, while daughter Sierra will receive her associate degree, also in Accounting.
Shawn initially assumed they wouldn't be able to afford tuition for all three family members at the same time and anticipated some debt at graduation, but thanks to a combination of Foundation grants and scholarships and a paid internship for Shawn in Mid-State's Human Resources department, they will graduate debt free on Thursday. "When it comes to paying for school, there is so much funding available—you just have to ask, check into it, and apply," said Shawn. "That's the one thing I want people to take away from our story."
It all started when daughter Sierra chose to pursue her Accounting degree at Mid-State, inspiring her mom to join her. "I had always kept the books for our businesses, so when Sierra enrolled, I found myself saying, 'I wish I'd done that,'" said Deanna. After the first year of watching his wife and daughter working to achieve their dreams, Shawn also decided to join them with the goal of earning his Business Management degree, knowing it would help him grow the business at the Sears store.
Despite his late start, Shawn was able to catch up to his wife and daughter so they could all graduate together. Being able to take most of his classes online made it possible for him to keep the family business going while in school. It also helped that he was able to get transfer credit for his college coursework in 1995 in addition to credit for prior learning as a business owner.
This summer the three Rehbergs will take an Alaskan cruise together to celebrate their accomplishment, a trip they planned from the beginning to provide extra motivation to graduate in two years. They're also looking forward to seeing their kitchen table for the first time in a while. "We each had our own desk at home, but strangely enough we all competed for the kitchen table to spread out and do homework," said Shawn. "We're really looking forward to seeing what the top looks like again and maybe even sitting down to a meal together at that table."