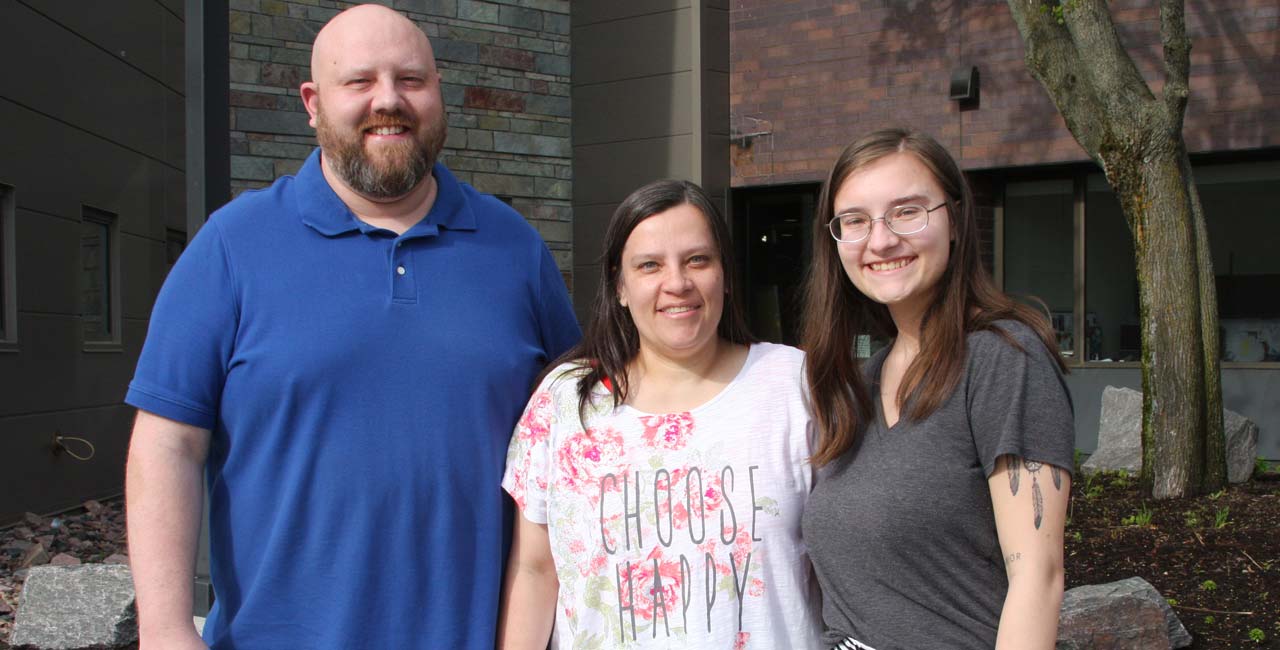 Graduate Spotlight - Rehberg Family
Rehberg Family
Accounting and Business Management, May 2018
"When it comes to paying for school, there is so much funding available—you just have to ask, check into it, and apply. That's the one thing I want people to take away from our story."
When Shawn Rehberg decided to return to school to get his degree in Business Management, it was in part because his wife, Deanna, and daughter Sierra had both decided to enroll in the Accounting program at Mid-State. "I didn't want to get left behind," he says.
Shortly after graduating from high school in 1995, Shawn took some college courses at Mid-State and UW-Stevens Point with a pre-med focus, but marriage and a growing family followed quickly, and before long he took time off from school to manage his responsibilities. He was soon drawn into business ownership as the best career path for him, and dreams of the college degree faded.
But Shawn always wanted to go back and get his degree, this time in business management. He had owned a saltwater fish and coral business and as many as three Sears Hometown stores, and although successful, there was more to learn. "Being mostly self-taught, I wanted to learn what else could help grow a business," he says.
Not every parent would relish the idea of being enrolled full-time in the same college as their child, but the Rehbergs treated the challenge like an adventure.
It all started with daughter Sierra choosing Mid-State for her Accounting degree, which inspired mom Deanna to join her. She had always kept the books for their businesses and found herself saying, "I wish I'd done that."
The next thing Shawn knew, his wife and daughter were enrolled together full-time—and this alone sparked an idea to book an Alaskan cruise for the family at the end of the two years, because "a mother-daughter graduation was cause for a real celebration, and having that award at the end would keep them motivated and on pace to graduate," says Shawn.
After that first year, when Shawn saw how Deanna and Sierra were settling into student life and loving Mid-State, he decided to join them. "I admit I was worried about returning initially," he says. "Twenty years is a long break from school, and I wasn't sure I'd be able to handle the academics while keeping the Sears store going."
But he got off to a strong start in his very first class, with instructor Laura Prince. "Ethics was not a subject I was confident I would do well in, but she made it so fun and interesting, I found it was actually enjoyable to be in class," he says, adding, "I really didn't have a single bad teacher at Mid-State, but definitely several stood out and were so supportive—Brian Bartel is just an amazing teacher, and Susan Strautmann really helped me understand complex accounting concepts."
Even though his wife and daughter had a head start on him, Shawn was able to catch up so they could all graduate together. Being able to take most of his classes online made it possible for him to keep his business going while in school. It also helped that he was able to get transfer credit for his college coursework in 1995, in addition to credit for prior learning as a business owner.
Shawn initially assumed they wouldn't be able to afford the tuition bill for three of them at the same time and anticipated some debt at the end. But a combination of Foundation grants and scholarships and even Shawn's paid internship in Mid-State's Human Resources department made it possible for them to keep up with the bills. The whole family is graduating debt free on May 17. "When it comes to paying for school, there is so much funding available—you just have to ask, check into it, and apply. That's the one thing I want people to take away from our story."
When graduation is behind them and they return from the Alaska cruise, the whole family is looking forward to next steps. Shawn will continue to use what he's learned to grow the business, Deanna is ready to start her career with a payroll position, and Sierra is already taking on added responsibilities in her job at a local bank. Shawn and Deanna's other two children are next in line for academic achievement, with son Tyler enrolled in Mid-State's Criminal Justice-Studies program in the fall and youngest daughter, Alexcis, already talking about one day studying law.
And then there's the kitchen table. "We each had our own desk at home, but strangely enough we all competed for the kitchen table to spread out and do homework," says Shawn. "We're really looking forward to seeing what the top looks like again and maybe even sitting down to a meal together at that table."