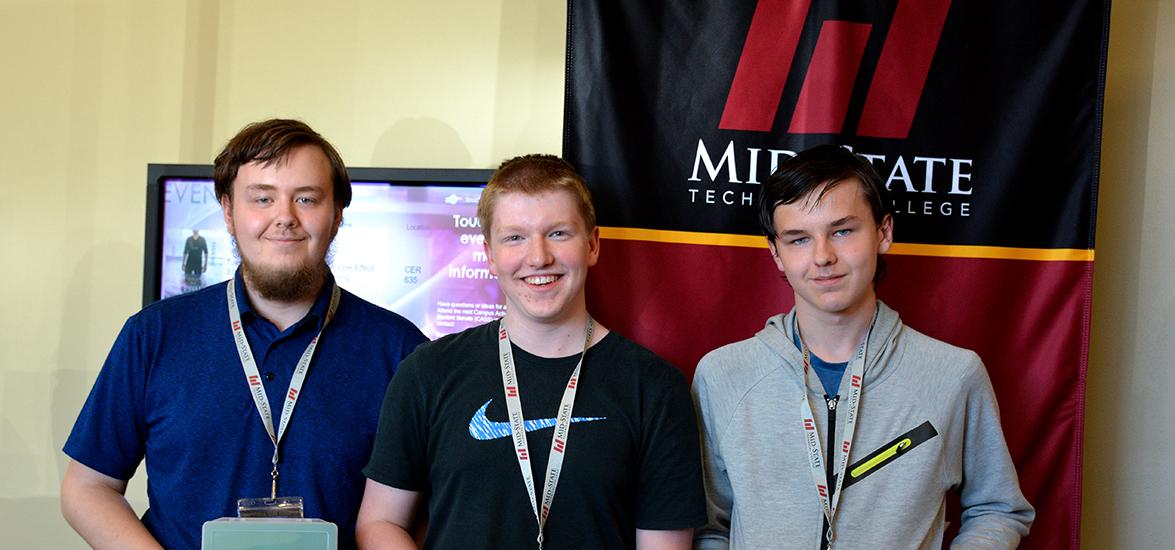 SPASH students among winners of Mid-State's 'Capture the Campus' event
May 6, 2019
Two local high school students were among the winners of Mid-State Technical College's Capture the Campus competition on the Stevens Point Campus, Saturday, May 4. Bennett Wendorf and Hunter Hintz of Stevens Point Area High School formed a team with Robert Hintz, Mid-State IT Software Developer student, ultimately beating out the other three competing teams for most points in their efforts to solve 43 security- and technology-themed challenges during the day-long event.
An IT-related event now in its third year at Mid-State, Capture the Campus is promoted by the College as "not just for IT students," according to Information Technology Instructor Casey Trader. The competition is modeled after one of the most popular events at the annual DEF CON Hacking Conference and offers an opportunity for any Mid-State or area high school student to explore the skills related to Mid-State's IT programs, especially the new IT Security Specialist program. Teams choose which challenges across 11 categories to take on and then spend the day decoding and deciphering while exploring Mid-State and downtown Stevens Point. This year, 77 percent of the challenges were solved, with 51 percent solved by all teams.
"This being our first year to open the event to high school students, we included video game challenges to make the day a bit more engaging for them," said Trader. "We were surprised to see that all participants chose to stay in the lab and work on the security challenges over playing video games, but what amazes me most about Capture the Campus is how much knowledge the students learn and retain in the roughly six hours it takes to complete."
Learn more about Mid-State's IT programs at mstc.edu/programs.