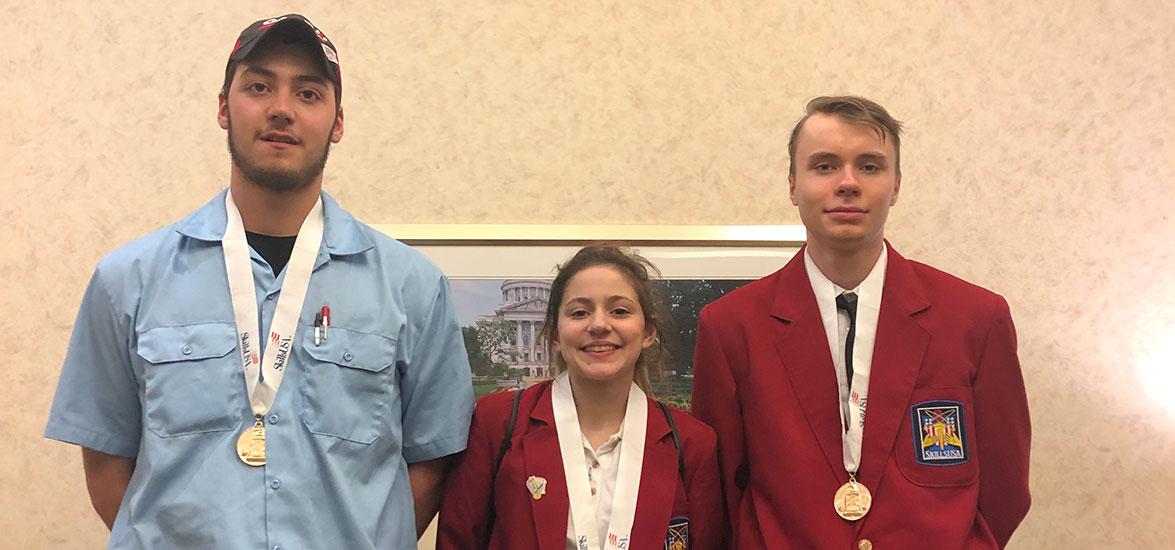 Mid-State students win gold and silver at SkillsUSA state competition
May 3, 2019
Mid-State Technical College students again earned top awards at the State SkillsUSA® Secondary Leadership & Skills Conference, a showcase of career and technical education students. Four students enrolled in Mid-State's advanced manufacturing programs placed in the top three in their respective events at the 46th annual competition, held April 30 and May 1 at the Alliant Energy Center in Madison. 
Caleb Cline, Nekoosa, won the gold medal in CNC Turning and was elected as vice president of the state officer team. Also winning gold in their events were Thomas Hasenorhl, Arpin, in Diesel Equipment Technology, and Madelyn Matthews, Wisconsin Rapids, in Welding Sculpture. David Naud, Nekoosa, won silver in CNC Turning. The win is Matthews' third SkillsUSA state competition medal, having earned gold for her sculpture in 2017 and bronze in 2018. All three gold medalists now qualify to compete in the National Leadership & Skills Conference in Louisville, Ky., in June. 
"The experience these students gain from the SkillsUSA competition will provide great benefits as they transition into the workforce," said Mike Berry, Machine Tool Technician instructor and SkillsUSA adviser for Mid-State. "Their ability to work productively and accurately under pressure has been proven—these students will be leaders when they enter the world of work." 
A total of 21 students from Mid-State's SkillsUSA chapter participated in seven unique skills contests: Courtney Brooks, Levi Kubisiak, Jared McGregor and George Wimme competed in Automotive Service; Ian Arneson, Baylor Braatz and Austin Steines competed in CNC Milling Specialist; Caleb Cline and David Naud competed in CNC Turning Specialist; Mark Gagas, Matt Haasl and Thomas Hasenohrl competed in Diesel Equipment Technology; Garrett Ingram and Connor Pliska competed in Precision Machining; Casey Jero, Devon Melton, Isaac Rau, Dan Spaulding, Tyler Theisen and James Williams competed in Welding Fabrication; and Madelyn Matthews competed in Welding Sculpture.
A national nonprofit organization, SkillsUSA describes itself as "a partnership of students, teachers and industry working together to ensure America has a skilled workforce." Berry, who was named 2018 SkillsUSA Wisconsin State Advisor of the Year, plans to continue Mid-State's investment in SkillsUSA and grow the number of students competing at the state and national levels. To learn more about Mid-State's advanced manufacturing programs, visit mstc.edu/manufacturing.