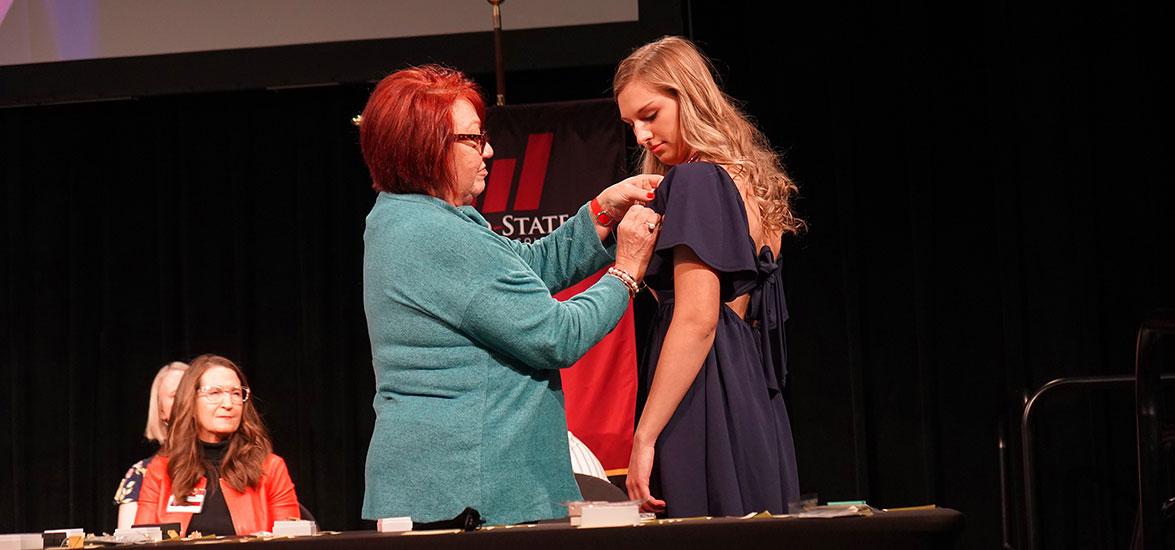 Nursing graduates recognized in Mid-State pinning ceremony
December 13, 2022
Mid-State Technical College recognized the achievements of its Nursing program completers in a pinning ceremony Dec. 10 on the Wisconsin Rapids Campus. Thirty-five graduating students were joined by their family and friends in the celebration.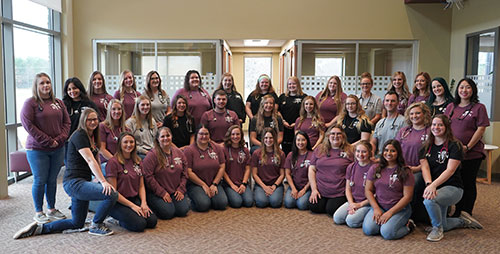 The nursing pinning ceremony is a celebratory endcap to a nursing student's academic career and a bridge between nursing school and a nursing career. It honors and celebrates nursing students and their journey to becoming a nurse. It is also a day of celebration for the nursing faculty who have helped the students reach their goals. 
"I have been through a graduation before, but the pinning ceremony is new," said Nursing graduate Clair Janssen, Stevens Point, who has already accepted a nursing position. "For me, it symbolizes the next step towards the nursing career that I started two years ago, and being able to share it with my family brings even more joy. I am very much excited about my future in this profession."
For the pinning ceremony, each graduating student selects a registered nurse who is a family member, friend or faculty member to join them on stage to place the nursing pin on the graduate during the ceremony, welcoming them into the profession of nursing. While the graduate is being pinned a recorded message from the student is shared with the audience. The Nursing graduates also take a vow to always help those who are sick or injured.  
To Nursing graduate Whitley Behm, La Crosse, the pinning ceremony is a chance to stop and reflect on the last two years in the program. "It's incredible to look back to the beginning, when we were nervous to give oral or subcutaneous medications, compared to now, where we are excited to start IVs and insert NG tubes," Behm said. "The professors have instilled wisdom and passion to make us RNs that people will actually want to have at their bedside."
For Behm, what stands out most about the Nursing program is watching each student find their own niche. "It's almost magical watching their eyes light up when they discuss that topic or watching them in action in their domain," she said. "No one besides the fellow students really knows the tears, sacrifices and laughs we have had throughout this process. I am honored to be alongside this group of nurses."
"The pinning ceremony is one of the happiest days of the nursing students' academic journey," said Associate Dean of Health Deb Johnson-Schuh. "It signifies the completion of a lot of hard work. These graduates have endured endless hours of studying and early morning clinical, and they've made a lot of sacrifices in giving up family time. They have much to be proud of."
"The nursing faculty also have a feeling of joy and pride when they see these students graduate," Johnson-Schuh added. "They have worked alongside them during their lightbulb moments and look forward to working with them as a peer."
According to Johnson-Schuh, health care agencies across central Wisconsin's communities report nursing shortages, and upon successful completion of the national licensure exam, these nursing graduates will be able to stay and work locally. "The entire community will benefit from their commitment, strength, knowledge and compassion," she said. "Today's celebration is evidence of the success of Mid-State's mission to transform lives, but transforming lives does not stop here with graduation and pinning. These future nurses have chosen a profession that will transforms patients' lives. Every day patients will flourish because of their quality care."
Mid-State's nursing pinning ceremony stems from a proud tradition reaching back to Florence Nightingale in the 1860s, the first nurse to receive a pin when she was awarded the Red Cross of St. George for her work in the Crimean War. Nightingale in turn honored outstanding nursing graduates with a medal of excellence, which in time inspired a tradition in the US to award all graduates with a pin, beginning in 1880 with Bellevue Hospital School of Nursing in New York City. By 1916, pinning had become a common practice in schools of nursing throughout the United Kingdom and the United States.
The actual pin used in the nursing pinning ceremony is unique to each school, incorporating a design that symbolizes the school's beliefs about nursing. The Mid-State pin has both a lamp and a book, the lamp being a traditional symbol of excellence that dates back to Nightingale, also known as the Lady with the Lamp.
Learn more about Mid-State's Nursing program at mstc.edu/programs.