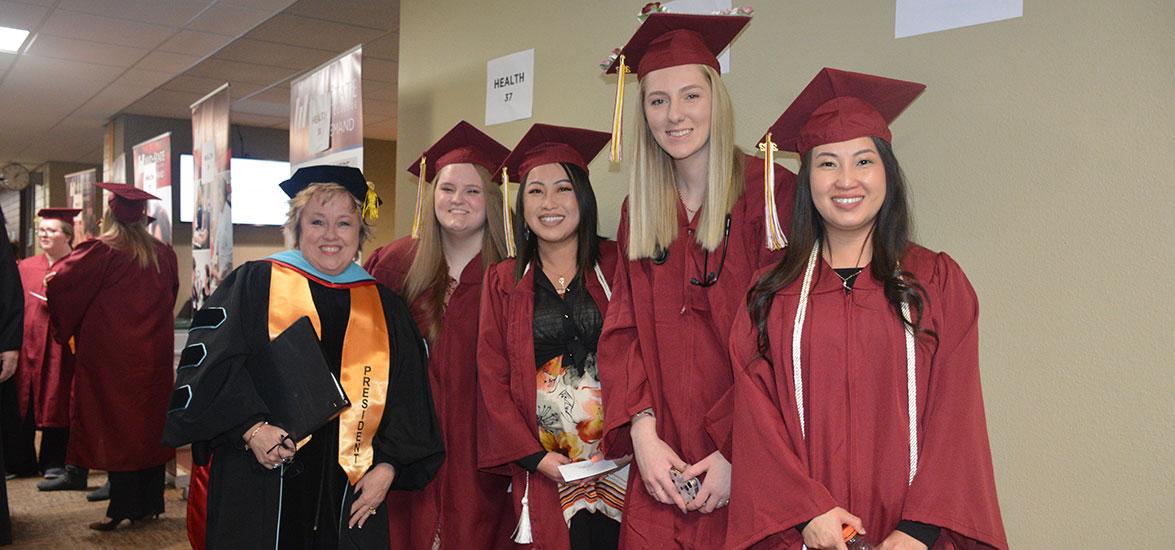 Mid-State hosts fall 2022 graduation at Wisconsin Rapids Campus
December 12, 2022
Mid-State Technical College's fall 2022 graduates were recognized in an indoor ceremony on the College's Wisconsin Rapids Campus, Saturday, Dec. 10.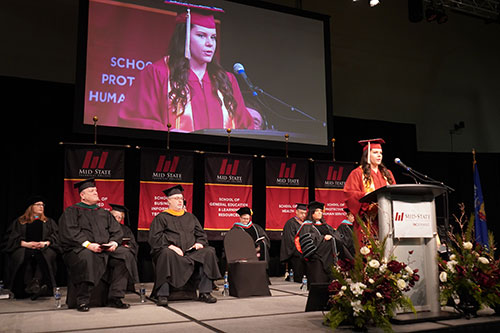 The celebration highlighted the College's protective and human services programs and included a faculty send-off by Information Technology Instructor Brent Presley and a keynote address delivered by Mid-State's 2022 Distinguished Alumnus Rick Anderson, associate dean of Protective & Human Services. The student address was delivered by Mara Daniels, Plover, graduating from the Criminal Justice-Corrections & Community Advocacy program.
"Nothing worthwhile is easy, and that includes making the most of our futures," Daniels said in her speech. "But that doesn't mean we give up on ourselves. We will keep pushing, because we know we can achieve our dreams, and because we are worth it." 
Mid-State President Dr. Shelly Mondeik conferred the degrees and invited the graduates to move their tassels to the left. "Use all you have learned and experienced to navigate opportunities and challenges in ways that propel you forward," she said in her remarks. "Do not settle for mediocrity. Be the one that puts in the extra effort to make a difference." 
The event was livestreamed for anyone wishing to join remotely. The video recording can be viewed at mstc.edu/graduation.
Following is a list of Mid-State's fall 2022 graduates sorted by graduate candidate city and academic program. Cities are in Wisconsin unless otherwise indicated. 
Abbotsford – Plumber Apprentice: Isaac Hammel
Adams – Accounting Assistant: Jaden Wright; High School Equivalency Diploma (HSED): Mansilla Katty; Nursing: Jamie Beno
Almond – Construction Trades: Robert Frank
Amherst – Business Management: Tanya Mitchell; Civil Engineering Technology-Highway Technician: Triv Ulseth; Construction Trades: Jake Hoffman; Criminal Justice-Law Enforcement 720 Academy: Mason Czech; Entrepreneurship: Tanya Mitchell; High School Equivalency Diploma (HSED): Noah Zachman; Human Resources Assistant: Tanya Mitchell; IT Security Specialist: Anthony Olson; Machine Tool Technician: Jakob Struble; Nursing: Makayla Konkol; Phlebotomy Technician: Hannah Hoffman; Project Management: Tanya Mitchell
Amherst Junction – Entrepreneurship: Isaac Winkelman; Human Resources Assistant: Isaac Winkelman; Nursing: Jordan Hunger; Project Management: Isaac Winkelman
Appleton – Construction Trades: William Curran; Heating, Ventilation, & Air Conditioning Installer (HVAC): William Curran
Arpin – Customer Relationship Professional: Kaitlyn Kopelke; Office Support Specialist: Kaitlyn Kopelke; Technical Studies-Journey Worker: Jon Krings
Auburndale – Stainless Steel Welding: Allis Teska
Bancroft – IT Network Specialist: Luke Manock
Baraboo – Construction Trades: Brian Atkinson
Berlin – Criminal Justice-Law Enforcement 720 Academy: Richard McMartin
Chili – Plumber Apprentice: Casey Oleson; Stainless Steel Welding: Ryan Bayerl
Chilton – Medical Assistant: Abigail Merten
Clintonville – Customer Relationship Professional: Jaci Brandl; Hospitality Management: Jaci Brandl
Coloma – Nursing: Jenna Burrows
Custer – Digital Marketing Promotions: Lillian Lepak; Early Childhood Education: Taylor Sevenz; Sales Specialist: Lillian Lepak
Dorchester – Medical Assistant: Heather Reyes
Fond Du Lac – Criminal Justice-Law Enforcement 720 Academy: David Bonlander
Fremont – Phlebotomy Technician: Bohdan Witkowski
Friendship – Business Management: Elizabeth Familetti; Cosmetology: Shelby Holley
Granton – Business Management: Sarah Barron
Hancock – High School Equivalency Diploma (HSED): Bryten Krambeer
Hewitt – Nail Technician: Taylor Furgason
Irma – Steamfitter and Steamfitter Service Apprentice: Andrew Detert
Jefferson – Technical Studies-Journey Worker: Nicholas Ganser
Jesup – Project Management: John Dennee
Junction City – Construction Trades: Trenton Pumper; Cosmetology: Lily Raasch; Medical Coder: McKenna Harsla; Steamfitter and Steamfitter Service Apprentice: Aaron Pershern, Russell Roth
La Crosse – Nursing: Steven Hensley
Loyal – Medical Coder: Bailey Nimmow
Madison – Human Resources Assistant: Amanda Reiter
Marathon – Nursing: Michael Gerondale; Steamfitter and Steamfitter Service Apprentice: Alex Lemanski
Marshfield – Accounting Assistant: Joshua Colby; Construction Trades: Philip Bakke, Justin Myrant; Cosmetology: Jasmine Schilling; Customer Relationship Professional: Halerie Irwin; Digital Marketing Promotions: Sierra Horban; General Education Development® (GED): Jesus Alaniz Martinez, Steven Crider; High School Equivalency Diploma (HSED): Mary Becerra, Taj Hoeye, Megan Pensabene, Ashley Staab; Medical Assistant: Jessica Dartt; Nail Technician: Tristin Winters; Nursing: Whitley Behm, Ashlee Kleinschmidt, Katie Miller, Marie Topping; Phlebotomy Technician: Julia Bennett, Maria Macias; Project Management: Kristin Litwaitis; Stainless Steel Welding: Dean Heintz, Tucker Heintz, Kyle Irwin, Trevor Rhoades
Menasha – Criminal Justice-Law Enforcement 720 Academy: Kaleb Johnson
Milladore – Digital Marketing Promotions: Cassidy Northway; IT Security Specialist: Zachary Kohlbeck
Milwaukee – Construction Trades: Joseph Grzesk
Minocqua – Business Management: Jake Van Hefty; Entrepreneurship: Jake Van Hefty; Human Resources Assistant: Jake Van Hefty; Project Management: Jake Van Hefty
Mosinee – Steamfitter and Steamfitter Service Apprentice: Wayne Danczyik, Chad Pompo
Mukwonago – Medical Coder: Wendy Zvara
Neillsville – Nursing: Haleigh Anding, McKayla Galen 
Nekoosa – Accounting: Khacelyn Doucette; Business Management: Elizabeth Franssen; Construction Trades: Ryan Klumb, Boden Ostrum, Michael Ringer; Criminal Justice-Law Enforcement 720 Academy: Hunter Boudreau, Breanna Jambretz, Helen Schrock; Early Childhood Education: Amber Ostrander; Electrical & Instrumentation Technician Apprentice: David Darr; Entrepreneurship: Elizabeth Franssen; Medical Coder: Angela Brost; Nail Technician: Allyson Elk, Paige Onstad; Nursing: Mikayla Amundson, Jada Bord, Samantha Burgeson, Ashley Mancl, Shauna Scholl; Plumber Apprentice: Jacob Alnes; Project Management: Elizabeth Franssen
Oxford – General Education Development® (GED): Breanna Ballog
Pittsville – Digital Marketing Promotions: Afton Herkert; Nursing: Janet Mendoza-Freedlund
Plainfield – Accounting: Allison Noska; Barber Technologist: Sergio Rodriguez, Alejandro Segundo; Business Management: Sandra Nigh; Entrepreneurship: Sandra Nigh; High School Equivalency Diploma (HSED): Kaden Raatz; Human Resources Assistant: Sandra Nigh; Liberal Arts-Associate of Arts: Jose Martinez; Nail Technician: Annie Banda Sauceda; Project Management: Sandra Nigh
Plover – Accounting: Christopher Campbell; Business Management: Ami Bauer, Margaret Pieczynski, Cassandra Stashek; Construction Trades: Keegan Kizewski; Cosmetology: Abigail Tibbits; Criminal Justice-Corrections & Community Advocacy: Mara Daniels; Criminal Justice-Law Enforcement 720 Academy: Malachi Askeland, James Megehee, Elliot Schmoll; Customer Relationship Professional: Amber Shirek; Entrepreneurship: Deyanira Silva; IT Software Developer: Kamron Clark; Liberal Arts-Associate of Arts: Liam Lovett; Medical Coder: Cheyenne Burger; Nursing: Maddie Pliska, Tessa Sanders; Office Support Specialist: Amber Shirek; Phlebotomy Technician: Patricia Hetzel
Poy Sippi – Arborist Technician: Jacob Ahlf
Rosholt – IT Security Specialist: Ethan Simonis
Sheboygan – Construction Trades: Jason Brahan; Heating, Ventilation, & Air Conditioning Installer (HVAC): Jason Brahan; Renewable Energy Technician: Jason Brahan
Spencer – Medical Assistant: Mya Melander; Nursing: Mackenzie Hjornevik
Stanley – Human Resources Assistant: Alecia Swensen
Stevens Point – Accounting Assistant: Tracy Gajewski; Automotive Technician: James Ehlenfeldt; Barber Technologist: Tyler Smith; Business Management: Tyler Menadue, Heather Schlutter; Construction Trades: Lloyd Anseth; Criminal Justice-Corrections & Community Advocacy: Susanne Ligenza; Criminal Justice-Law Enforcement 720 Academy: Samuel Gressel, Austen Jahnke, Noah Wieczorek; Customer Relationship Professional: Catherine Frost, Kelley Nagorski; Digital Marketing: Aysiah Xiong; Early Childhood Education: Briana Przybylski; Entrepreneurship: Heather Schlutter; General Education Development® (GED): Darian Valle; High School Equivalency Diploma (HSED): Zaragosa Luis; Human Resources Assistant: Heather Schlutter; IT Computer Support Specialist: Leah Lueck; IT Network Specialist: Ethan Krawczyk; Liberal Arts-Associate of Arts: Brittany Vial; Machine Tool Technician: Ryan Ganser; Medical Assistant: Bretta Eggebeen, Shaylin Kawski; Medical Coder: Erin Mcdonagh, Lily Peplinski; Microsoft System Administrator: Ethan Krawczyk; Millwright/Maintenance Mechanic Apprentice: Joseph Foth; Nail Technician: Kaitlyn Cowart, Bianca Pinion; Nursing: Tiffany Boak, Hayley Champine, Clair Janssen, Hlee Vang, Jordyn Vetter; Office Support Specialist: Charlotte Peden, Kristen Peltier; Phlebotomy Technician: Holly Pearce; Project Management: Tyler Menadue; Stainless Steel Welding: Tony Jackson
Tomah – Business Management: Tara Chapman; Entrepreneurship: Tara Chapman
Vesper – Criminal Justice-Law Enforcement 720 Academy: Eli Fox; Nursing: Kristin Weiler; Technical Studies-Journey Worker: Justin Dahl
Wausau – Human Resources Assistant: Kimberly Zouski; Medical Coder: Kasha Oelke, Wendy Rausch
Wautoma – Medical Coder: Kyleigh Troxel
West Bend – Business Management: Haley Carlson
Westfield – Digital Marketing Promotions: Mitchell McGrath
Wild Rose – Accounting: Kaydee Kamkes
Wisconsin Dells – High School Equivalency Diploma (HSED): William Witt
Wisconsin Rapids – Accounting: Shelby Dixon, Cathy Vine; Accounting Assistant: Heather Bram, Selena Zblewski; Arborist Technician: Andrew Schwartz; Business Management: Erica Haga, Lisa Swendrowski; Construction Trades: Cadence Becker, Jacob Johnson, True Khang, Kemp Ross, Ryan Sambrook-Pleet; Cosmetology: Joslynn Fink, McKenzie Jacobitz; Criminal Justice-Law Enforcement 720 Academy: Theodore Ashbeck III, Mariah Matthews; Criminal Justice-Studies: Louis Haga Jr.; Customer Relationship Professional: Molly Lee; Diesel & Heavy Equipment Technician: Vincent Ortiz; Electrical & Instrumentation Technician Apprentice: Remington Nystrom, Shaun Peterson; Entrepreneurship: Lisa Swendrowski; High School Equivalency  Equivalency Diploma (HSED): Dusty Hale, Caleb Long, Ayden Mckeel; Human Resources Assistant: Lisa Swendrowski; IT Software Developer: Andrew Bliek; Liberal Arts-Associate of Science: Molly Fryling; Medical Assistant: Carrie Reifschneider; Medical Coder: Charity Sari, Diana Vilcinskas, Fiona Whelan; Nail Technician: Abigail Shaw; Nursing: Cara Anderson, Heidi Perlak, Marissa Petite, Melissa Swanson, Cassandra Tellekson, Mai Xiong, Abigail Yetter; Phlebotomy Technician: Stefanie Bay, Sally Hall, Kaylie Jinsky, Lisa Verage; Project Management: Lisa Swendrowski; Stainless Steel Welding: Trevor Binnebose, James Kaufman, Anthony Menger, Roban Westerlund; Steamfitter and Steamfitter Service Apprentice: Chase Coyer, Christopher Engelien, Justin Gilman, Benjamin Hofer, Andrew Leiser; Technical Studies-Journey Worker: Zachary Hodgson
Wittenberg – Automotive Technician: Evan Schulist; Customer Relationship Professional: Cheyenne Loewenhagen; Office Support Specialist: Cheyenne Loewenhagen