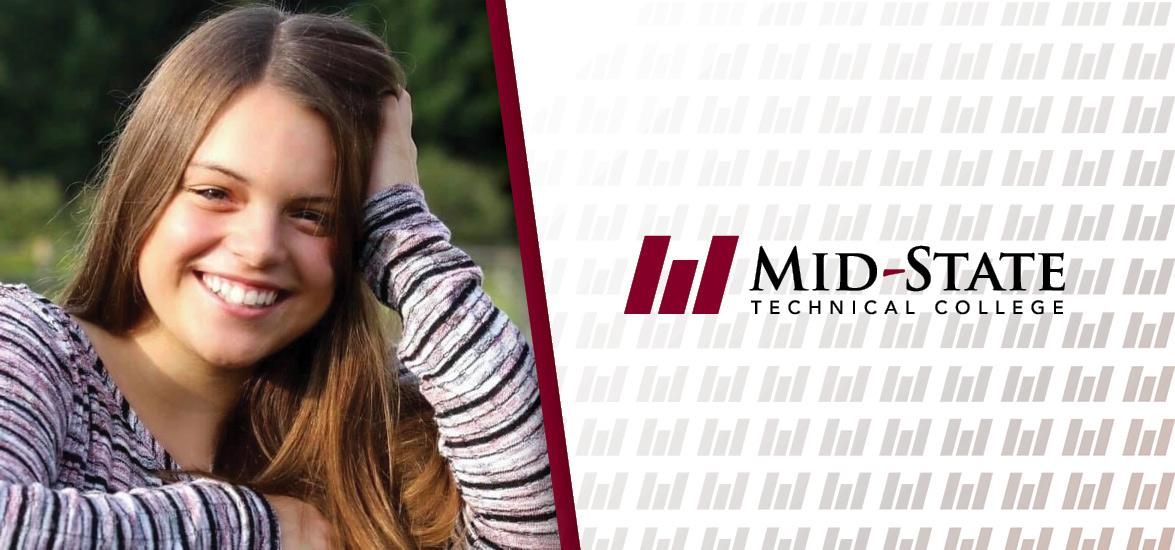 Mid-State student says 'yes' to wider college experience, finds opportunity
May 11, 2020
When Colette Stoflet, Plover, chose her college and career path, she followed her instincts in two important ways. First, she was looking for a small, nurturing atmosphere similar to what she'd thrived in at Assumption High School in Wisconsin Rapids. The other was deciding to trust the results of a career interest survey suggesting she'd enjoy work as an administrative professional. 
"Going to Assumption my whole life, I was used to this close-knit family atmosphere and small class sizes," she said. "Mid-State is pretty similar to that, so I just think it felt more like… home and everything I was used to." 
Now approaching graduation this spring with her associate degree, Stoflet looks back on her time at Mid-State with satisfaction and some surprise. Mid-State and the Administrative Professional program were the right fit as hoped, but she also found much more. "I've had wonderful opportunities that I never even thought I would have," she said, remembering her involvement in the Phi Theta Kappa Honor Society and the scholarships she received to help pay for her degree. "I was awarded many scholarships that I'm very grateful for, and it's something I didn't think was an option."
Perhaps most memorable outside her regular studies would be her travel to New York City in Mid-State's Global Education program. "I never thought I would have the chance to travel to New York City," she said, describing learning to navigate the subways as "by far the funniest and most life-changing experience." Although deciding to go on the trip was something of a whim, she found that it has helped her to see her true strength and self-confidence. "It has inspired me to go out of my comfort zone and see what the world has to offer." 
The one opportunity that would prove to be the most immediately rewarding was her part-time work-study job, which turned into a surprising full-time job offer after graduation. The job would help her make connections in the community and demonstrate her abilities and commitment to a potential future employer. When the work-study award ended, she transitioned to volunteering at Heartland Hospice to continue her experience in what she'd found to be a positive and welcoming atmosphere. She was thrilled when she was invited to a real interview, followed by a job offer after graduation. 
With her future now taking shape with an employer she's excited to work for, Stoflet is looking forward to settling in the Plover/Stevens Point area. "I think it's a great community, and I would like to support that," she said. Her long-term plans also include continuing to work for Heartland Hospice where she hopes to keep moving up and getting more opportunities.
As someone who tends to say "yes" when opportunity knocks, Stoflet has some words of advice for others looking for similar opportunities and considering Mid-State: "Definitely look into it and for sure consider it."
Find Stoflet's full story and video at mstc.edu/gradspotlight, and follow Mid-State's Facebook account at facebook.com/MidStateTech on Sunday, May 17, to join a special celebration of the spring graduating class.