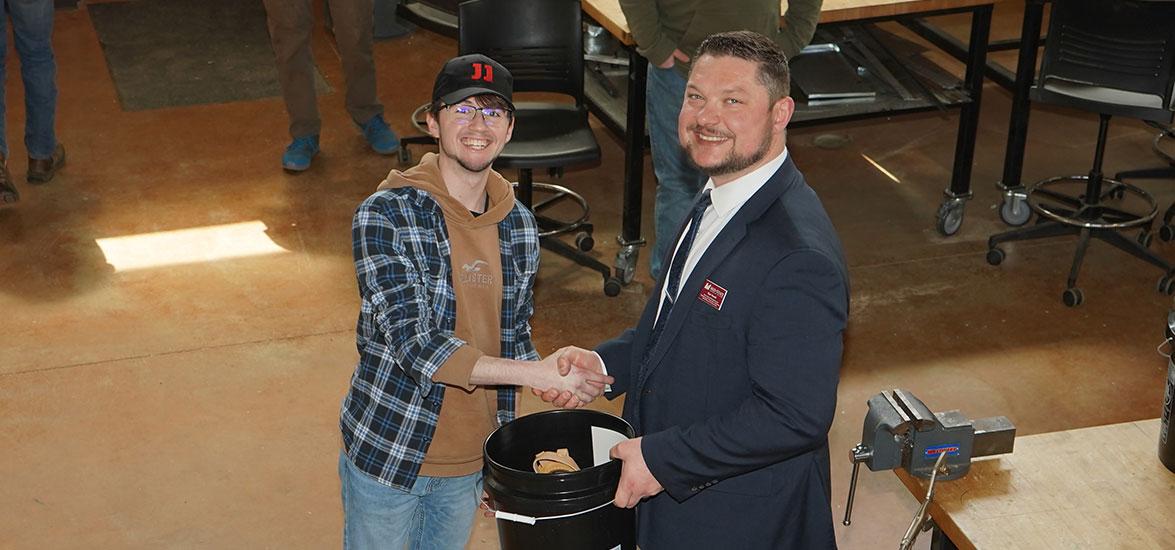 Mid-State partners with North Central Wisconsin Workforce Development Board to host Construction Trades Job Fair
April 29, 2022
Mid-State Technical College and the North Central Wisconsin Workforce Development Board (NCWWDB) came together on April 28 to host a job fair celebrating 10 students completing the Construction Trades technical diploma program this spring. The special hiring event was held on the College's Wisconsin Rapids Campus.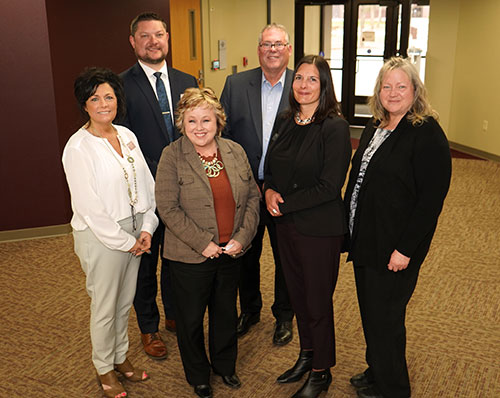 Many of the graduating Construction Trades students received tuition and support through State Department of Workforce Development (DWD) Worker Advancement Initiative Grant (WAI) funds, a workforce development project made available by Governor Evers through the American Rescue Plan Act (ARPA) funds.
"The NCWWDB received the funds in late 2021 and quickly partnered with Mid-State to deliver the short-term, 11-credit program," said NCWWDB Director, Jane Spencer. "We are so privileged to share the success of this program today with Mid-State students and staff, local construction companies, the Wisconsin Job Center staff and of course Wisconsin DWD Deputy Secretary Pamela McGillivray."
During the event, Dean of Advanced Manufacturing & Engineering and Transportation, Agriculture, Natural Resources, & Construction Ryan Kawski announced that the graduating Construction Trades students would receive honorary toolbelts. "With the support of the WAI grant, through the North Central Wisconsin Workforce Development Board, students will receive a basic hand tool kit and tool belt that will set them up for success," Kawski said. "Quite often, an employee new to the world of construction has an immediate barrier in purchasing basic hand tools. Our goal is to eliminate one of the potential barriers, which in turn should help the graduate find quick success and hit the ground running."
Attending the event was Construction Trades student Ryan Graczkowski of Wisconsin Rapids, who previously earned his Business Management degree from Mid-State before starting the Construction Trades program this January. "I realized that I wanted to do more hands on, and it's really rewarding just to see how every day you get a step further with a project," he said. After graduating this spring Graczkowski plans to start working in the construction trades industry to build his skills in carpentry before one day launching his own business using his skills. 
According to Graczkowski, the event and toolbelt are just more examples of how the College continues to meet his needs, helping him go in any direction he chooses next. "All along Mid-State has been really helpful, really open to communicating more with me and helping me with what I need," he added. 
"These students are all ready for the workforce," said Bobbi Damrow, Mid-State vice president of Workforce Development & Community Relations. "Inviting local construction companies onsite for this unique hiring event is the perfect way to celebrate their accomplishment and the state's confidence in them." 
The WAI grant is a workforce development project made available by Governor Evers and the Department of Workforce Development through the American Rescue Plan Act (ARPA) funds. WAI was designed to serve Wisconsinites whose previous employment did not come back since the pandemic, as well as those who were not attached to or were not successful in the labor market prior to the pandemic. WAI offers employment and skills training opportunities and direct connections to local employers. 
Learn more about Mid-State's Construction Trades program at mstc.edu/programs.