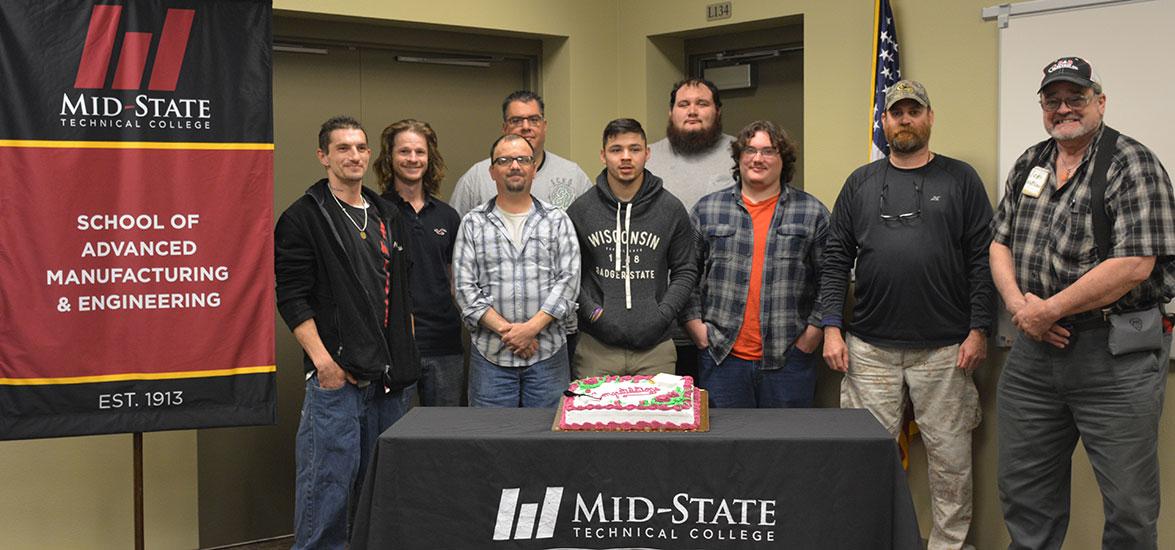 Mid-State celebrates graduates of its Pre-Apprenticeship Machine Tool Training program
May 23, 2019
Mid-State Technical College held a special ceremony on May 23 to honor the graduates of its first-ever Pre-Apprenticeship Machine Tool Training program. Nine students completed the 14-week customized program, each earning 12 credits in Mid-State's Machine Tool Technician program as well entry-level skills needed to get started in the field, enter apprenticeship or continue on in the technical degree program. 
Made possible through a partnership between the North Central Wisconsin Workforce Development Board (NCWWDB), Mid-State Technical College and the Job Center of Wisconsin, the Pre-Apprenticeship Machine Tool Training was designed to help meet the high demand locally for machinists and was entirely free for participating students thanks to funding by the NCWWDB.
One graduate of the program, Jordan Donahue, Stevens Point, worked most recently in construction and enrolled in the program hoping it would open some doors and get him a career doing something he enjoys. "The whole experience was good altogether," said Donahue, who found the math and CNC programming he encountered in the program to be the most challenging. Ultimately he found he could handle those trickier skills, thanks to his instructors. "The teachers made it enjoyable," he said. "They made everything more interesting."
Mid-State Machine Tool Instructor Mike Berry also spoke highly of the students who chose to enroll. "Any of our students who want to be successful in the work world need to understand the value of teamwork," Berry said. "This group really understood this value and encompassed it in all their hard work at Mid-State."
Like several of his fellow students graduating from the program, Donahue plans to enter the workforce with his new skills immediately, but says he is also open to coming back to Mid-State for additional machine tool classes if it helps him advance more quickly in the field. One other graduate plans to continue in the Machine Tool Technician program, while two are looking to start in another program in the same career cluster—Industrial Mechanical Technician.
 
College officials are looking into possibly offering the Pre-Apprenticeship Machine Tool Training program again in the future, pending available funding. Learn more about Mid-State's Machine Tool Technician program and other options in the Manufacturing career cluster at mstc.edu/cluster/manufacturing.