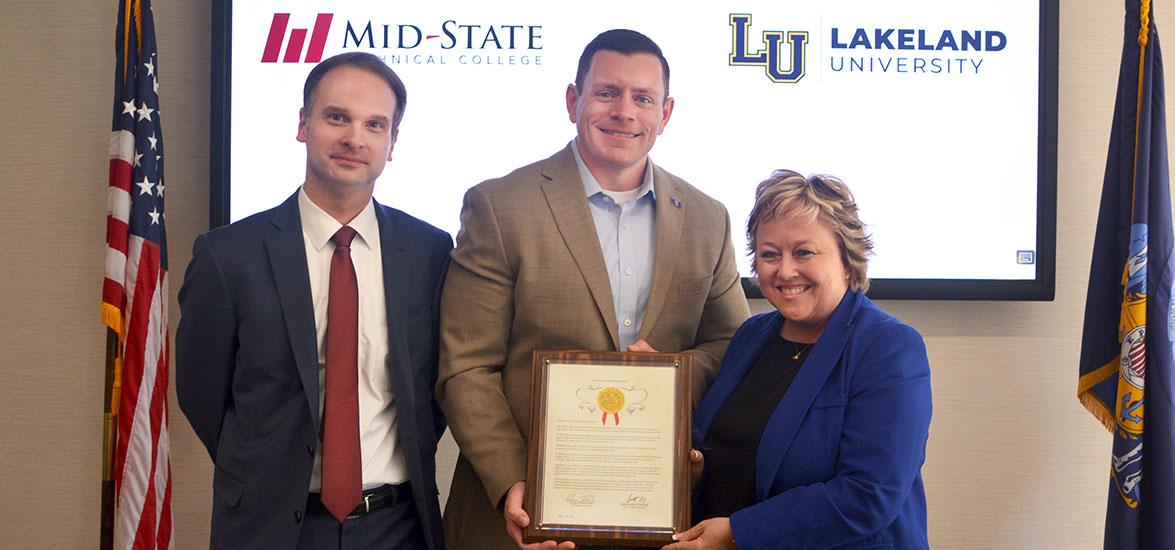 Mid-State and Lakeland University celebrate 30-year partnership, highlight liberal arts transfer
May 18, 2022
Mid-State Technical College and Lakeland University celebrated 30 years of partnership to provide convenient local access to a four-year degree and beyond through Lakeland courses offered on-site at Mid-State. The two institutions gathered on Mid-State's Wisconsin Rapids campus May 17 for a special anniversary event highlighting the achievements of the many students since 1992 who have forwarded their professional careers through classes at the Lakeland Wisconsin Rapids Center. 
"The relationship that Mid-State and Lakeland have built through the years has been outstanding," said Dr. Shelly Mondeik, president of Mid-State Technical College. "Having Lakeland inside our own college doors to serve the central Wisconsin area has been a win-win for not only our students but for our staff, for our employers, for our communities. We very much have worked hard together to make sure that it is a seamless transition for our students."
"We're proud to celebrate 30 years of partnership with such exceptional colleagues as Mid-State Technical College," said Dr. Joshua Kutney, Lakeland University vice president for academic affairs. "Thirty years ago, Mid-State and Lakeland envisioned an academic partnership model that many colleges and universities across the state could not quite bring into focus." 
According to Kutney, the partnership was more than an innovative idea. "It was a new and better way of seeing the landscape of higher education, of recognizing the total value of a technical college education on its own merits and as a bridge to a bachelor's degree and beyond," he said.
"This 30-year celebration is a hallmark of what can be done in higher education and should serve as a model for other institutions and other campuses to follow as well," said State Sen. Patrick Testin, who attended the event to present the Mid-State and Lakeland with a citation commemorating the partnership. 
"After making the decision to return to college, knowing where to begin in the process was overwhelming at first," said Lori Hebblewhite, who graduated with an Accounting A.A.S. from Mid-State in 2017 and a Business Administration B.A. from Lakeland in 2020. "Those fears quickly disappeared the first day I walked into the Stevens Point campus of Mid-State. Everyone I spoke with was helpful, encouraging, and patient with my ongoing questions. This support continued during each semester and as I transitioned to Lakeland University."
Today, Hebblewhite works as an associate financial analyst at Sentry Insurance in Stevens Point. 
"Aside from academics, I was pleasantly surprised with the opportunities available at Mid-State to enhance the curriculum—diversity studies in New York City, a student exchange program in Germany and a mock interview assignment that resulted in my current position at Sentry."
The anniversary celebration was also an opportunity for the partners to bring more awareness to their new liberal arts transfer agreement reached this spring. According to the agreement, students who earn the 60-credit Liberal Arts–Associate of Arts or Liberal Arts–Associate of Science degrees at Mid-State will be able to transfer to Lakeland with junior standing and apply all of their credits toward a bachelor's degree in a range of areas, including accounting, analytics, business administration, communication, computer science, criminal justice, management information systems, marketing and psychology.  
"Lakeland has been directly supporting the success of Mid-State Technical College students for decades with a Lakeland center location on Mid-State's Wisconsin Rapids campus," said Lakeland President Beth Borgen, D.B.A. "By partnering with the technical colleges in this way, we open college options to new populations of students who have the potential and ability to pursue post-secondary education. This new level of access benefits students and their families, local schools and Wisconsin communities."
Mid-State anticipates that the new transfer agreements will go into effect in the fall of 2022 upon final approval by the Higher Learning Commission accrediting agency. 
To learn more about the new Liberal Arts transfer opportunities, contact Suzanne Rathe, Mid-State dean of General Education, at 715-342-3124 or via email at suzanne.rathe@mstc.edu.