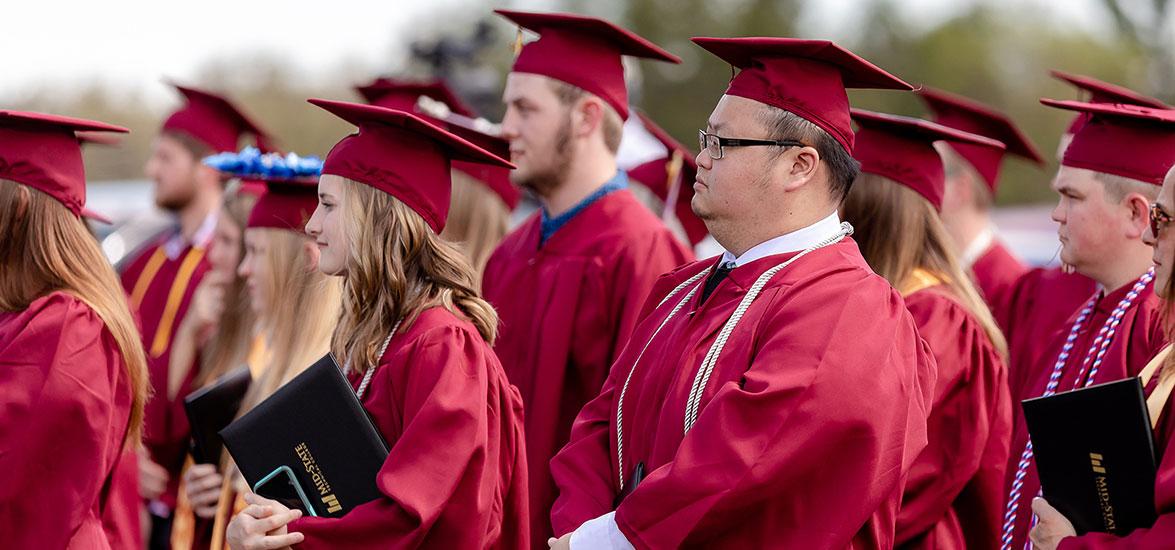 Mid-State's 2022 graduates celebrated in outdoor ceremony
May 18, 2022
Mid-State Technical College's spring graduates were recognized in an outdoor ceremony on the College's Wisconsin Rapids Campus, Saturday, May 14.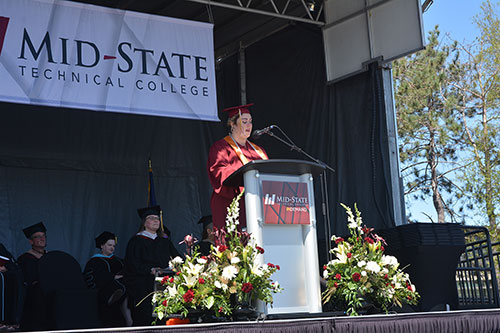 The ceremony took place in the campus parking lot with large screen monitors providing a view of the proceedings in real time. Graduates were seated in front of the stage before having the opportunity to walk across the state to receive their diploma. Guests viewed from their cars in the parking spaces behind the seated graduates or from chairs in the lot and adjoining lawns.
The celebration included a faculty send-off by Criminal Justice Instructor Courtney Kostuchowski and a keynote address delivered by alumna Renae Sigall '04, named to Wisconsin's 48 Most Influential Black Leaders 2021 list. The student address was delivered by Business Management graduate and 2022 Wisconsin Technical College System State Ambassador Brittany Nelson, Plover.
"When I enrolled myself back into Mid-State after an eight-year break, I was so nervous, but I knew it was the path I wanted to walk down," Nelson said in her speech. "To those of you who don't know where your path may lead, that is quite alright. I am right there with you." 
Mid-State President Dr. Shelly Mondeik conferred the degrees and invited the graduates to move their tassels to the left. "I hope your experience was filled with moments of courage, determination, growth and many new relationships that will support your continued journey," she said in her remarks.
The event was livestreamed on Mid-State's website for anyone wishing to join remotely. The video recording can be viewed at mstc.edu/graduation.
Following is a list of Mid-State's spring 2022 graduates sorted by graduate candidate city and academic program. Cities are in Wisconsin unless otherwise indicated. 
Adams – Corrections & Community Advocacy: Heather Koch; Criminal Justice-Studies: Talon Marden-Anderson; Medical Coder: Mickaila Laube; Respiratory Therapy: Barbara Presley
Addison – EMT-Paramedic: Melinda Boehm
Almond – Agribusiness Agronomy Technician: Maxwell Turzinski; Agribusiness and Science Technology: Maxwell Turzinski; Civil Engineering Technology-Highway Technician: Gerardo Castellanos; Digital Marketing: Morgan Folz; Nail Technician: Zenaida Banda
Amherst – Criminal Justice-Studies: Mason Czech; Digital Marketing: Agnieszka Laskowski; Early Childhood Education: Midajah Decker; Industrial Automation & Controls Engineering Technology: Mason Wideman; Machinist Apprentice: Adam Wise
Amherst Junction – Business Management: Isaac Winkelman; Construction Trades: Cole Schulfer; Heating, Ventilation, & Air Conditioning (HVAC) Installer: Cole Schulfer
Antigo – Construction Electrician (ABC) Apprentice: Adam Boone
Argyle – Surgical Technologist: Claudia Miller
Arkdale – EMT-Paramedic: Ryan Sundsmo; Surgical Technologist: Robyn Sciaccotta
Arpin – Business Management: Josephine Stoflet; Construction Electrician (ABC) Apprentice: Gage Stoflet; Corrections & Community Advocacy: Ashley Wenger; Cosmetology: Elly Haines, Kaitlyn Rucinski, Ananda Wyant; Diesel & Heavy Equipment Technician  Assistant: Jacob Grimm; Human Resources Assistant: Ashlee Oleson; Maintenance Technician Apprentice: Jon Krings; Nail Technician: Madelyn Petersen; Phlebotomy Technician: Kaydee Jo Zenner; Welding: Mason Hill
Athens – Construction Electrician (ABC) Apprentice: Troy Rueth
Auburndale – Accounting Assistant: Crystal Hoeser; Cosmetology: Tiffany Karl; Marketing-Digital Marketing Promotion: Kayla Breu; Stainless Steel Welding: Michael Jacobs, Brice Thiel
Babcock – Diesel & Heavy Equipment Technician: Daniel Haasl
Bancroft – Automotive Technician: Daniel Abundiz; Marketing-Digital Marketing Promotion: Emily Mocadlo; Welding: Cade Lussenden
Beldenville – Arborist Apprentice: Hunter Ohlsen
Birnamwood – Civil Engineering Technology-Highway Technician: Matthew Thrun; Digital Marketing: Cierra Duellman; Marketing-Digital Marketing Promotion: Cierra Duellman
Brillion – Carpenter Apprentice: Callen Boettcher
Chetek – Surgical Technologist: Alicia Ramos
Chili – Construction Electrician (ABC) Apprentice: Ethan Arndt
Chilton – Carpenter Apprentice: Andrew Loose
Colby – Carpenter Apprentice: Micah Ehrike
Coloma – Health & Wellness Promotion: Joree Rachel; Human Resources Assistant: Rayne Karas
Custer – Machinist Apprentice: Dustin Ashbeck
Eagle River – Construction Electrician (ABC) Apprentice: Christopher Hunter
Eau Claire – Medical Coder: Carolyn Laumeyer; Surgical Technologist: Conner Schmidt
Edgar – Phlebotomy Technician: Kelly Sear Vogel
Ellsworth – Respiratory Therapy: Thaddeus Kosnopfal
Elroy – Nursing: Sheena Anderson
Endeavor – Health & Wellness Promotion: Monica Borzick
Fort Myers – Business Management: Elliot Eron
Friendship – Agribusiness Agronomy Technician: Jake Quackenbush; Cosmetology: Lindsay Arnold, Emily Jordan; Criminal Justice-Studies: Allisha Bink, Sydney Quinnell; Liberal Arts-Associate of Arts: Alexis Boser; Sales Specialist: Jaron Adsit
Grand Marsh – Urban Forestry Technician (Arborist Technician): Lee Kieren
Greenwood – Urban Forestry Technician (Arborist Technician): Joseph Harder
Hancock – Construction Trades: Mike Winger; Early Childhood Education: Addison Schubert; Heating, Ventilation, & Air Conditioning (HVAC) Installer: Michael Winger
Hazelhurst – Construction Electrician (ABC) Apprentice: Jonathon Downey
Hopkins – Arborist Apprentice: Evan Anderson
Hudson – Arborist Apprentice: Tanner Homme
Iola – Accounting: Michelle Bartel-Knutson
Jefferson – Metering Technician Apprentice: Nicholas Ganser
Junction City – Nursing: Amanda Weinfurter; Renewable Energy Technician: Anthony Distasio
Kaukauna – Phlebotomy Technician: Delainey Gerrits
Kenosha – Respiratory Therapy: Einstein Xiong
Ladysmith – Heating, Ventilation, & Air Conditioning (HVAC) Installer: Bo Balko
Lake Linden – Respiratory Therapy: Erin Seppala
Lakeville – Arborist Apprentice: Daniel Schmitter
Laona – Marketing-Digital Marketing Promotion: Jennifer Thornton
Lodi – Emergency Services Management: Amie Dodgson
Madison – Liberal Arts-Associate of Arts: Clarissa Helms
Manitowoc – Carpenter Apprentice: Jacob DuPont
Marathon – Corrections & Community Advocacy: Melissa Turner
Marshfield – Agribusiness and Science Technology: Sedona Arendt; Automotive Maintenance Technician: Aaron Margetta; Business Management: Krystal Darr, Benjamin Gust; Carpenter Apprentice: Brad Heusi; Construction Electrician (ABC) Apprentice: Caleb Mueller, Trevor Rhodes, Nathan Roeglin; Cosmetology: Amanda Dorland, Brianna Fredrick, Emily Gotto; Customer Relationship Professional: Bethanee Sennett; Digital Marketing: Nicole Hoff; Entrepreneurship: Krystal Darr, Benjamin Gust, Anna Lyon; Human Resources Assistant: Krystal Darr, Benjamin Gust; IT Security Specialist: Daniel Banser; Machine Tool Technician: Joshua Levoy, Dawson Taylor; Marketing-Digital Marketing Promotion: Trinity Larson; Medical Coder: Kayley Gripentrog, Amanda Post; Nail Technician: Chasie Brewton; Nursing: Liz Heier, Kimberly Johnson; Office Support Specialist: Natasha Kurz; Phlebotomy Technician: Lorie Baker; Project Management: Krystal Darr, Benjamin Gust; Respiratory Therapy: Jennifer Bentti, Wyatt Heier, GaoZer Thao; Surgical Technologist: Lauren Cook, Isabelle Multerer, Jenna Paisley
Medford – Construction Electrician (ABC) Apprentice: Samuel Phillips; Metering Technician Apprentice: Jared Hartl
Merrill – Construction Electrician Apprentice: Dylan Sabatke; Early Childhood Education: Heather Richards; Respiratory Therapy: Lorrilee Westaby
Milladore – Corrections & Community Advocacy: Rebecca Smith; Stainless Steel Welding: Carly Campton; Steamfitting Apprentice: Joseph Raab
Milwaukee – Construction Trades: Charles Deckow
Minneapolis – Arborist Apprentice: Ashley Cornwell
Mosinee – Construction Electrician Apprentice: Seth Bonner, Derek Bowers; Human Resources Assistant: Angela Sullivan; Respiratory Therapy: Jordan Gruber; Steamfitting Apprentice: Wesley Fletcher
Necedah – Business Management: Kelly Zavala; Construction Trades: William Carter; Cosmetology: Samantha DeGuire; Industrial Automation & Controls Engineering Technology: Ethan Thomas
Neillsville – Construction Electrician (ABC) Apprentice: Dylan Walker; Corrections & Community Advocacy: Ashley Magnuson; Farm Operation: Kaitlin Thoma; Nursing: Wendy Langreck; Stainless Steel Welding: Michael Harris, Dakota Polzin
Nekoosa – Automation & Instrumentation Technology: Austin Moen; Automotive Technician: Jaden Hites; Business Management: Anna Austin, Zoe Sorenson; Civil Engineering Technology-Highway Technician: Austin Mohr; Construction Trades: Vincent Cattanach, Zachary Passer; Cosmetology: Sarah Bulin; Criminal Justice-Studies: Alex Alday; Entrepreneurship: Zoe Sorenson; Fire Protection Technician: Kyle Kizewski; Heating, Ventilation, & Air Conditioning (HVAC) Installer: Vincent Cattanach, Zachary Passer; Human Resources Assistant: Zoe Sorenson; IT Software Developer: Casey Adams, Andrew Klumb, Boden Smith; Medical Assistant: Mallory Krause, Aleah Spanske; Office Support Specialist: Erica Linzmeier; Paramedic Technician: Catherine Jasin; Plumbing Apprentice: Chad Erdmann; Project Management: Zoe Sorenson; Steamfitting Apprentice: Corde Doherty; Welding: Clay Fitzpatrick
New Franken – Entrepreneurship: Kyle Degrave
New Lisbon – Business Management: Luke Peterson; Entrepreneurship: Luke Peterson; Human Resources Assistant: Luke Peterson; Project Management: Luke Peterson; Respiratory Therapy: Alexis Cumber
Niagara – Industrial Automation & Controls Engineering Technology: Joshua Weber
North Saint Paul – Arborist Apprentice: Luke Tavernier
Norway – Industrial Automation & Controls Engineering Technology: Michael Falk
Osseo – Renewable Energy Technician: Noah Hoffman
Oxford – Agribusiness Agronomy Technician: Vincenza Licari
Pittsvile – Surgical Technologist: Jared Peters; Central Service Technician: Rylee Schiller; Entrepreneurship: Jessica Rowe; Industrial Mechanical Technician: Carly Knutson; Machine Tool Technician: Leah Chipman
Plover – Accounting: Angela Harer; Administrative Professional: Bailey Femling; Business Management: Ami Bauer, Brittany Nelson; Criminal Justice-Studies: Elliot Schmoll; Diesel & Heavy Equipment Technician: Noah Robenhagen; Entrepreneurship: Ami Bauer, Samantha Gurzynski; Health & Wellness Promotion: Krysta Miller, Miranda Rusin; Human Resources Assistant: Ami Bauer; Industrial Mechanical Technician: Jordan Fuchs, Kenley Rashke; IT Network Specialist: Nicholas Weisenberger, John Yang; Liberal Arts-Associate of Arts: Robyn Vargas; Liberal Arts-Associate of Science: Erin Jacobson; Machine Tool Technician: Jose Zaragosa; Medical Assistant: Melissa Huebschman; Nursing: Kayla Larson; Phlebotomy Technician: Hope Stephani; Project Management: Ami Bauer; Urban Forestry Technician (Arborist Technician): Samantha Jerzak
Plymouth – Civil Engineering Technology-Highway Technician: Maxwell Kossman
Port Edwards – Corrections & Community Advocacy: Cassandra Zak; Heating, Ventilation, & Air Conditioning (HVAC) Installer: Jude Goodmanson; Maintenance Mechanic/Millwright Apprentice: Jeremiah Stebbins
Portage – Metering Technician Apprentice: Randall Matula
Potter – Criminal Justice-Law Enforcement 720 Academy: Amber Hansen
Rhinelander – Business Management: Kendra Papapetru; Project Management: Kendra Papapetru
Rice Lake – Metering Technician Apprentice: Jeff Kurtzhals
Ringle – Construction Electrician Apprentice: Alexander Williams
Ripon – Criminal Justice-Law Enforcement 720 Academy: Cody Wiesmueller
Rosholt – Civil Engineering Technology-Highway Technician: Isaiah Cherek; Cosmetology: Ashley Gagas; Electrical Power Engineering Technician: Christopher Flores; Medical Assistant: Anaheimy Vasquez
Rothschild – Construction Electrician Apprentice: Mason Schiefelbein; Electrical Power Engineering Technician: Thong Thao
Rudolph – Business Management: Victoria Johnson; Corrections & Community Advocacy: Shelby Ann McCrossen; Welding: Benjamin Houston
Schofield – Construction Electrician Apprentice: Evan Bohman
Solon Springs – Construction Electrician (ABC) Apprentice: Benjamin Roecker
Spencer – Accounting Assistant: Jessica Nowaczyk; Business Management: Jewelene Quelle; Diesel & Heavy Equipment Technician: Andres Rodriguez Baltazar; Farm Operation: Austin Haselow; Metering Technician Apprentice: Jeffrey Fellenz; Project Management: Leonardo Rodriguez
Stevens Point – Accounting: Melissa Guerrero, Megan Kitzrow, Jessica Nellessen, Padee Thor; Automotive Technician: Evan Zdroik; Business Management: Kristal Chamberlain, Haley Crawford, Vicki Ladecki, Sarah McKnight, Jessica Rickman, Gregory Spirko, Brittney Worzella; Central Service Technician: Shelby Kroeschel, Morgan Mallek; Cosmetology: Cyan Guptill, Jadan Heindl-Drapes, Hannah Meyer, Gracie Rozumalski; Criminal Justice-Law Enforcement 720 Academy: Sean Caron, Morgan Day, Andrew Gayford, Andrew Gumtow, Mason Kobernick, Sarah Pries, Aaron Tomasoski, Felicity Zelechwski; Criminal Justice-Studies: Mayce Drmolka, Garrette Rohde, Brady Sampson, Michael Zdroik; Diesel & Heavy Equipment Technician: Joshua Waite; Digital Marketing: Kristen Deadwyler; EMT-Paramedic: Emma Kowalski, Austin Lewandowski; Entrepreneurship: Brock Brunner, Kristal Chamberlain, Haley Crawford, Jessica Rickman; Fire Protection Technician: Riley Cate; Health & Wellness Promotion: Deanna Stockheimer; Heating, Ventilation, & Air Conditioning (HVAC) Installer: Samantha Brodzeller, Wade Clendenning, Philip Kleitsch, Jacob Timmerman; Human Resources Assistant: Kristal Chamberlain, Jessica Rickman; IT Computer Support Specialist: Matthew Czarny; IT Security Specialist: Matthew Moldenhauer; Liberal Arts-Associate of Arts: Molly Shutter; Machine Tool Technician: Earl Walker; Machinist Apprentice: Chris Loew, Chris Loew; Maintenance Technician Apprentice: Gunnar Koelzer; Marketing-Digital Marketing Promotion: Jenna Koziol; Medical Assistant: Lia Booker, Alison Gruszynski, Amy Gurzynski, Amy Hoffbeck, Briawna Johnson, Alana Walters; Medical Coder: Melinda Creely, Kristin Morgan; Nursing: Birgen Griffith, Jada Jaworski, Hannah Klismith, Autumn Linzmeier, Jaylen Mayotte, Lauren Schwarz, Miranda Wood; Paramedic Technician: Casey Bielen, Nathaniel Disher, Luke Fourness, Adam Janssen, Eva Mervyn; Phlebotomy Technician: Sharon Shaw-Meade; Plumbing Apprentice: Nathan Cisewski; Project Management: Kristal Chamberlain, Haley Crawford, Kristen Deadwyler, Logan Klisch, Jessica Rickman; Renewable Energy Technician: Marshall Fox, Kristin Mertes; Stainless Steel Welding: Zackary Gentry; Urban Forestry Technician (Arborist Technician): Alyssa Peskie, Ariel Schultz; Welding: Trevor Carlson, Callie Luebke, Christian McQuillen
Stoughton – Metering Technician Apprentice: Steven Hartman
Stratford – Business Management: Macie Frueh; EMT-Paramedic: Cole Varsho; Respiratory Therapy: Melissa Cooper
Three Lakes – Construction Electrician (ABC) Apprentice: Andrew Jefcik
Unknown City – Corrections & Community Advocacy: Melissa Pettis; Nail Technician: Margaret Waggoner; Stainless Steel Welding: Diego Mendoza
Vesper – Accounting: Joseph Vallie; Business Management: Joseph Vallie; Criminal Justice-Studies: Eli Fox; Diesel & Heavy Equipment Technician: Christopher Ferk; Entrepreneurship: Joseph Vallie; Human Resources Assistant: Joseph Vallie; Maintenance Technician Apprentice: Justin Dahl; Nursing: Ashley Turner; Project Management: Joseph Vallie; Renewable Energy Technician: Cierra Nieman; Surgical Technologist: Crystal Zellner
Waupaca – Nail Technician: Kloe Miller
Wausau – Construction Electrician Apprentice: Alexander Hansen, Joseph Schoebel; Criminal Justice-Law Enforcement 720 Academy: Tyler Phillips; Health & Wellness Promotion: Kiana Schmidt
Wausaukee – Construction Trades: Alexandria Rozivka
Wautoma – Accounting Assistant: Brittney Jenks; IT Security Specialist: Aaron Colby; Medical Assistant: Emily Bohn 
Westfield – Criminal Justice-Studies: Malachi Askeland
Wilton – Nursing: Allyson Amberg
Wisconsin Rapids – Accounting: Shelby Dixon, Mykayla Lopez, Joshua Schwalbach; Automotive Technician: Daniel Mientke; Business Management: Emmajewel Czlapinski, Jordan Falkosky, Sondra Holibaugh, Staci Kivi; Construction Electrician Apprentice: Cassie Novack; Construction Trades: Hugo Cangas, Jared Craig, Ryan Graczkowski, Jesse Koltz, Dustin Pavlicek, Trevor Vechinski; Corrections & Community Advocacy: Jessica Arneson, Amy Gaupp, Jamie Strosin; Cosmetology: Geneva Holewinski, Andrea Jeffers, Roxanne Sitz, Taylor Soderberg, Heather Thierer, Hollyanne Whitehead; Criminal Justice-Law Enforcement 720 Academy: Jeffery Broschardt; Criminal Justice-Studies: Amanda Edgerly, Amber Haskins, Ryan Schumacher, Jace Wipfli; Customer Relationship Professional: Joy Heller; Diesel & Heavy Equipment Technician: Trent Kollock, Clarice Throndson; Electrical Power Engineering Technician: Damien Dingus; EMT-Paramedic: Therese Combs; Entrepreneurship: Emmajewel Czlapinski, Jordan Falkosky; Firefighter Technician: Kevin Wright; Health & Wellness Promotion: Allison Haferman; Health Information Management: Meghan Berg, Cindy Lowe; Heating, Ventilation, & Air Conditioning (HVAC) Installer: Jared Craig, Dustin Pavlicek, Trevor Vechinski; Hospitality Management: Kevin Kruger; Human Resources Assistant: Tiffanie Corbin, Emmajewel Czlapinski, Jordan Falkosky, Jess Oczachowski; Industrial Automation & Controls Engineering Technology: Nathan Jackan, Jared Pelot, Samuel Roginski; IT Computer Support Specialist: Cheyenne Kester, Jaren Mancl; IT Security Specialist: James Curran, Derek Tritz; IT Software Developer: Dylan Albers, Anthony Ganster, Shawn Rogers; Liberal Arts-Associate of Arts: Brian Harms, Cheryl Hayes; Machine Tool Technician: Mickenzie Khang, Carson Neinfeldt; Maintenance Technician Apprentice: Zachary Hodgson; Medical Assistant: Kimberly Bromiley, Jessica Coman, Lynn Nelson, Brianna Schindler; Medical Coder: Joy Heller, Alexis Hoffmann, Mary Jepson, Mara Kukainis; Nail Technician: Alexis Franklin, Savannah Hiles, Yia Xiong; Nursing: Jennifer Duchrow, Anna Feenstra; Paramedic Technician: Jacob Krajewski, Delaney Weiler; Plumbing Apprentice: Jacob Alnes; Project Management: Stacy Crossley, Emmajewel Czlapinski, Jordan Falkosky; Respiratory Therapy: Kendra Ashenberg, Tawny Knutson, Hli Tag Vang, Alaina Warren; Surgical Technologist: Laura Krueger, Choua Yang; Technical Studies - Journey Worker: Nickolas Jackan, Andrew Rosekrans; Urban Forestry Technician (Arborist Technician): Derek Bathke, Hannah Curtin, Thomas Gustafson; Welding: Logan Domke, Devontae Gabler, Justin Kells, Elijah Wages, Samuel Wolter
Wittenberg – Automotive Technician: Evan Schulist