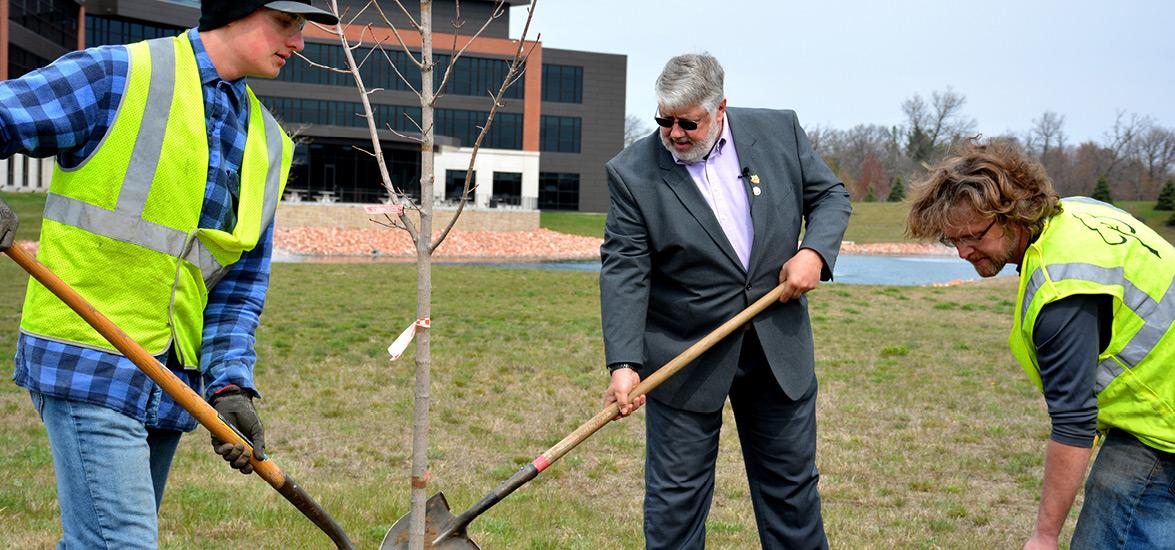 City of Stevens Point declares April 27 Arbor Day, celebrates with Mid-State Arborist Technician students in tree-planting ceremony
April 28, 2021
Stevens Point Mayor Mike Wiza has declared April 27 Arbor Day in Stevens Point in celebration of the city's 40th year as a Tree City USA and 16th Growth Award from the National Arbor Day Foundation.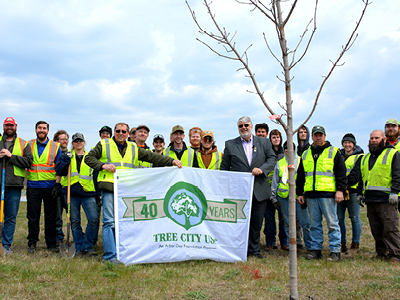 Mid-State Technical College joined the celebration of the city's formal proclamation, which was read by the mayor at a tree-planting ceremony at Skyward headquarters on Tuesday, with the assistance of Mid-State Arborist Technician students and volunteers from Skyward. The tree was one of 31 new trees to be planted by the students this week along Skyward's property on EM Copps Drive. 
"Our partnership with the Midstate Technical College Arborist Technician program has been a perfect fit," said Stevens Point Mayor Mike Wiza. "Hands-on training and experience with the best forestry program in the region is hard to match. I'm especially proud to be working with them to help celebrate Arbor Day this year!"
The City Forestry Department's mutually beneficial partnership with Mid-State started approximately 20 years ago when the Arborist Technician program (formerly Urban Forestry) was initially launched. Mid-State students have since enjoyed networking opportunities with industry associations and hands-on opportunities to practice their tree planting and pruning skills on Stevens Point's trees, while the city has helped to ensure the availability of skilled arborists in the local workforce.
"I want to congratulate the City of Stevens Point on its incredible 40 years as a designated Tree City USA and 16th Growth Award," said Mid-State President Dr. Shelly Mondeik. "The unflagging commitment it takes to achieve these accolades is exactly how we at Mid-State experience the City's many years of commitment to our partnership, which gives our students essential hands-on experience while providing stewardship of one of the community's valuable environmental assets." 
According to Mid-State Arborist Technician Instructor Joe Hoffman, the only element of a municipality's infrastructure that increases in value is its forest. "Tree planting is an investment in the future," he said. "These students are learning to plant at the right depth and orient roots where they need to be to prevent long-term health problems and therefore maximize the return on investment." 
Cities achieve Tree City USA status by meeting four core standards of sound urban forestry management: maintaining a tree board or department, having a community tree ordinance, spending at least $2 per capita on urban forestry and celebrating Arbor Day. The Growth Award is awarded to communities for higher levels of tree care.
Learn more about Mid-State's Arborist Technician program at mstc.edu/programs/arborist-technician.