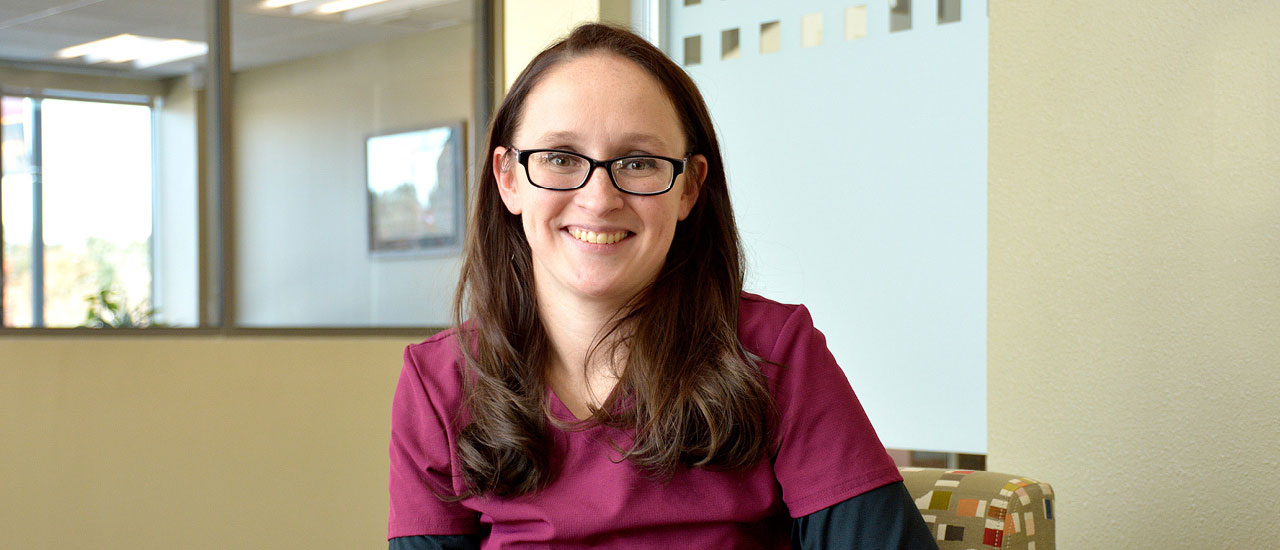 Graduate Spotlight - Emily Bohenstengel
Emily Bohenstengel
Nursing, December 2019
"I loved the college then and I love it now. Most of my success has been here. The instructors are phenomenal and the camaraderie of the students in the Nursing program has been amazing..."
Emily's first experience with Mid-State was in the Nursing Assistant program during the summer just before her final year of high school. At that time she was mad at the world and reaching for an opportunity to change her circumstances. "I didn't have a lot of resources available to me at the time," she says. "I knew I needed something to be able to take care of myself."
Many years ago now, that first experience created an instant bond with Mid-State. Going forward, Emily would work for eight years as a certified nursing assistant, live abroad as a military wife, and become a mom. Eventually, divorced and caring for two young babies, she was drawn back to Mid-State for new skills and independence. Ready for a break from healthcare, she chose Accounting, earning her associate degree in 2013. But on her last day of class, she was already making other plans.
"I just knew that wasn't the end and I would be back for my Nursing degree," she says.
"I loved the college then and I love it now," says Emily, reflecting on her journey through three Mid-State degrees. "Most of my success has been here. The instructors are phenomenal and the camaraderie of the students in the Nursing program has been amazing, the connections I have made throughout have been great, and the encouragement from staff has been overwhelming—It is just a great place to go to school."
One nursing instructor in particular stood out. Emily credits Lisa Bechard for her success in clinicals, the most demanding part of the program. "I don't know where she came from," she says, remembering the compassion she felt from day one.
When the time came for Emily's first needle stick on a live patient, she remembers thinking, "I'm not here to hurt anybody," but Lisa walked her through it, saying, "You can do this." A self-described perfectionist, Emily was just as impressed that her instructor took the time to get to know her. "She was always reassuring me that I didn't have to get an A to do well and then going out of her way to acknowledge every success," she remembers. On the last day of fourth semester clinicals, Emily was able to walk up to Lisa with a big smile, waiving her 94 percent on a 19-page paper. Lisa responded with a big hug, this time saying, "I knew you would."
Now remarried and parenting seven children ages 6–25, Emily admits that success wasn't always a given in her own mind, even if she felt driven to it. "It has been one of the hardest things I have ever have had to do—taking care of so many children and still being there for them and their families while getting through a rigorous nursing program," she says. After her last day of clinicals, Emily came home to the cheers of her youngest kids, who are as proud of their mom as they are excited at the prospect of spending more time with her.
But Emily's achievements at Mid-State went beyond the books, despite her busy schedule. As a member of the Mid-State Student Nurses' Association (MSNA), she questioned its vice president about the purpose of the club and suggested some changes to truly embed the club's mission into specific goals and projects. Her involvement and passion for that mission eventually led to her role as club vice president, which allowed her to give input on projects aimed at directing resources to worthy causes, including donations to Ronald McDonald House and hat and mitten trees for kids in need.
The confidence Emily found at Mid-State now has her feeling fully prepared to start her nursing career. "This program is tough enough to teach you that when you do start working, there are all these things that you'll have to manage by yourself, but you've already managed them in the program, where your decision-making starts to be your own," she says. "Once you get to fourth semester, you're ready to go."
After graduation, Emily's plans include continuing as an LPN in the float pool at the Wisconsin Rapids Care Center. Beyond that, she has her sights set on a position in a neonatal intensive care unit (NICU), the focus of her preceptor training.