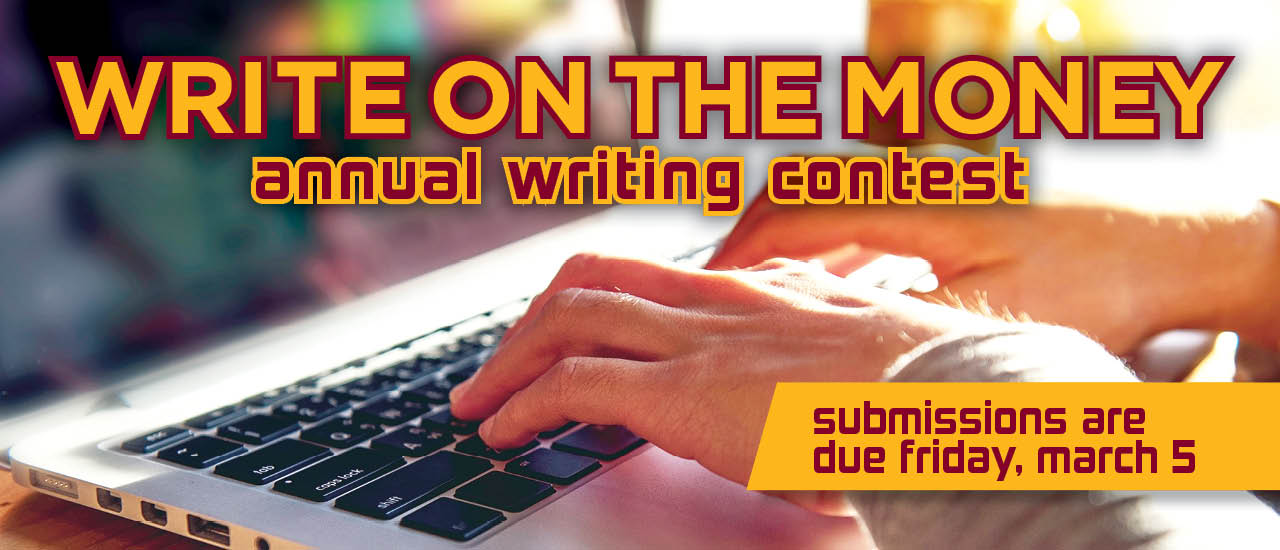 Annual Student Writing Contest
Are you a Mid-State student who enjoys writing or has a strong example of a research paper or essay that you've already written? Submit your writing to compete for a $100 gift card and a chance to showcase your work! 
This contest provides two categories for submission (Research Paper and Essay). Students can compete in one or both—the winner of each category will receive a $100 gift card from the location of their choice, donated by the Student Leadership Board. 
Students are encouraged to submit existing writing that qualifies and adheres to the submission categories and guidelines, or write a new paper or essay just for the contest. 
Qualifications for Entry
You must be currently enrolled as a student at Mid-State Technical College for the spring 2021 semester.
You may enter one paper per category.
Your paper must be original, unpublished nonfiction (no fiction or poetry).
Submission Categories
Research Paper: On any topic. Up to 2,500 words, double spaced, in APA style.
Essay: A descriptive, definition, narrative, personal, persuasive, opinion, comparison, classification/division, process analysis, or cause and effect essay. Up to 2,000 words, double spaced, in APA style.
How to Enter
Competing students will upload their writing submissions to Blackboard by 4:00 p.m. on Friday, March 5, 2021:
Log onto Blackboard and choose the Self-Enroll Courses tab on the top of the screen.
Choose the Special Events folder and choose Enroll in the drop-down menu.
Contest Timeline
Friday, March 5, 4:00 p.m. – Deadline for submission (contest entries due to Blackboard).
Friday, April 9, 4:00 p.m. – Contest winners notified.
Judges
This year's contest will be judged by acclaimed Wisconsin authors Nick White and Carrie Hagen.
Essay Category--Nick White, author of How to Survive a Summer; Research Paper Category--Carrie Hagen, author of We is Got Him
Nick White – Essay Judge
Originally from Mississippi, Nick White is the author of the novel How to Survive a Summer (Blue Rider/Penguin, 2017) and the story collection Sweet and Low. He is an assistant professor of English at The Ohio State University's MFA program in creative writing. His short stories, poems, and essays have appeared in a variety of places, including The Kenyon Review, Guernica, Catapult, The Hopkins Review, Indiana Review, The Literary Review, Lit Hub, and elsewhere. He is currently at work on a new novel.
Carrie Hagen – Research Paper Judge
Carrie Hagen is the author of We Is Got Him (Overlook, 2011), a narrative nonfiction account of the first recorded ransom kidnapping in American history. She lives and writes in Philadelphia, where she works in historic preservation and facilitates student writing workshops. A former high school English teacher and journalist, Hagen served as a research assistant to The Washington Post associate editor Steve Luxenberg on his book Annie's Ghosts (Hyperion, 2009) and as a consultant to Dr. David Kessler, former head of the FDA, on Captured: Unraveling the Mystery of Mental Suffering (HarperCollins, 2016). Other credits include delivering the keynote address at an FBI federal training in 2016 and participating as an expert commentator on the Travel Channel's Mysteries at the Museum. She holds an MFA in creative nonfiction from Goucher College.
Judging Criteria
Research category – Originality of ideas, clear expression of ideas, unified and cohesive structure, logically supported thesis, credibility of sources, synthesis of source material, and correct APA format.
Essay category – Originality of ideas, clear expression of ideas, unified and cohesive structure, well-supported thesis, and unique voice.
Submission Guidelines
See the Writing Contest course in Blackboard for full details about the submission categories and guidelines, formatting requirements, etc.
Questions?
See the Writing Contest course in Blackboard for more for detailed submission guidelines. If you still have questions, contact Jill Quinn, communication instructor, by phone at 715.422.5416 or email.