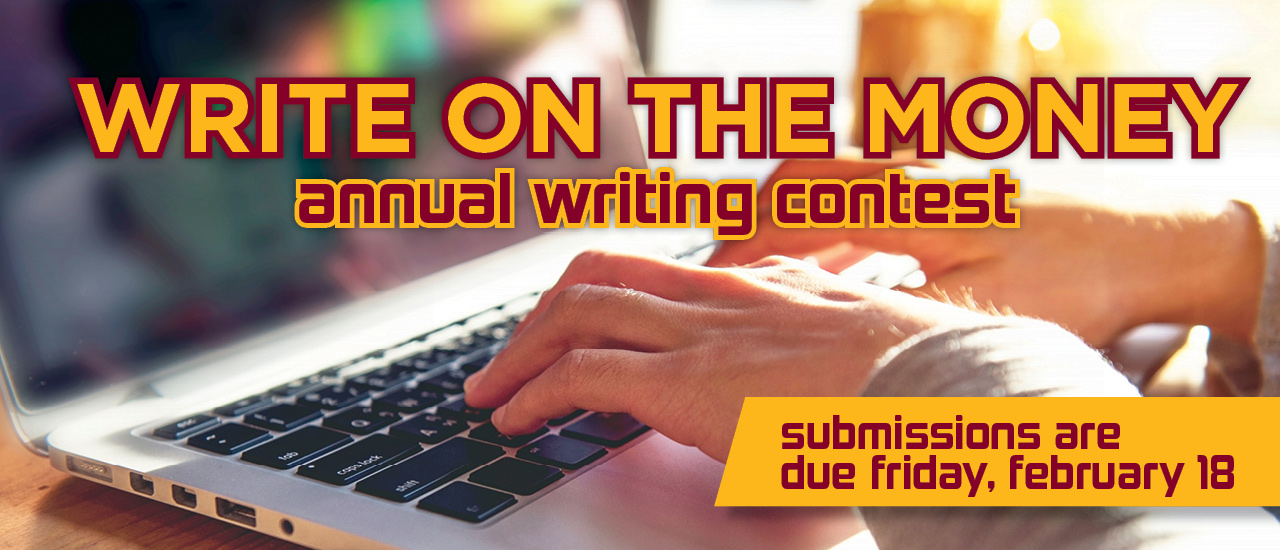 Annual Student Writing Contest
Are you a Mid-State student who enjoys writing or has a strong example of a research paper or essay that you've already written? Submit your writing to compete for a $100 gift card and a chance to showcase your work! 
This contest provides two categories for submission (Research Paper and Essay). Students can compete in one or both—the winner of each category will receive a $100 gift card from the location of their choice, donated by the Student Leadership Board. 
Students are encouraged to submit existing writing that qualifies and adheres to the submission categories and guidelines, or write a new paper or essay just for the contest. 
Qualifications for Entry
You must be currently enrolled as a student at Mid-State Technical College for the spring 2021 semester.
You may enter one paper per category.
Your paper must be original, unpublished nonfiction (no fiction or poetry).
Submission Categories
Research Paper: On any topic. Up to 2,500 words, double spaced, in APA style.
Essay: A descriptive, definition, narrative, personal, persuasive, opinion, comparison, classification/division, process analysis, or cause and effect essay. Up to 2,000 words, double spaced, in APA style.
How to Enter
Competing students will upload their writing submissions to Blackboard by 11:59 p.m. on Friday, February 18, 2022:
Log onto Blackboard and choose the Self-Enroll Courses tab on the top of the screen.
Choose the Special Events folder and choose Enroll in the drop-down menu.
Contest Timeline
Friday, February 18, 11:59 p.m. – Deadline for submission (contest entries due to Blackboard).
Friday, March 18, 4:00 p.m. – Contest winners notified.
Judges
Matt Cashion
Matt Cashion is a professor of Creative Writing at UW-La Crosse. The author of three books, his novel Our Thirteenth Divorce won the 2017 Edna Ferber Book Prize, and his story collection, Last Words of the Holy Ghost, won the 2015 Katherine Anne Porter Prize. Other work has appeared in The Sun, Willow Springs, Grist: A Journal for Writers, Carolina Quarterly, Cutleaf, Moon City Review, Passages North, storySouth, The Writer's Chronicle, and elsewhere. Born in the North Carolina mountains and raised in coastal Georgia, he earned an MFA from the University of Oregon and has also worked as a journalist, bartender, piano mover, and third-shift convenience store clerk. Since 2006, he has enjoyed hiking, biking, skiing, snow-shoeing, kayaking, and running through the beautiful Driftless region of western Wisconsin.   
Renee Hickman
Renee Hickman is a member of the Report for America Journalist Corp, currently serving as a rural community issues reporter for the Wausau Daily Herald.  Originally from Rome, Georgia, she holds a BA in history from the University of St. Andrews in Scotland, and an MA in journalism from the University of Missouri, where she was the recipient of a White House Correspondents' Association scholarship and the O.O. McIntyre Writing Award.  She has worked as a research assistant for Investigative Reporters and Editors, interned and freelanced at the NBC News Political Unit and Bloomberg BNA, and covered local government for the Unified Newspaper Group in Verona, Wisconsin.  Hickman also completed a Fulbright Fellowship to Ukraine, with a research focus on local journalism.
Judging Criteria
Research category – Originality of ideas, clear expression of ideas, unified and cohesive structure, logically supported thesis, credibility of sources, synthesis of source material, and correct APA format.
Essay category – Originality of ideas, clear expression of ideas, unified and cohesive structure, well-supported thesis, and unique voice.
Submission Guidelines
See the Writing Contest course in Blackboard for full details about the submission categories and guidelines, formatting requirements, etc.
Questions?
See the Writing Contest course in Blackboard for more detailed submission guidelines. If you still have questions, contact Jill Quinn, communication instructor, by phone at 715.295.1277 or email.