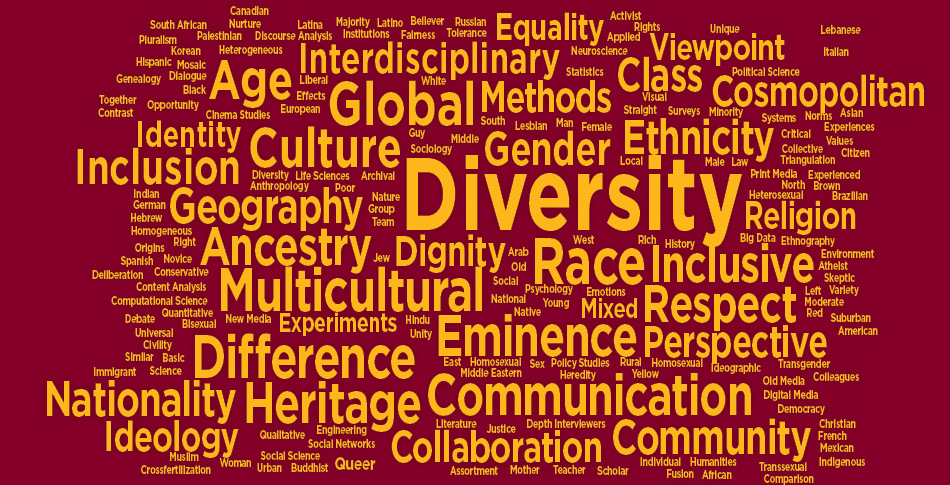 Diversity, Equity, and Inclusion at Mid-State
In keeping with the Mid-State Technical College core value of respect and the importance of demonstrating it, the diversity, equity, and inclusion (DEI) effort at Mid-State is a top priority. We value the wide range of human diversity, including but not limited to gender, race, sexual orientation, ethnicity, disability, age, and religion, and are committed to creating a culture and an environment on campus and in the community where all people are recognized, respected, and provided the tools needed to achieve success.
Mid-State's first Diversity Committee began in February 2010 and has been active at the College ever since. In the beginning, the committee was served by staff and faculty, and in 2012 we added students to the group.
The group has offered many opportunities for college and community engagement:
Guest speakers on a variety of diversity topics, including Hmong culture, Holocaust survival, human trafficking, LGBTQIA+ issues, what makes a family, religion panels, Navajo Code Talker, and more. 
Collaboration with UW-Stevens Point on veterans projects.
Frequent book club and movie discussions. Movies included Milk, Gran Torino, and The Help. 
Development of a Mid-State employee-written Diversity Cookbook.
Creation of the endowed Diversity Scholarship. 
Oxfam Hunger Dinners and presentations on poverty.
Equity & Inclusion Task Force
Today, Mid-State has taken several steps to advance its commitment to equity and inclusion within the College and the community. The Equity & Inclusion Task Force at Mid-State was formed in 2020 to formalize the College's work in the area of diversity, equity, and inclusion (DEI) and to ensure an effort that is active, ongoing, cohesive, and responsive. The task force and sub-committees provide leadership, innovation, and vision for the College's diversity, equity, and inclusion efforts as well as enhance engagement with the communities throughout Mid-State's district.
The task force is comprised of a number of individuals from departments across the College including Disability Services, Academics, Student Services, executive leadership, and more. It is co-chaired by Karen Brzezinski, vice president of Human Resources & Organizational Development, and Natasha Miller, Student Life manager. All employees are invited to participate in its five subcommittees (Affirmative Action, Engagement, Research and Development, Diversity Club, and Student Success).
The task force and subcommittees provide and support on- and off-campus opportunities for students and staff to explore DEI-focused topics and engage in related professional development. These include monthly events, the Achieving the Dream conference, the Equity in the Classroom series, and participation in the Wisconsin Technical College System DEI committee. Additionally, inclusion has been added as a broad goal for the Mid-State Technical College district in our 2025 strategic plan.
Student services and activities include:
We, as an institution, firmly believe in and embrace the values of inclusion and acceptance, social justice and empowerment, reflection and transformation of our college community, and shared responsibility and accountability—as described in the guiding principles of our ongoing equity and inclusion effort.
Task Force Members

Stephanie Bender, Manager, Academic Advising
Karen Brzezinski, Vice President, Human Resources & Organizational Development
Paul Bushmaker, Instructor, Criminal Justice
Sheila Cover, Research Specialist
Micki Dirks Luebbe, Grant & Contract Administrator
Beth Ellie, Manager, Institutional Effectiveness, Accreditation & Quality
Vikram Gill, Student Life Assistant
Andrea Johnson, Manager, Human Resources
Trea Kimball, Curriculum & Assessment Specialist
Mandy Lang, Vice President, Student Services & Enrollment Management
Patti Lloyd, Disability Services Coordinator
Natasha Miller, Manager, Student Life
Michelle Peria, Instructor, Social Sciences
Dean Pitt, Security Director
Zach Popp, Dean, College Enrollment Strategy
Suzanne Rathe, Dean, General Education
Jon Steele, Instructor, Social Sciences
Lea Ann Turner, Manager, Education Services

Mission

Mid-State Technical College strives to cultivate an environment of equity and inclusion. 

Guiding Principles

Inclusion & Acceptance – Invite and welcome all individuals to an open and safe environment where all have the opportunity to thrive at the College and beyond.
Social Justice & Empowerment – Create an environment where we work to address inequities, value and respect individual differences, and promote self-expression and achieving ones' full potential. 
Reflection & Transformation – Engage in continuous reflection and collaboration to integrate what we learn in order to transform our culture and community.
Shared Responsibility & Accountability – Recognize our own role (as an employee, student, and/or community member) in fostering an environment of equity and inclusion.

Goals

Create a sustained focus on the five areas identified by the Wisconsin Technical College System (WTCS) in Diversity, Equity, & Inclusion (DEI) in the development of equity and inclusion at Mid-State Technical College. 

Increase transparency about equity and inclusion initiatives, outcomes, and resources. WTCS will establish clearer, more transparent, and more frequent communication regarding WTCS equity and inclusion initiatives and outcomes. This work will be led by the System Office with college support. This initiative will crease a public-facing central messaging hub to share System assessment, research, and outcomes data from the student success center, as well as other diversity, equity, and inclusion resources. 
Promote sustained conversation and policy work to dismantle systemic racism and inequalities. WTCS will support a facilitated, sustained space for conversation and policy work on the impact and dismantling of systemic racism starting internally at each college and the System Office. While this is work each college must initiate and implement, the System Office will look for ways it can support the colleges with facilitation and other resources. For the System Office, this work will build upon ongoing conversations on diversity, equity, and inclusion.
Focus on equity in student access and success. WTCS will conduct comprehensive evaluations of policies and practices—through an equity lens—in the areas of instruction, student services, and professional development to identify unconscious biases, make modifications to enhance empathetic understanding and building emotional intelligence skills and capacity. The System Office will provide facilitations and other resources in support of colleges' evaluation efforts.  These evaluations will begin with WTCS law enforcement and correctional service programs but will be undertaken across all instructional areas. WTCS, including leadership of the 16 colleges, will also request that external professional licensure or industry accrediting partners, such as Wisconsin's Law Enforcement Standards Board, conduct similar evaluations.
Use data to close equity gaps. WTCS will leverage data and research findings to inform college efforts to close equity gaps in student access and outcomes. This work will build upon the action research agenda of the WTCS Student Success Center and may be supported, in part, by Perkins and GPR grant resources.
Review hiring and retention policies to take intentional steps to diversify the workforce. WTCS will identify and take intentional steps to diversify our workforce, including addressing cultural and community issues of equity and inclusion. This work will be led by the President's Association's special task force on Workforce Diversity. It will incorporate data from existing System research, including the WTCS System-wide Equity Report, and may be supported in part by Perkins Reserve Capacity Building grant and GPR Professional Development grant resources.

Definitions

Diversity

Diversity encompasses an array of experiences including, but not limited to, age, race, ethnicity, gender, religion, disabilities, socio-economic status, sexual orientation, gender identity, and national origin. An appreciative awareness of diversity provides the foundation for the understanding that individuals are shaped by this array of experiences.

Equity

Equity refers to the intentional practice of identifying the unique needs within our diverse student and employee populations, and in turn providing the support necessary for each individual to succeed in their academic and career goals.

Institutional equity entails analyzing policies and practices to determine disproportionate impact to specific populations and adjusting.

Inclusion

Inclusion is the degree to which all individuals in a community are welcomed, valued, respected, heard, and able to participate. Creating inclusive college communities requires intentional action to address historical under-representation and exclusion with respect to academic and career success, hiring, promotion and leadership, campus climate, curriculum, and access to resources.  

Resources