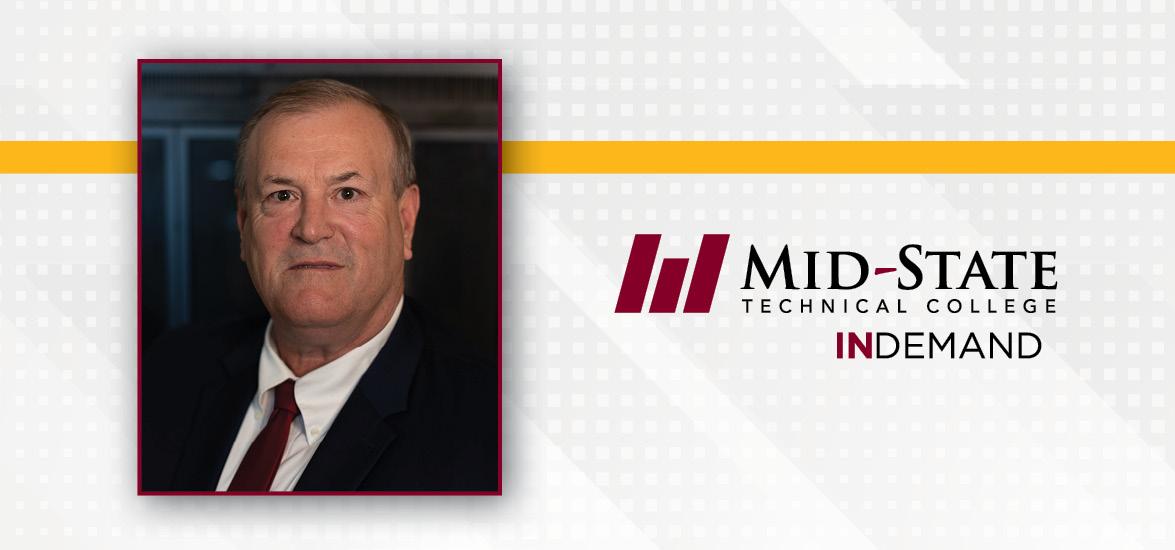 Rick Anderson receives Mid-State Technical College Distinguished Alumni Award
September 19, 2022
Mid-State Technical College has selected its associate dean of Protective & Human Services, Rick Anderson, for the College's 2022 Distinguished Alumni Award. 
Each year, Mid-State confers the Distinguished Alumni Award to a truly outstanding alum who has demonstrated accomplishments in his or her professional field, community involvement, support for the technical college system and a commitment to continuing education and lifelong learning.
"Since graduating with his Mid-State technical diploma over 20 years ago, Rick's professional journey has been a shining example of continuous determination, growth, and giving back that Mid-State strives to instill and support in every student," said Mid-State President Dr. Shelly Mondeik. "He has made us all very proud, and we couldn't be happier to honor his achievement with this year's Distinguished Alumni Award."
Anderson started his technical education after serving in the military, earning his paramedic technical diploma from Mid-State in 2001. He then decided to stop pursuing his degree when he had an early opportunity to enter the field of law enforcement. He completed his continuing education and EMT training while continuing to work in public safety but didn't pursue a longer-term program until later in his career, graduating from Saint Joseph's College with a B.S. in health administration in 2006 and an M.S. in disaster medicine and management from Philadelphia University in 2008. 
"The completion of my paramedic technical diploma at Mid-State is what I point to as the life event that steered me toward a career in education," Anderson said. "Having the ability to influence an enormous number of people over my years in education has allowed me to pay forward an exponential contribution to the world of public safety and the protection of our communities."
Today, Anderson serves as Mid-State's associate dean of the School of Protective & Human Services, where he has leadership and management responsibility for the college's programs in the areas of emergency medical services, fire protection, law enforcement, corrections and community advocacy, early childhood education and health and wellness promotion. He has recently been a catalyst in leading multi-year partnerships with fire agencies throughout Mid-State's district to develop regional training sites.
Anderson's entire career has focused on serving or preparing others to serve the public. Prior to beginning at Mid-State he had held leadership roles as a police chief, fire chief and EMS director. Anderson also served in various roles from paramedic supervisor to acting commander of the Wisconsin-1 Disaster Medical Assistance Team, a federal medical response team organized under the United States Department of Health and Human Services. 
Over his career, Anderson has served on multiple joint legislative committees, boards of directors, and governing and advisory committees, such as service on the Wautoma Area School District Board of Education, North Central Area Health Education Center Board of Directors, Wisconsin Joint Legislative Council Special Committee on School Safety and St. Joseph's College of Maine Health Administration Programs Advisory Committee. 
Anderson has also contributed to multiple educational curriculum teams to support curriculum written for the Wisconsin Department of Justice, The Wisconsin Department of Health Services – EMS Section and the Wisconsin Technical College System (WTCS), and he played a key role on the development of the current psychomotor exam used for Wisconsin's EMT National Registry candidates. He currently serves as chair of the Wisconsin EMS Training Centers Advisory Council and as one of Wisconsin's EMT National Registry Exam Chief Examiner Designees, supporting other WTCS EMS training centers and the students they educate.
Continuing education continues to be an important part of Anderson's work. "Recent projects that have expanded the opportunities for fire and EMS training throughout the district have been an important part of my work over the past few years," he said. "I still have work to do in those areas, as well as expanding law enforcement training opportunities in the district."