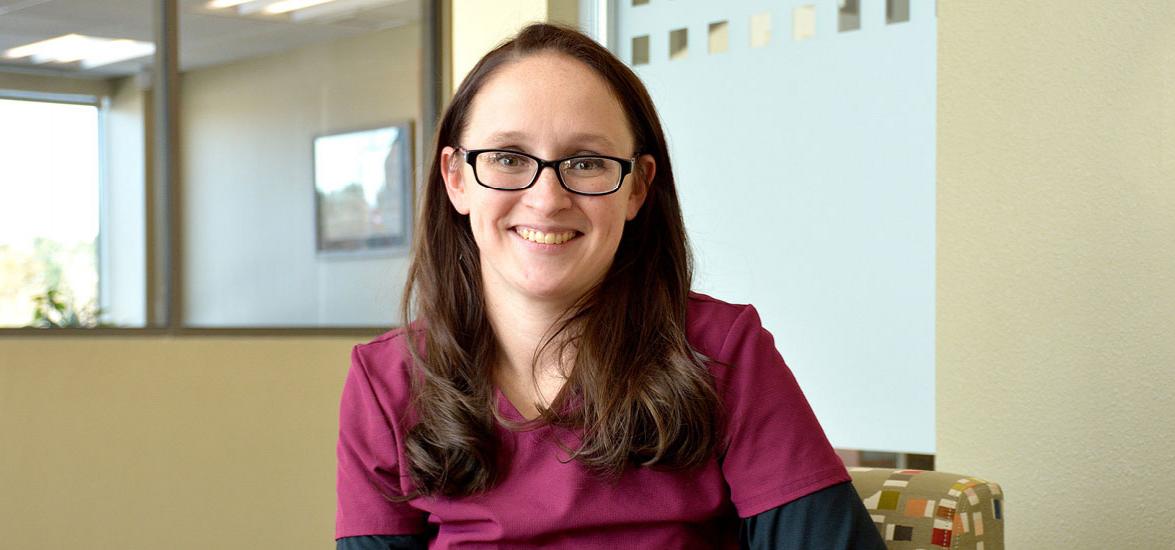 Nursing graduate builds confidence on winding path to the right career
December 12, 2019
When Emily Bohenstengel of Stevens Point walks across the stage at Mid-State Technical College's fall commencement on Sunday, Dec. 15, it won't be the first college degree for the Nursing program graduate, or even her first degree from Mid-State. She is, however, confident that the career of her dreams awaits her on the other side.
 
Bohenstengel's first experience with Mid-State was in the Nursing Assistant program during the summer just before her final year of high school. At that time she was mad at the world and reaching for an opportunity to change her circumstances. "I didn't have a lot of resources available to me at the time," she said. "I knew I needed something to be able to take care of myself." 
Going forward, Bohenstengel would work for eight years as a certified nursing assistant, live abroad as a military wife and become a mom. Eventually, she was drawn back to Mid-State for new skills and independence. Ready for a break from healthcare, she chose Accounting, earning her associate degree in 2013. But on her last day of class, she was already making other plans. "I just knew that wasn't the end and I would be back for my Nursing degree," she said.
"I loved the college then and I love it now," said Bohenstengel, reflecting on her journey through three Mid-State degrees. "The instructors are phenomenal and the camaraderie of the students in the Nursing program has been amazing, the connections I have made throughout have been great, and the encouragement from staff has been overwhelming—It is just a great place to go to school."
Bohenstengel's achievements at Mid-State went beyond the books, despite a busy schedule. As a member of the Mid-State Nurses' Association (MSNA), she questioned its vice president about the purpose of the club and suggested some changes to truly embed the club's mission into specific goals and projects. Her involvement and passion for that mission eventually led to her role as club vice president, which allowed her to give input on projects aimed at directing resources to worthy causes, including donations to Ronald McDonald House and hat and mitten trees for kids in need. 
The confidence Bohenstengel found at Mid-State now has her feeling fully prepared to start her Nursing career. "This program is tough enough to teach you that when you do start working, there are all these things that you'll have to manage by yourself, but you've already managed them in the program, where your decision-making starts to be your own," she said. "Once you get to fourth semester, you're ready to go." 
After graduation, Bohenstengel's plans include continuing as an LPN in the float pool at the Wisconsin Rapids Care Center. Beyond that, she has her sights set on a position in a neonatal intensive care unit (NICU), the focus of her preceptor training.
For Bohenstengel's full story and on-camera interview, visit mstc.edu/gradspotlight.