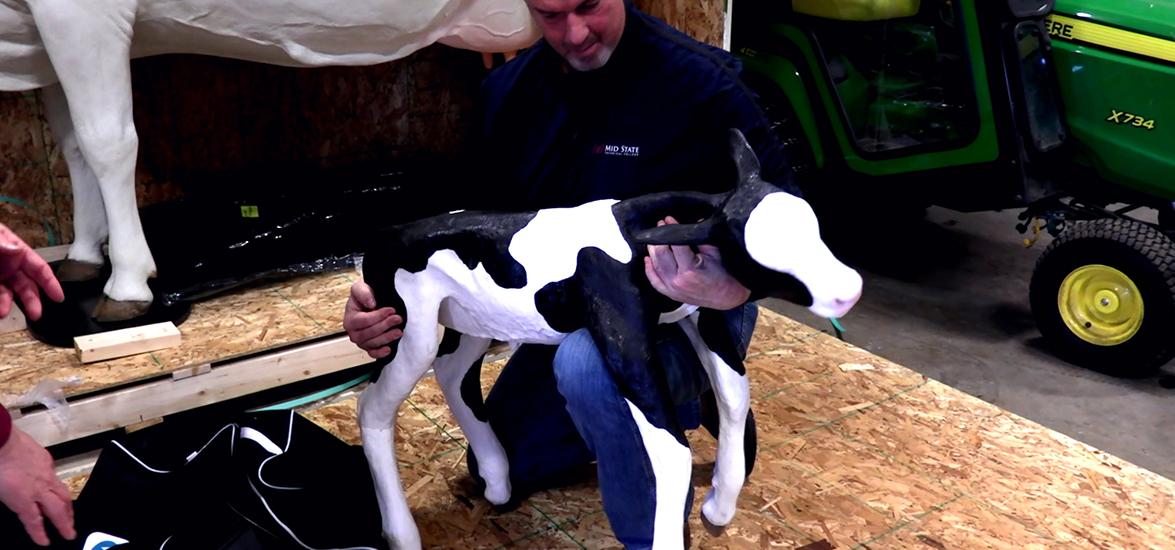 New cow birthing simulator at Mid-State to help students build calf-delivery skills
April 10, 2019
Agriculture students at Mid-State Technical College will soon gain new confidence in their ability to safely deliver dairy calves, thanks to the College's acquisition of a custom-built Holstein cow birthing simulator. The lifelike simulator arrived at Mid-State's Marshfield campus in March and will be used for training students to protect both mother and calf in 12 different common cattle birth scenarios.
The simulator consists of a mother cow and newborn that are lifelike in both weight and feel, allowing the trainer to realistically demonstrate 12 different positions that the calf can get into accidentally and how to manipulate the calf to achieve a normal birthing.
"Some of our agriculture partners are delivering several calves a day with the size their operation, and each calf has an impact on their bottom line," said Ron Zillmer, Mid-State Technical College's dean of Transportation, Agriculture, Natural Resources, & Construction. "The cow birthing simulator solves the challenge of giving each student hands-on experience and the repetition needed to gain confidence with a full spectrum of typical birthing scenarios without the need for a live cow."
According to Zillmer, Mid-State's lecture and lab facilities have worked well for many years, thanks to industry partnerships that get students out on the farm frequently for training. "More recently, as we worked to design our new Agribusiness & Science Technology associate degree, we learned that producers have been forced to perform more deliveries on their own due to fewer large animal vets in the region, and that has required them to be more certain of births that truly require a vet's assistance," he said. "This is our way of responding to that need and ensuring that our graduates are better able handle routine deliveries on their own and know when a vet is truly needed to assist." 
Learn more about Mid-State's agriculture programs at mstc.edu/programs.