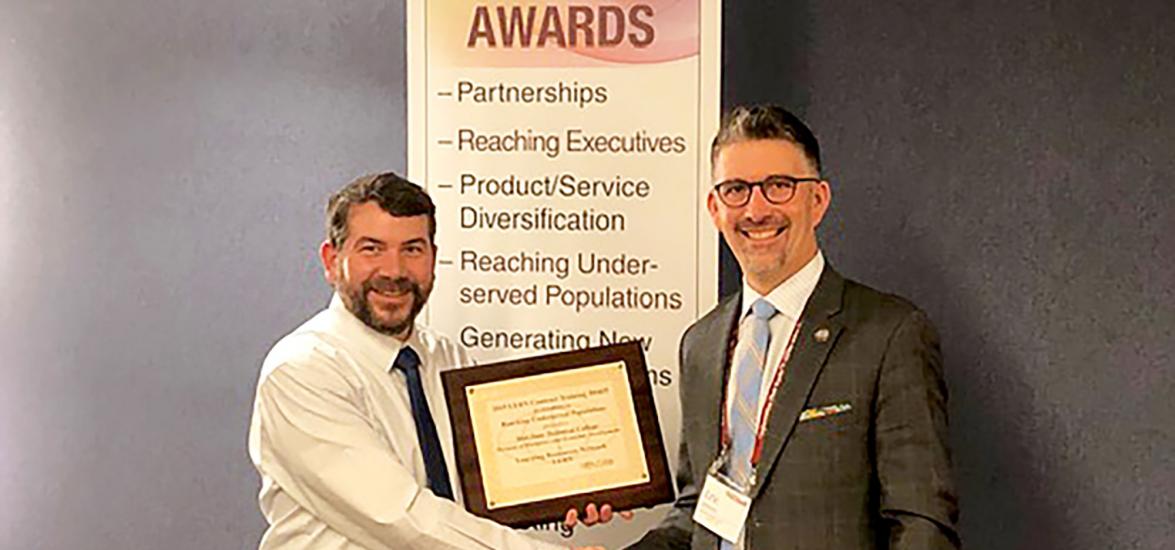 Mid-State workforce partnership earns national training award
March 27, 2019
Mid-State Technical College is recipient of the 2019 Learning Resources Network (LERN) Training Award for Excellence in Reaching Underserved Populations. The award was accepted by Workforce Development Manager Craig Bernstein on behalf of the College at the LERN Contract Training Conference on March 20 in Chicago. Mid-State is one of only seven colleges to receive the LERN award out of 6,000 eligible colleges in North America.
LERN is the world's largest association in continuing education and lifelong learning, and its annual Contract Training Awards identify exemplary contract training. Mid-State's award recognizes the College's partnership with the North Central Wisconsin Workforce Development Board (NCWWDB) and the Job Center of Wisconsin to offer a 14-week customized Pre-Apprenticeship Machine Tool Training program. The free training began this February and will run through late May, earning its participating students 12 credits in Mid-State's Machine Tool Technician program as well entry-level skills needed to get started in the field, enter apprenticeship or continue on in the technical degree program. 
"Customized contract training is a big part of what we do at Mid-State. We value working with our business and community partners to create innovative ways to meet the workforce challenges," said Bernstein. "This award-winning project, Pre-Apprenticeship Machine Tool program, exemplifies our collaboration with our community, faculty and staff to meet an underserved workforce need."
Mid-State's workforce partnerships include customized leadership/talent development, safety training and technical training for businesses. For more information about the contract training available, visit mstc.edu/workforce-training.