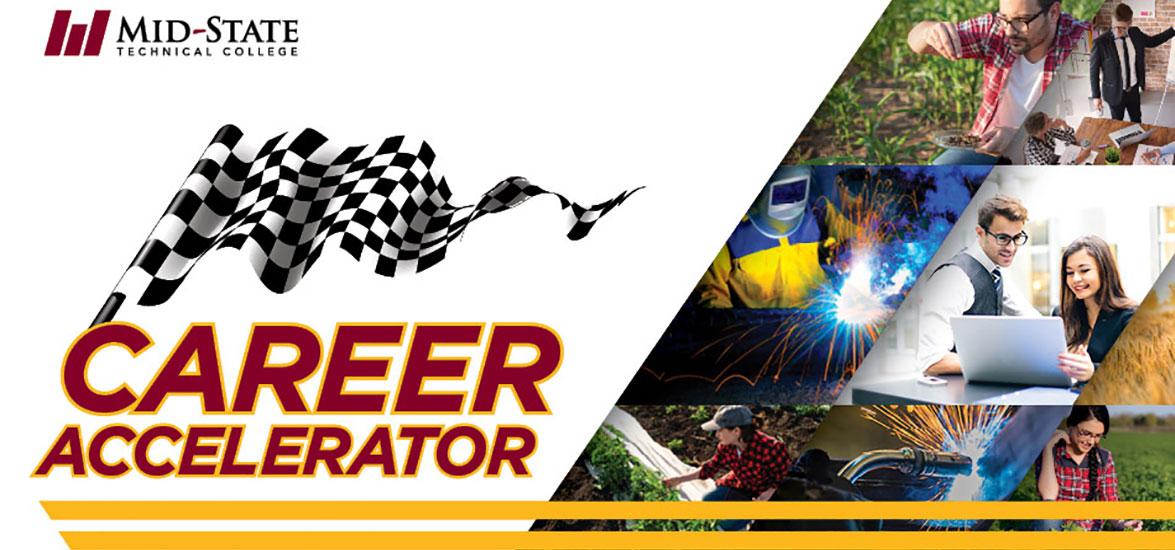 Mid-State to offer short-term "Career Accelerator" certificates this spring
March 15, 2022
Adults in the local workforce looking for a quick way to boost career prospects now have a new option with Mid-State's Career Accelerator certificates. Enrollment is now open for the short-term certificate programs, with start dates as early as March 28. All certificates also come with an opportunity to earn up to one class for free, thanks to funds provided by the Mid-State Technical College Foundation, Inc.
"Career Accelerator certificates offer an excellent way to close a skills gap fast," said Dr. Mandy Lang, Mid-State vice president of Student Services & Enrollment Management. "They are designed for those looking for immediate results that can jumpstart a career or quickly help a small business grow."
In addition to Healthcare Foundations and Gas Metal Arc Welding (GMAW) certifications, students can choose from seven certificates in business: Business Skills, Communication Essentials, Competitive Sales, Human Resources Foundations, Small Business Accelerator, Social & Mobile Marketing and Team Leadership. 
Each certificate is designed to help students accelerate in their careers through a short-term "sprint" that develops targeted, real-world competency for career advancement. Online and in-person delivery options as well as a variety of durations are available, in most cases from eight weeks to just over six months. Many classes also count toward an existing Mid-State degree program.
The drive to offer the new certificates stemmed from the growing demand locally to gain the skills needed to advance in an existing role or qualify for new opportunities in a field without committing to a full degree program. 
"These flexible, short-term programs also offer employer partners a great option to support the career development of their existing talent," said Mid-State's vice president of Workforce Development, Dr. Bobbi Damrow. "With significant retirements and current talent shortages, existing employees are often broadening their scope within their organization, and these opportunities provide an effective and efficient way to support their growth."

Career Accelerator classes start as early as March 28 with mid-term start. Learn more about the options and funding available at mstc.edu/career-accelerator.