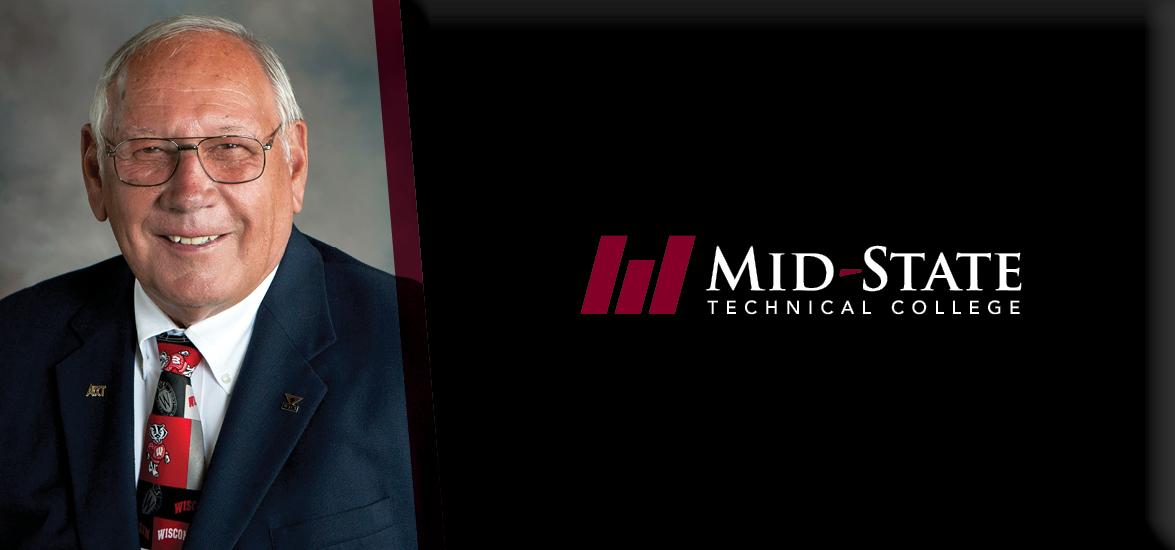 Mid-State Technical College Board Chair Robert Beaver leaves legacy in the Wisconsin Technical College System
April 6, 2021
It is with great sadness that Mid-State Technical College President Dr. Shelly Mondeik recently announced the death of Board Chairperson Robert "Bob" Beaver, whose 30 years of service on the Mid-State Technical College Board and advocacy for technical and vocational education profoundly impacted the Wisconsin Technical College System at the local, state, regional and national levels. Beaver passed away at his home on Sunday, March 28, 2021.
"Bob's commitment to the Mid-State Board and the mission of technical college education was unparalleled," said Mondeik. "He has long been a crucial driver of Mid-State's ability to provide a quality, affordable college degree as well as tailor the College's offerings to meet the ever-evolving business needs in our district. Bob truly lived a life of service, and we at Mid-State are so grateful for his dedication to our college, students and communities, which makes the announcement of the new Bob Beaver Memorial Scholarship a wonderful way to preserve his legacy."
"Beaver was a friend and mentor to so many, our longest-serving trustee across two colleges, and always a friendly face—a warm and welcoming presence everywhere he went," said Layla Merrifield, executive director of the Wisconsin Technical College District Boards Association (WTCDBA). "I know his steady service to Mid-State meant so much to his fellow trustees and the entire college."
Beaver dedicated his life to education, first in K–12 before focusing on higher education with service to Mid-State and the WTCS. He acted as treasurer for four years of his service on the Board of Directors for Southwest Technical College between 1979–1985 and, since 1990, served in an officer role for over half of his 30 years on the Board at Mid-State Technical College, including seven years as chair and six years each as vice president and treasurer. At the state level, Beaver served as a member of the WTCDBA Board of Directors from 1995 to present, acting as president from 1997–99. 
Among his early achievements, Beaver led Mid-State's efforts to partner with the Workforce Development Board, encouraging collaboration between businesses and the College. As a result, Mid-State and district businesses continue to partner in training opportunities, guiding curriculum for relevant offerings and advocacy issues. Beaver also implemented the first distance learning option for many K–12 schools in central Wisconsin, leading to provisions for thousands of area high schools students to earn college credits while in high school. While serving on the Mid-State Board, Beaver continued with this work and was instrumental in growing the dual credit opportunities offered to the K–12 districts, resulting in over $700K of tuition savings for district students and their families in 2020. In the 1990s, he led the development of a Wisconsin Technical College System insurance consortium, saving the College thousands of dollars on insurance costs.
Beaver's demonstrated outstanding leadership and commitment to placing the needs of students first earned him the WTCDBA Board Member of the Year award in 2000. His exceptional leadership has also garnered many local and state awards from students, peers and communities. He received the Special Friend of Students Award from the Association of Wisconsin School Administrators (1993), the Wisconsin Association of School Councils Administrator of the Year award (1996), Adams County Chamber of Commerce Outstanding Citizen and Parr Excellence awards (1999) and the Community Volunteer Award (2006).
Memorial services were held Saturday, April 3, at the Adams Friendship Fine Arts Center in Adams, Wisconsin. For more information about Beaver's life and legacy, visit https://roseberrys.com/obituary/robert-allen-beaver. For more information about the Bob Beaver Memorial Scholarship, contact the Mid-State Foundation at 715-422-5322. To make a donation to the fund, go to mstc.edu/donation-form, select "Specific Named Scholarship" and type in "Robert Beaver Memorial Scholarship."