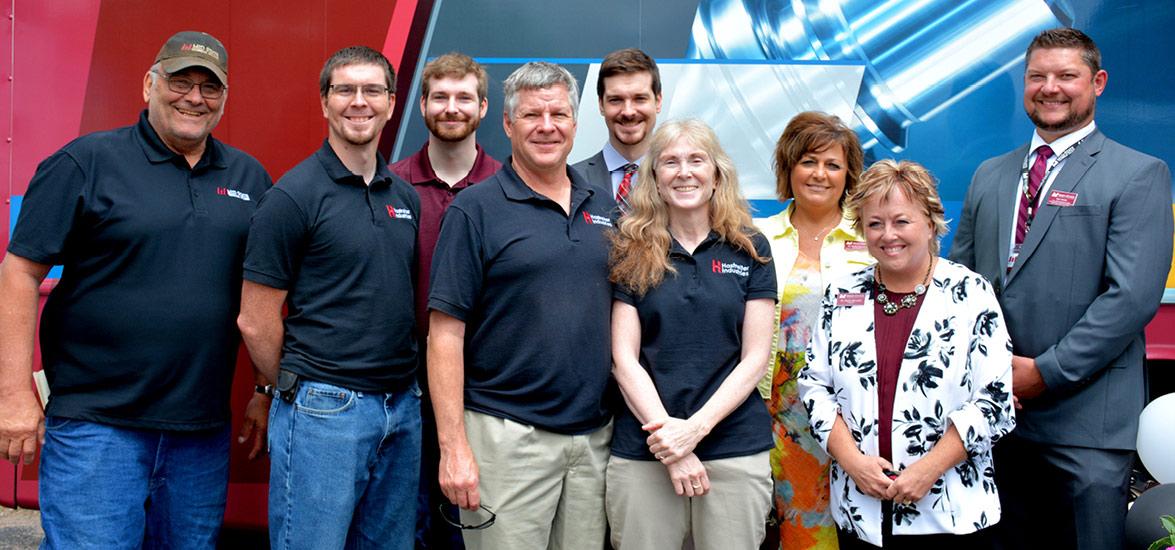 Mid-State Technical College announces plan for Advanced Manufacturing, Engineering Technology, and Apprenticeship Center in Stevens Point
July 29, 2020
Stevens Point could soon be a hub for hands-on training in advanced manufacturing, engineering technology, and apprenticeship thanks to a new cutting-edge training center Mid-State Technical College has planned for the Stevens Point Industrial Park just off I-39. 
Local community members, business partners and state representatives learned more about the project at last Wednesday's capital campaign launch, as they celebrated a generous donation of nine acres of land for the planned facility from Wayne Bushman of Bushman Electric Crane Systems. Bushman's donation, on behalf of Sunrise Pointe Ventures, LLC, also includes renovation of an existing parcel and building formerly occupied by Joerns Healthcare for the future home of area manufacturer Gamber-Johnson.
"Mid-State has been an asset in training highly skilled employees for over 100 years," Bushman said. "When I learned of the need and the idea of the expansion to bring programming to the Stevens Point area to better serve the district, I wanted to take action to get it done. I'm hoping me doing my part will inspire others in the community and central Wisconsin to make a difference as well."
The Advanced Manufacturing, Engineering Technology, and Apprenticeship Center will expand Mid-State's educational programming in the skilled manufacturing and engineering trades and train over 400 students annually at the center alone when fully operational. This 175-percent increase in training capacity is designed to infuse central Wisconsin with highly skilled workers and sustain and grow area businesses to meet Wisconsin's critical advanced manufacturing, engineering technology, and apprenticeship workforce needs. By 2026, the annual local student economic impact is anticipated to exceed $1.8M in lodging, meals and gas, with another $1.5M estimated in skilled salaries made possible by this local training. This estimated $3.3M annual impact will positively affect the region's economy.  
"This is something that is going to benefit every single person in central Wisconsin and beyond for generations to come," said Stevens Point Mayor Mike Wiza. "It makes me so proud to be a part of this community."
Mid-State President Dr. Shelly Mondeik spoke to the continued need for the center in a post-pandemic world, including a Wisconsin Economic Development Corporation projection that 79 percent of manufacturers in the state expect to be back to normal operations within 12 months. "With that being the case, this center needs to be ready for them," she said.
In addition to the land donation by Bushman, a number of businesses in central Wisconsin have already come forward with financial contributions for the Advanced Manufacturing, Engineering Technology, and Apprenticeship Center project, including Gamber-Johnson, Hastreiter Industries and Skyward. Investors Community Bank and Heartland Farms, Inc., joined the capital campaign, each presenting $100,000 checks at the launch event. In addition to Bushman, Joe Kinsella of Pointe Precision and Scott Groholski of Point of Beginning share in the capital campaign leadership. 
Learn more at mstc.edu/partner.