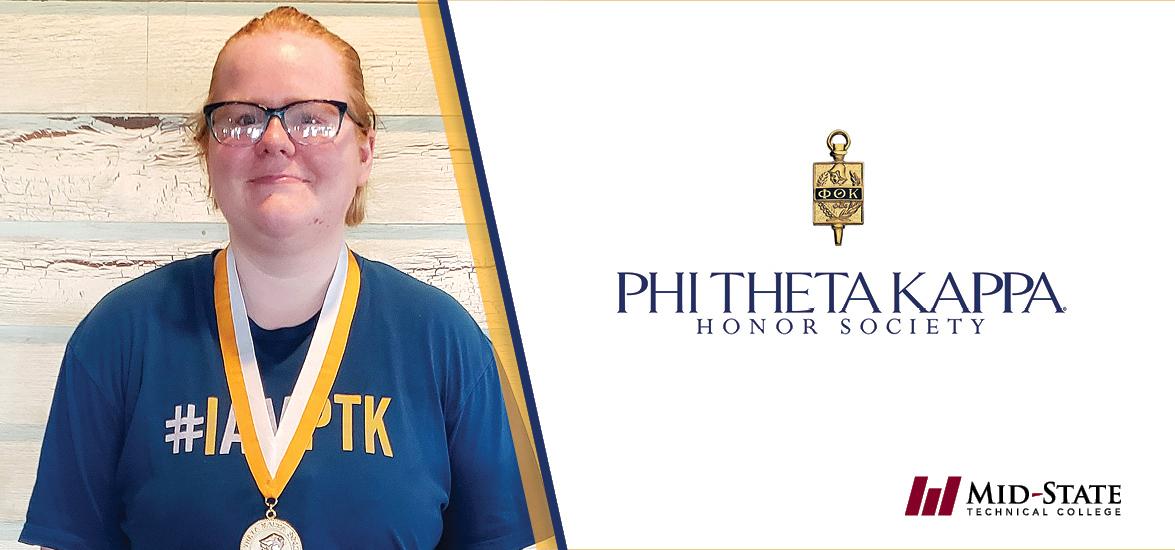 Mid-State student Emily Tauschek elected Phi Theta Kappa Wisconsin region president
October 13, 2020
The Wisconsin region of Phi Theta Kappa (PTK) Honor Society has selected Mid-State Technical College Business Management student Emily Tauschek, Plover, as its new president. In her role, Tauschek will work with the regional officer team and regional coordinator to plan events across the state and promote chapter engagement throughout the 2020–21 academic year. 
Tauschek's unanimous election to president of the Wisconsin region came just after she delivered a speech at the spring regional convention. 
"This title means a lot to me because I am leading the region in a way I never thought I could," said Tauschek, who first set out to pursue a PTK regional officer position based on her experience as an executive board member. 
Tauschek looks forward to leading the work to maintain Five Star status for Mid-State's PTK chapter, Beta Chi Theta, while expanding that achievement to the region as a whole. She also looks forward to networking with other Kappans around the region as well as attending PTK's international convention, Catalyst, and her sights are set on running for international president in the coming year. "It will be an experience I will never forget," she said.
"We are thrilled to have Emily representing Mid-State as she serves the PTK chapters across Wisconsin," said Mid-State PTK Co-Advisor and Social Science Instructor Jon Steele. "Her willingness to step up and get involved in our local chapter will undoubtedly serve our region well and both Jon and I are proud of her," added Co-Advisor and Communications Instructor Jill Quinn.
Since its induction three years ago, Mid-State's PTK chapter, Beta Chi Theta, has received numerous awards and recognition, including third most distinguished chapter in the state, Five Star Advisor status for co-advisers Jon Steele and Jill Quinn and the Paragon Award for New Presidents, which was presented to Mid-State President Dr. Shelly Mondeik in April 2019. 
Founded in 1918, the Phi Theta Kappa Honor Society recognizes and encourages excellence among community colleges. Today, the Society is the largest honor society in higher education with nearly three million members and 1,300 chapters in 10 nations. The Wisconsin region of PTK includes 27 chapters.